Over the summer, the kids and I watched the movie Turbo and I totally connected with that little wanna-be speedy snail.  Turbo dreams of breaking away from his slow snail lifestyle to become fast.  Like Turbo, I dream of breaking new records.
Since Turbo is now available on DVD, the family and I watched it again Friday night.  There are so many great lines and moments in the movie, but I couldn't help but laugh over the "left turn" reference.  I totally understand the monotony of left turns with every Track Tuesday.  "Left turn!  Left turn!"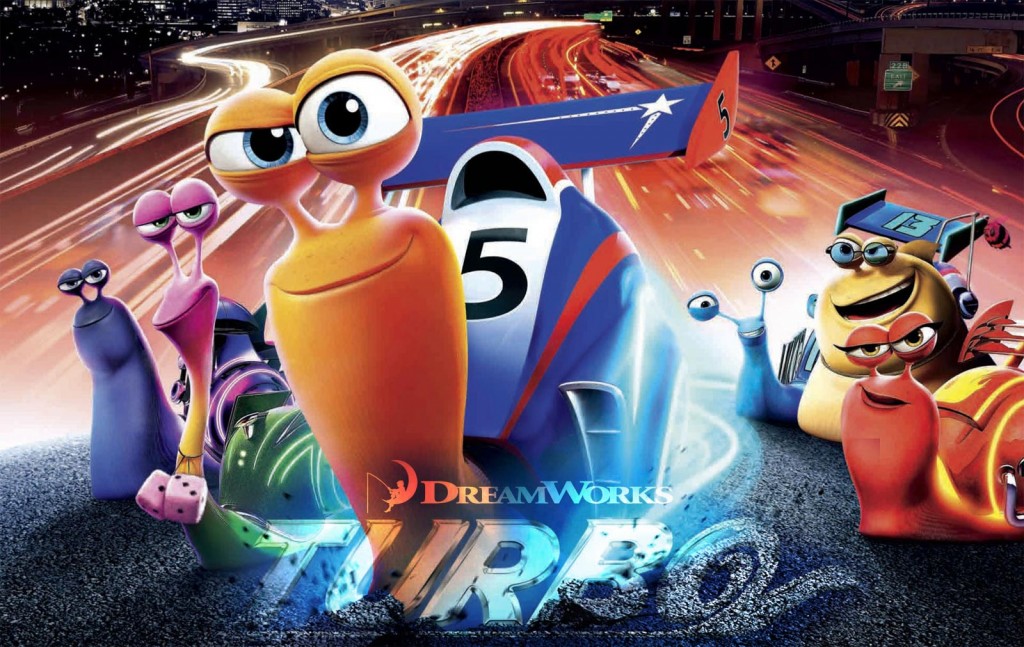 Although it's well over three weeks since my last speedwork session, I made up for it this morning. For that last Track Tuesday, I only ran 4 x 800s, but I bumped it back up to 6 x 800s this morning because I need run 15 miles this weekend.  To prepare my body for that run, I decided to run a total of 6 miles with 2 miles warm up, 6 x 800s and 1 mile cool down.
2 Miles
Time 20:02
Ave Pace 10:00
Max Pace 8:19
Lap 1 – 0.50 – Time 3:58
Ave Pace 7:57
Lap 2 – 0.50 – Time 4:00
Ave Pace 8:02
Lap 3 – 50 – Time 4:10
Ave Pace 8:21
Lap 4 – 0.50 – Time 4:10
Ave Pace 8:21
Lap 5 – 0.50 – Time 4:02
Ave Pace 8:05
Lap 6 – 0.50 – Time 4:08
Ave Pace 8:17
1 mile cool down, Time 9:50
For the past couple of weeks, I battled some nasty funk, but then my whole family came down with a stomach virus.  Of course, this was while Allan was out of town on business.  After suffering from it over a month ago, Little Lion Man became inflicted with it again in a contaminated house.  It was unavoidable and truly disgusting.  Then, Allan returned home and came down with the sickness as well.
The haze of illness has finally subsided and everyone is feeling better, but I'm still having a hard time getting out of bed in the morning due to sleeplessness.  I honestly don't know how to shake it.  I thought about trying melatonin as a sleep aid.
As for my running plan, I had 13 miles scheduled, but Saturday was an ugly rainy day and I hate running in the rain.  I made up for it on Sunday.  Still having a hard time getting out of bed and playing nursemaid to a sick husband, I hit the pavement a little later than I would have liked but I did it.  With a late start, the heat was pretty brutal and I'm not sure it was any better than running in the rain.  It wasn't my best 13 miles.  I walked a lot, but I got it done and I finally finished my Doctor Who Half Marathon and earned my medal.
13.1 miles
Time 2:44:15
Ave Pace 12:33
Max Pace 8:13
After a few weeks off from long distance running, my legs were pretty sore. I rested on Monday and overslept this morning.  I missed my 5:00 a.m. Track Tuesday, so I flipped my work-outs around because I really enjoy the express Body Pump class at the Y and I didn't want to miss it.  So, I went to Body Pump and then did my speedwork.
I'm feeling really squishy lately.  It's hard to explain, but it might have something to do with not work-out as much as I would have liked to lately with all the illness in my house.  I just feel soft and not as strong or toned as I was this summer.
I never thought I would say this, but I miss training for triathlons.  I really enjoy the swimming and biking and brick work-outs.  I also really miss spin class.  I just feel all out of routine and need to get back into a regular work-out routine.
With that, I would really like to attend an early morning spin class at the Y tomorrow.  Then on Thursday, I'll run 8 miles, but it has to be early in the morning because I have a field trip with Emmalynn's class.  So, if I miss my early morning window to work-out, then I'll miss my 8 mile run and that won't do, especially with 15 miles on schedule this week!  Then on Friday, I'd like to try the Body Pump and CRX Works combo class at the Y because I need to add more core and strengthening work-outs.
And that's how I plan to channel my inner Turbo. After all, it's only 12 days until Space Coast Half Marathon and I would really love to beat my all-time half marathon PR.
"Stay focused.  That's all a runner can do."
"Head in the game.  Head in the game."