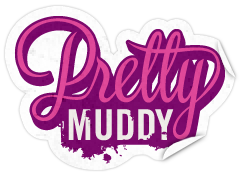 Last fall, I experienced my very first endurance mud run at Pretty Muddy.  Although prior to the race I had such anxiety and trepidation about the mud and the physical challenge of the obstacles, I truly loved the experience.  I just had to think outside my usual running comfort zone.
Like a newbie endurance runner, I ran the 5K race like a runner trying to hit a new PR.  I put all my efforts in trying to complete the course in a set time, which meant I missed out on all the camaraderie and team work of the race.  As I struggled with some of the muddy hurdles, I observed other teams helping each other.  With each squish and mud slide, I watched others tumble and roll with laughter.
Pretty Muddy is not a competition.  It's about pushing yourself beyond a run and enjoying the sport while doing it with your girlfriends rallying around you.  But even if you don't want to push yourself, Pretty Muddy allows you to pass on obstacles without penalizing you.
During my beautiful, muddiful experience, I also learned that Pretty Muddy partners with many local charities and provides.  New for 2013, Pretty Muddy proudly supports Project Sole, a non-profit shoe charity.  At each event, Pretty Muddy will collect muddy discarded donated running shoes and deliver them to Project Sole who in turn distributes footwear throughout the world to disaster and poverty stricken areas.  So, wear old running shoes and donate them after your mud run.

Pretty Muddy returns to the Tampa/Orlando area on December 7 and will be held at the beautiful Colt Creek State Park in Lakeland.   This year, the organizers have added an all new Pretty Muddy Family Edition.  Now ladies can choose to participate in a team with their girlfriends or enjoy the fun with their kids, husbands and significant others in the last wave of the day for a one-of-a-kind family muddy adventure.  "From ages 6 to 96, everyone is guaranteed to feel like a kid (again), creating muddy memories that will last a lifetime." – Pretty Muddy
I was really looking forward to participating in the Pretty Muddy Family Edition with my Run DMT clan, but due to a scheduling conflict, I am unable to attend the event.  However, the good people of Pretty Muddy have arranged for me to offer my spot to a lucky Run DMT reader in the Tampa Bay area!
To win my Pretty Muddy spot, simply visit Pretty Muddy and tell me in the comments below what obstacle(s) you can't wait to try or to pass by.  
Giveaway ends 12/3 at 11:59 pm EST.