Disclaimer: As a Fit Approach Sweat Pink Ambassador, I was selected to participate in a #HolidayFitList campaign. I received fitness apparel from Lorna Jane and a copy of Move Over Sugar  as compensation for my participation.  All opinions shared are my own.
Dear Santa,

I have been a very good runner mother blogger this year.  I've ran hard. I've tried hardest to PR and hit that goal at one of the 5Ks this year and even earned a age group award.

I'm lifting weights for strength training and became stronger.  I've ran endless number of tracks to gain speed.

As you can see, I've worked hard this year and I would love for you to slip some fun running gifts under my tree this Christmas, please

I would love a Garmin 910,

some caffeinated Cliff Shots,

and some Brooks Trance running shoes, which are no longer being manufactured.  So, can you have your elf make me some stability running shoes with lots of cushion?

Thank you.

Forever Yours,

Denise of Run DMT
I always tell my kids that you should only ask Santa for three items for Christmas.  That way, if money is ever tight, then my children would still find all the items on their Christmas lists under the tree on Christmas morning.  Santa could still deliver the toys and gifts they desired.
As a funny coincidence, the elves at Sweat Pink provided me with three gifts from Lorna Jane collection which have me very excited.  I haven't received my gifts yet, but I just love the Lorna Jane styles.  I love the inspiration tanks.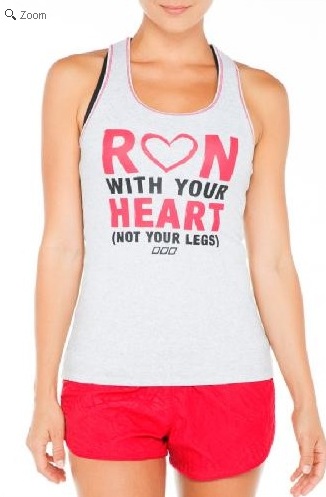 I'm also looking forward to some new shorts and sports bra stuffed in my stockings.
For an added bonus stocking stuffer, I received a copy of Lorna Jane's ebook, Move Over Sugar.  The book is a collaborative effort by the Move Nourish Believe sisterhood and offers great suggestions to eliminate refined sugar from your normal diet.  Instead of using artificial sweeteners, Lorna offers seven great natural sugar substitutes and nine steps to change your diet to reduce your sugar consumption.  As for natural sugar substitution, she suggests cooking with maple syrup, which I love.
All the recipes featured in the book will aid in reducing sugar consumption without losing flavor.  The recipes are so intriguing and interesting, and I especially can't wait to test the cookies at a Christmas cookie exchange this season.
All of these Lorna Jane gift picks were present to a handful of the Fit Approach Sweat Pink Ambassadors.  I am honored to be part of this #HolidayFitList campaign along with some best fitness bloggers.

Denise from Run DMT
Dani from Weight Off My Shoulders
Katie from Moms Little Running Buddy
Lindsey from Fit and Awesome
Kalee from Sorey Fitness
GiGi from GiGi Eats Celebrities
Rachel from Running Rachel 
Astrid from Better Believe Fit
Presley from Run Pretty 
Jill from Fitness Health and Happiness
Anglena from Happy Fit Mama
Katie from Katie Heddleston
Lea from Running With Ollie
Sarah from Fit Betty
Courtney from Journey of a Dreamer
Jennifer from LivWhole
Jennifer from Jennifer Cassetta
Jenny from Metamorfit 
Julie from Project Julie
Shannon from Badassfitness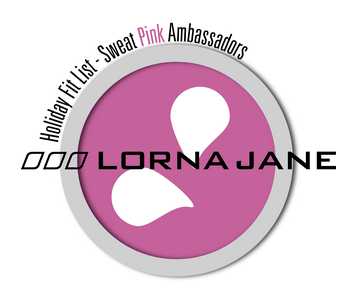 Join me and the other Sweat Pink #HolidayFitList Ambassadors at tomorrow Wednesday, December 4 at 5pm PST/8pm EST for a #HolidayFitList #SweatPink Twitter party sponsored by Fit Approach and Lorna Jane. RSVP on Facebook for a chance to win $100 gift card to Lorna Jane.
But if you can't make the #HolidayFitList Twitter party, enter the Fit Approach and Lorna Jane #HolidayFitList Sweepstakes.  One lucky entrant will win a $250 gift card to Lorna Jane to revamp her fitness wardrobe this holiday season! The  #HolidayFitList Sweepstakes ends on December 13th at 3PM PST/6PM EST.  Enter here.