Have you heard the news? I'm running the Chicago Marathon for charity!
With running NYC in November, I originally decided against registering for the Chicago Marathon lottery when all my friends applied. What were the chances they would all make the lottery? After all, I waited three years to finally the NYC marathon.
As fate would have it, they ALL made the lottery. Every one of my running friends who applied made the 2014 Chicago Marathon selection. When I heard that news, I felt a little pang in my heart because all my marathon friends would be running a fantastic race together and I was missing out.
Oh well. That's life.
Then, my SIL Kirsten shared a post of Facebook on behalf of the Danny Did Foundation. She encouraged her Facebook runner blogger friends to apply to run for charity to raise money for an organization that had benefited her family.  I saw it as a sign. Danny Did Foundation had helped Meghan and now I could give back to this charity in her name.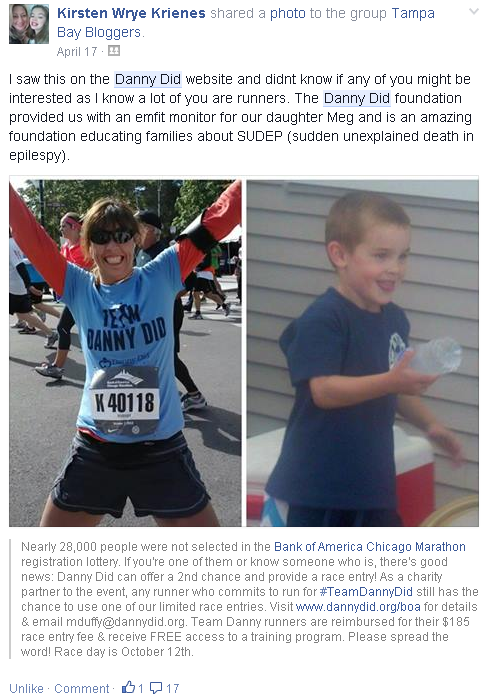 So, I sent an email. Surely they wouldn't pick me. I don't have that kind of luck.
Well, I am happy to report I am indeed running to raise money for the Danny Did Foundation! I need to raise $1500 before October 12, the day of the marathon, which is very exciting, scary, nerve-wracking. With a fundraising component added to my usual training, I am definitely taking my marathon training to a whole new level.
This is exactly the inspiration I needed and I am thrilled to do it all for Meghan and the Danny Did Foundation, so that other children living with epilepsy can receive assistance from this incredible organization.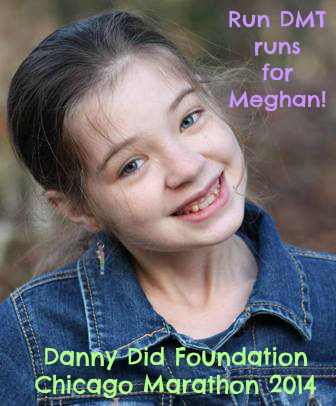 After Chicago, I will have three weeks until the New York City Marathon and then Space Coast Marathon four weeks after that. Raising money for a marathon and running three marathons in seven weeks! Don't Stop Me Now!
I'm a shooting star leaping through the skies
Like a tiger defying the laws of gravity
I'm a racing car passing by like Lady Godiva
I'm gonna go go go
There's no stopping me
I'm burning through the sky yeah!
Two hundred degrees
That's why they call me Mister Fahrenheit
I'm trav'ling at the speed of light
I wanna make a supersonic man out of you
Don't stop me now
I'm having such a good time
I'm having a ball
Don't stop me now
If you wanna have a good time
Just give me a call
Don't stop me now ('cause I'm having a good time)
Don't stop me now (yes I'm having a good time)
I don't want to stop at all… yeah!
This Music Monday selection was inspired by Meghan. Don't Stop Me Now by Queen is one of Kirsten and Meghan's favorite songs and since I am running the Chicago Marathon for Meghan, it just seemed like the perfect time to share it.
If you would like to contribute to my fundraising page, please click here.  Thank you for your support!