Last Thursday, it hit me: only ten weeks until the Chicago Marathon. Holy runner balls, Batman!
I have only ten weeks to raise $1000 for the Danny Did Foundation. *gulp*
Brother, can you spare a dime or ten thousand?
It has been such a rewarding experience sharing my niece's story and how The Danny Did Foundation helped her as well as educating people on the wonderful efforts of the organization, it's campaign to build awareness of epilepsy, SUDEP (Sudden Unexplained Death In Epilepsy) and the EMFIT monitors it provides to for families in need to prevent SUDEP.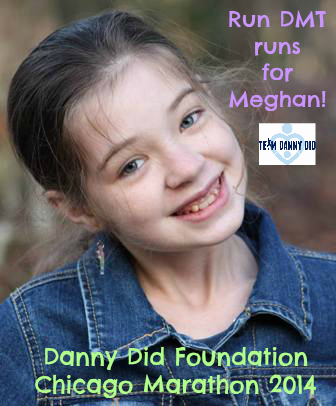 As rewarding as the process has been, I find it so frustrating that I am so far from my goal with very little time left to raise money.
Have you ever attempted to run for charity? What were some of your successes and your challenges?
The shock of only ten weeks left also snapped me back into full training mode. I realized I can't slack off any more and I have to be dedicated to this. I really struggled during the month of July to find time to run while traveling, working and entertaining my kids. Something had to give and it was training that I found myself letting go.
But now with only ten weeks, I'm all in. It's funny how I can turn it off and on like that, isn't it? Yesterday, I decided to start the week off right with spin. After weeks off, I needed a good spin ass kicking. Since it had been a while since I last attended the class, I really struggled with it. It felt like my heart was pounding out of my chest and my legs were screaming. I tortured myself well and truly and I loved it.
Today, I decided to continue my sadist ways with some speedwork. It had been ages since my last speedwork session and I need to commit to sprints again. My goal is to complete the Yasso 800s to determine my performance at the Chicago Marathon. I would love finish around 4:30 – 4:45. Therefore, I need to run 10 x 800s consistently at 4:30 to for a marathon finish time of 4:30.
For my first week back to sprints and a regular Track Tuesday routine, I decided to try 4 x 800s with a half mile warm-up and a half mile cool down. Each week, I will add another 800s to slowly build up to the 10 x 800s, the famous Yasso 800s and ultimate marathon predictor. With ten weeks left, I have enough time leading up to the marathon to repeat a set one week or drop down if need be. I have wanted to train with the Yasso 800s for a long time and I'm really excited to see how it all goes down.
If today (sprints on a brutal hot summer day) is any indicator, I should do all right by October in Chicago.
4 miles total
40:08
Ave Pace 10:02
4 x 800s
Ave Pace 6:44
Ave Time 3:22