Disclaimer: The following post is sponsored by Westfield Tampa Bay. All opinions and Advent calendar activities are my own.
Traditional Advent calendars are cardboard trays with small morsels of chocolate hiding behind numbered doors. Yet somehow over the years, Advent calendars have become more than chocolate countdown calendars; they have morphed into treasure troves of trinkets including toys and sometimes even beer and wine.
Our very loved and weathered missing-a-few-knobs-and-hinges family Advent calendar falls under the category of morphing into more than chocolate. To count down the days to Christmas, every year I plan an Advent Calendar full of Christmas themed activities that celebrate the season. I type up a list of our favorite activities, cut them into strips and then hide one Christmas activity with three pieces of Candy Cane Hershey's Kisses (one for each child) behind each number door.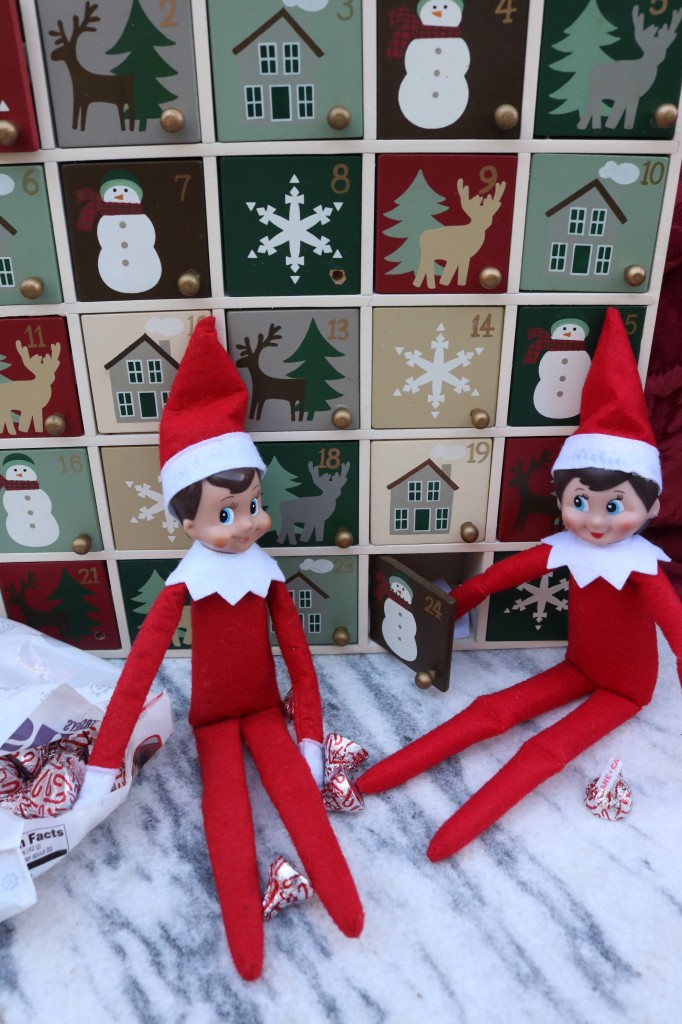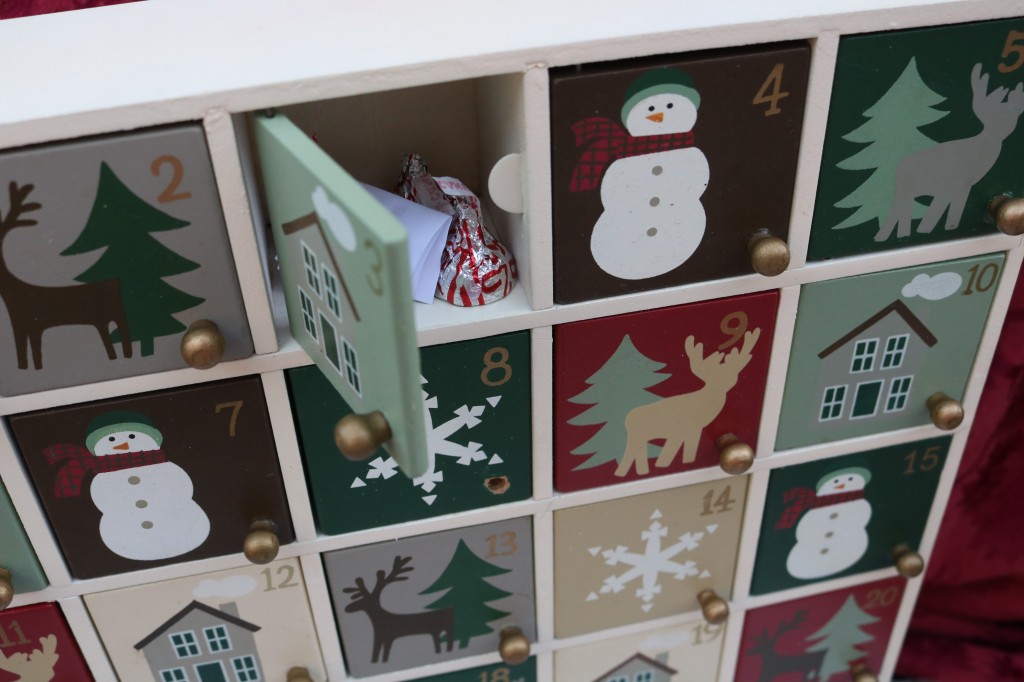 In this 24-7 "moms killing it" social media world of constant updates and notifications, it can be a tad bit overwhelming trying to do it all. There is just so many fun Christmas filled events happening around Tampa Bay. That's why it's important to remember the simple things about season like twinkling Christmas lights, hot cocoa and caroling.
With all the planning that goes into the holidays, why make things more hectic and stressful?
That's why I'm truly thankful for Tampa Bay Westfield Shopping Centers this holiday season, especially the extended shopping hours December 15 – 24. In between my holiday shopping, I can arrange a few Advent calendar activities that squeeze in fun with Santa at Westfield Brandon, Westfield Citrus Park or Westfield Countryside.
Santa will make his seasonal home now through December 24 at all the Westfield Tampa Bay locations, however Santa's holiday workshop locations, reindeer lunch breaks and hours vary at each Westfield center. Visit westfield.com for details and grab a FAST pass to skip the line by purchasing photo packages in advance online.
This weekend brings some extra joy this season with special Santa events, such Santa Solute (AKA Operation: Santa) on Saturday, December 2. To show gratitude to our veterans and military families, families that show their military ID will receive one free 5×7 photo with Santa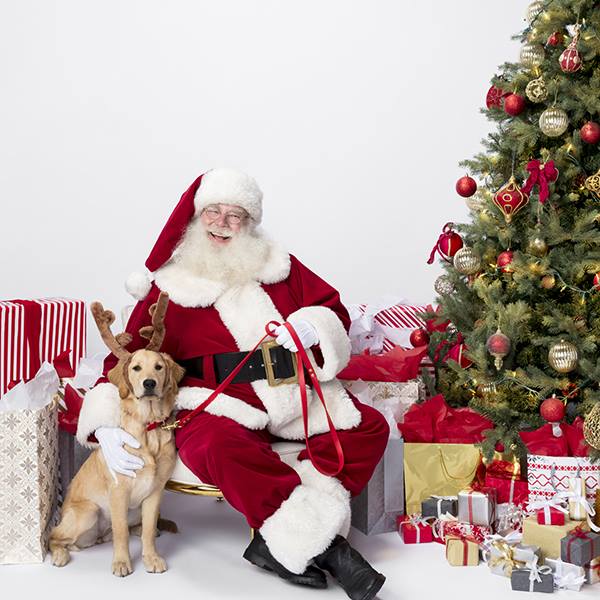 Then, on Sunday December 3 from 6:30 pm – 8 pm, bring your fur babies to experience Santa Paws – Pet Photos with Santa. Westfield and Santa understand that family members come in all shapes and sizes, and sometimes they have four legs! You can capture that perfect holiday memory of your furry friend at Westfield Brandon, Westfield Citrus Park and Westfield Countryside. Visit westfield.com for more details.
Also on Sunday but only at Westfield Countryside, see Santa on Ice! Join Santa and his elves during a special Santa on Ice event on Sunday, December 3 from 12 pm – 1 pm, at the ice skating rink on the lower level. The first 50 children to attend the event will receive free admission to skate with Santa and his elves. Visit westfield.com/countryside for details.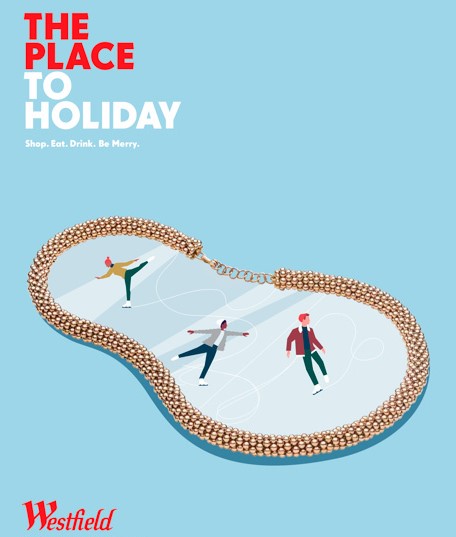 There's even a Westfield Santa event for the Tampa Bay Lighting fans at the Brandon and Citrus Park locations. Lightning fans can have their photos taken with Santa and Mrs. Claus in a Tampa Bay Lightning Jersey on Monday, December 4 from 6pm-8pm at Wednesday Citrus Park and Wednesday, December 6 from 6pm-8pm at Westfield Brandon. The event will include special activities including the appearance of ThunderBug.
For more details about the special Westfield Santa events, shopping hours and discounts, be sure to check each specific Westfield center website.
Which Westfield Santa event will I see you at this season?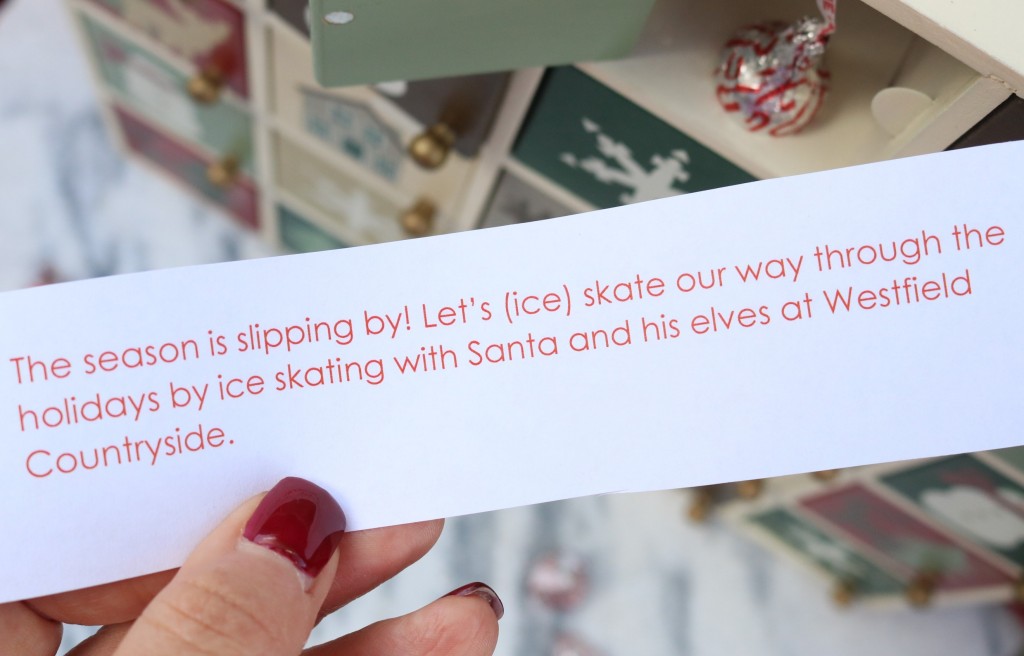 I've added some Westfield Santa fun to this year's Advent calendar mixed in with a few of our favorites and even a few extra ideas. Check out the list below and don't miss my Westfield $100 gift card giveaway.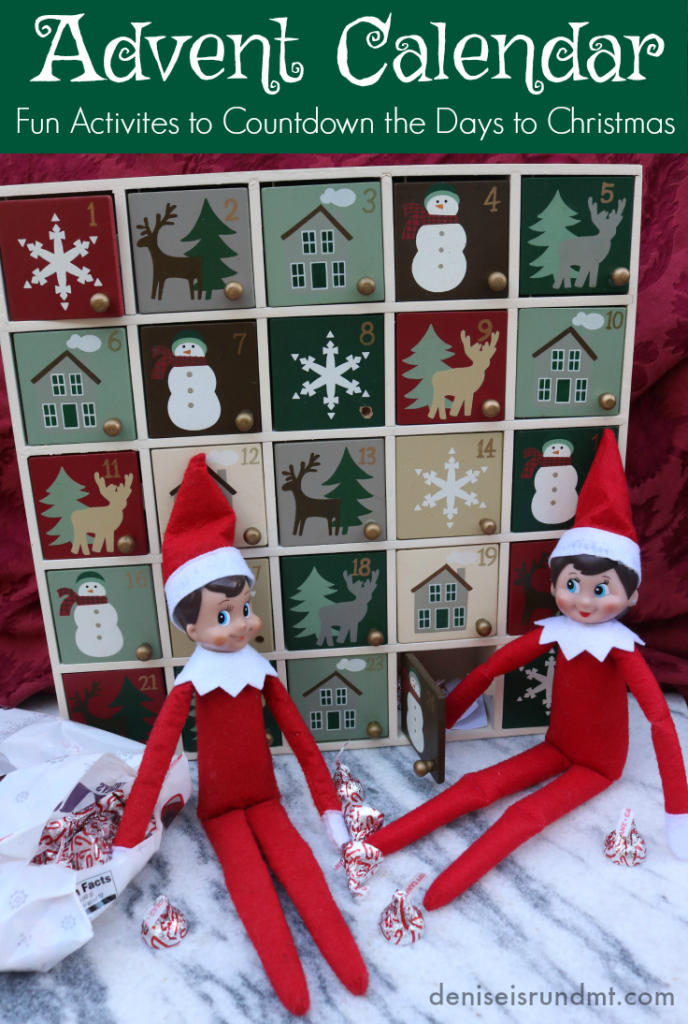 Advent Calendar Fun – Activities to Countdown the Days to Christmas
If you don't ask, you don't get. You'd better write those Christmas lists!
Smile and say, "CHEESE!" Let's snap some silly Christmas photos in a photo booth.
The season is slipping by! Let's (ice) skate our way through the holidays by ice skating with Santa and his elves at Westfield Countryside.
Take a moment to Experience Bethlehem. We'll walk through the city of Bethlehem to find the manger where Jesus was born
Create pipe cleaner candy canes while snacking on candy canes.
Take a drive through the neighborhood to gaze at Christmas lights while sipping hot cocoa.
How about we bake some Christmas cookies? It's sure to be a sweet time!
Embrace the blue space. Let's have blue Christmas on the beach and build sandmen.
Seas the day at the Tampa Riverwalk Christmas Boat Parade.
Castaway on a Pirate Taxi River of Lights Tour.
Oh Hanukah! Oh Hanukah! Let's light the menorah and spin the dreidel.
No hard hats necessary just plenty of creative juices for today's fun! Let's build a gingerbread house and make sugar cone Christmas trees!
Pizza and a movie night – Snack on Christmas pizza while watching a Christmas movie.
Roll out the blanket. Let's have an indoor picnic by the Christmas tree.
'Twas the night before Christmas and all through the house, a family snuggled together to read Christmas stories on their couch.
All aboard! Next stop Crews Lake for a Christmas train ride to the North Pole.
Santa stop here! Let's make reindeer food so the reindeer know where to land and have some extra energy to make the long flight back home.
Christmas is Universal! Let's experience the holidays at The Wizarding World of Harry Potter.
We're just hanging around today. Let's make some Pinterest inspired ornaments for the Christmas tree.
Make snowflakes and drink milkshakes.
Let's rock around the Christmas time with a Christmas music dance party!
Santa is calling! Check Mom's email for a personalized video from Santa.
The best way to spread Christmas cheer is singing loud for all to hear. Let's go caroling for cans to help needy families this Christmas.
Find time today to fold up some paper to create origami ornaments and Christmas fortune tellers for some silly seasonal fun.
Let's have a Holiday Pampering Party complete with mud masks, pedicures, make-up and glittery hairdos.
Christmas is coming to town! Meet Rudolph, Clarice and the rest of the Red-Nosed gang at Busch Gardens Christmas Town!
Set out cookies and milk for Santa and carrots for the reindeer. Then, sprinkle the reindeer dust in the yard.
Santa arrives! Merry Christmas!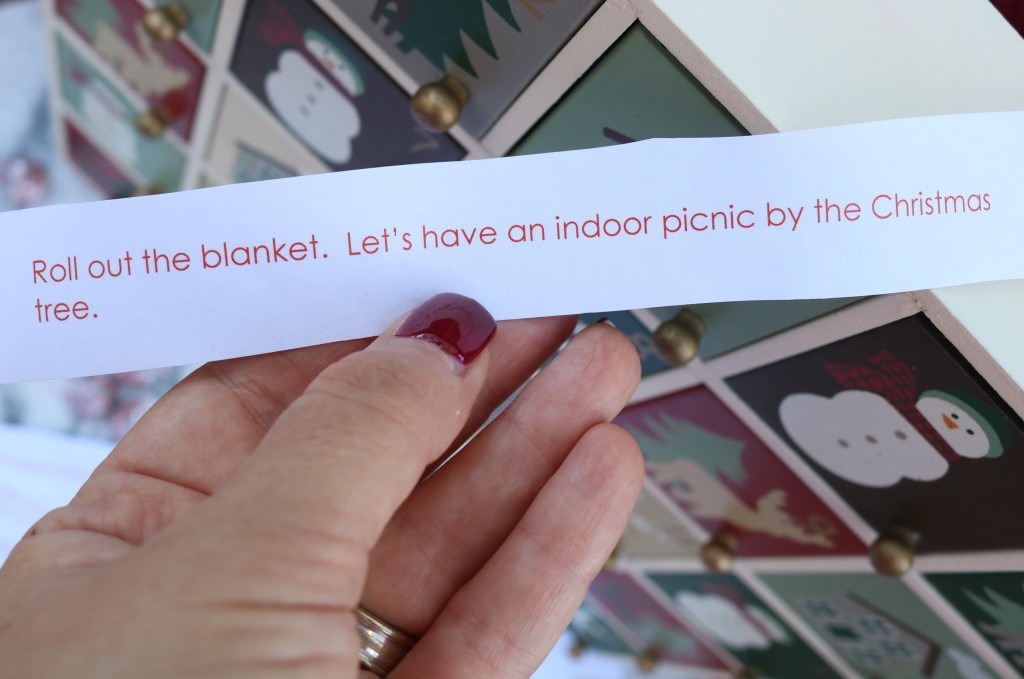 Do you share an Advent calendar in your family? What fun ways will you celebrate the season with your loved ones this year?
For more Advent calendar ideas, see my lists from previous years: here and here and even TWO BEER Advent calendars here and here.
The holidays just got even more merrier! Enter to win a $100 Westfield gift card.

To enter, tell me what Westfield Santa event will I see you at this season. For additional entries, follow Rafflecopter prompts.