For the fourth year running, I've assembled a craft beer Advent calendar for my husband and me to enjoy this holiday season making it another 25 cheerful and beerful December days leading up to Christmas.
Since Allan wanted to help pick the craft beer selections this year, the two of us went jingling all the way to Total Wine. However, someone must have tipped Total Wine off or sent Santa a craft beer list because this year there were so many more seasonal craft beers than previous years. With the abundance of selections to choose from, this year's craft beer Advent calendar has a few new flavors mixed with a few of our old festive favorites.
All twenty five seasonal craft beers are stored in our spare fridge and we will sample one beer each day. Given that most Advent calendars are numbered, you could number the bottles with card stock gift tags and ribbon to correlate with a day of the month, however, I don't bother because my husband likes to choose his own beer. It may be less festive but still as tasty!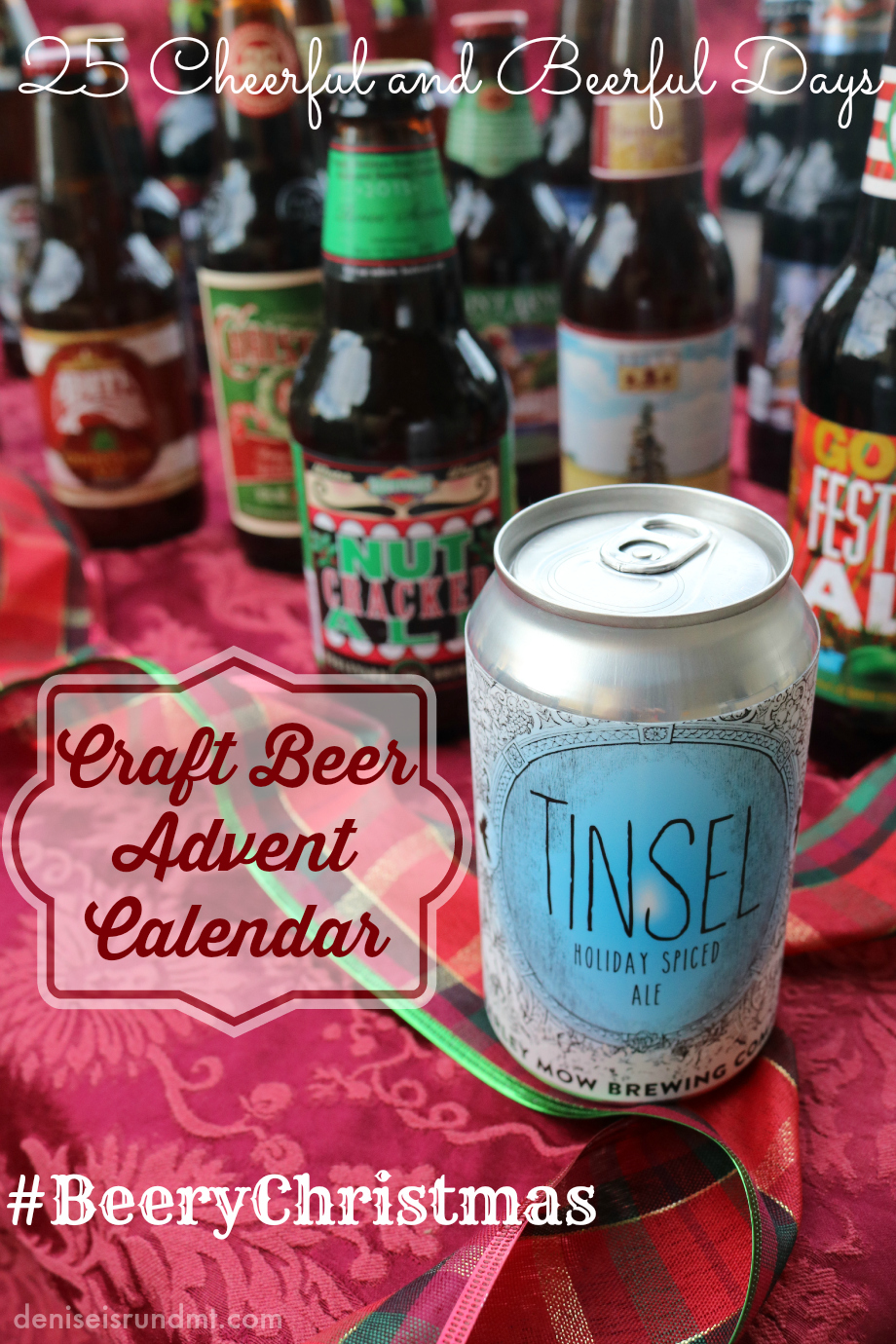 #BeeryChristmas – Our 2015 Craft Beer Advent Calendar
Seasonal Craft Beer List (in no particular order)
Tinsel Holiday Spiced Ale – Barley Mow Brewing Company
Goose Festivity Ale – Goose Island Beer Company
Nutcracker Ale – Boulevard Brewing Company
Blue Moon Gingerbread Spice Ale – Blue Moon Brewing Company
Fat Head's Holly Jolly Christmas Ale – Fat Head's Brewery
Snow & Tell Oak-Aged Scotch Ale – Boulevard Brewing Company
Bell's Christmas Ale – Bell's Brewery
Saint Arnold Christmas Ale – Saint Arnold Brewing Co
Breckenridge Christmas Ale – Breckenridge Brewery
Leinenkugel's Snowdrfit Vanilla Porter – Jacob Leinenkugel Brewing Company
Abita Christmas Ale – Abita Brewing Company
Winterfish Seasonal Ale – Fish Brewing Company
Winterbraun – Lost Coast Brewery
Scuttlebutt 10° Below Ale – Scuttlebutt Brewing 
Snow Roller Hoppy Brown Ale – Magic Hat Brewing Company
Backwoods Bastard – Founder's Brewing
Hibernation Ale – Great Divide Brewing Company
Old Man Winter Ale – Southern Tier Brewing
Give Shiner Holiday Cheer – Spoetzl Brewry
Mahr's Brau Christmas Bock – Shelton Brothers
Lump of Coal Dark Holiday Stout – Ridgeway Brewing
Santa's Butt Winter Porter – Ridgeway Brewing
Warm Welcome Nut Browned Ale – Ridgeway Brewing
Reindeer's Revolt English Christmas Ale – Ridgeway Brewing
Bad Elf Winter's Ale – Ridgeway Brewing

(Some added picks for me in case a beer is too hoppy.)
Jolly Traveler Winter Shandy – Traveler Beer Company
Ben & Jerry's Salted Caramel Ale – New Belgium Brewing Company