As safe-at-home distance learning comes to a close, summer break begins as theme parks and local attractions are starting to slowly open up again around Florida.
A few theme parks and kid camps announced opening dates. For some families, this offers some sense of "normalcy".
For others with health and safety concerns, some parents aren't ready to return their families to life outside their homes. Therefore, families like mine are continuing to remain safe at home and exploring options for virtual summer camps and programs.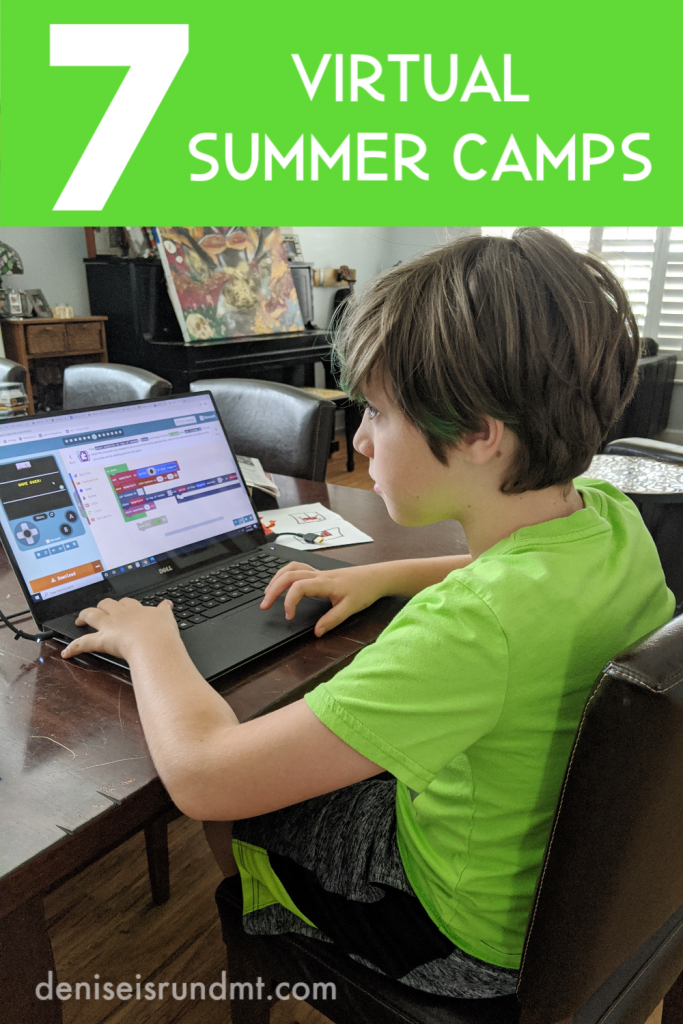 Seven Virtual Summer Camps
Outschool courses offer an eclectic assortment of out-of-the box thinking and fun hands-on STEAM learning approach led by teachers that will excite your kids and break up the summertime boredom.
Outschool camps are multi-day classes that meet two or more times in the same week over video chat. As always, they're taught by Outschool's community of passionate teachers.
Kids can learn new skills or perfect existing ones – what better time to learn a new language, play an instrument or dance? Create art or create an electric circuit board. Bake a delicious masterpiece or be a LEGO Master Builder. Write a story or write code. Outschool offers something for every interest, ability level and age level!
Outschool Camp prices vary depending on length and reoccurrence. Visit outschool.com to discover camp options, age requirements, prices and availability.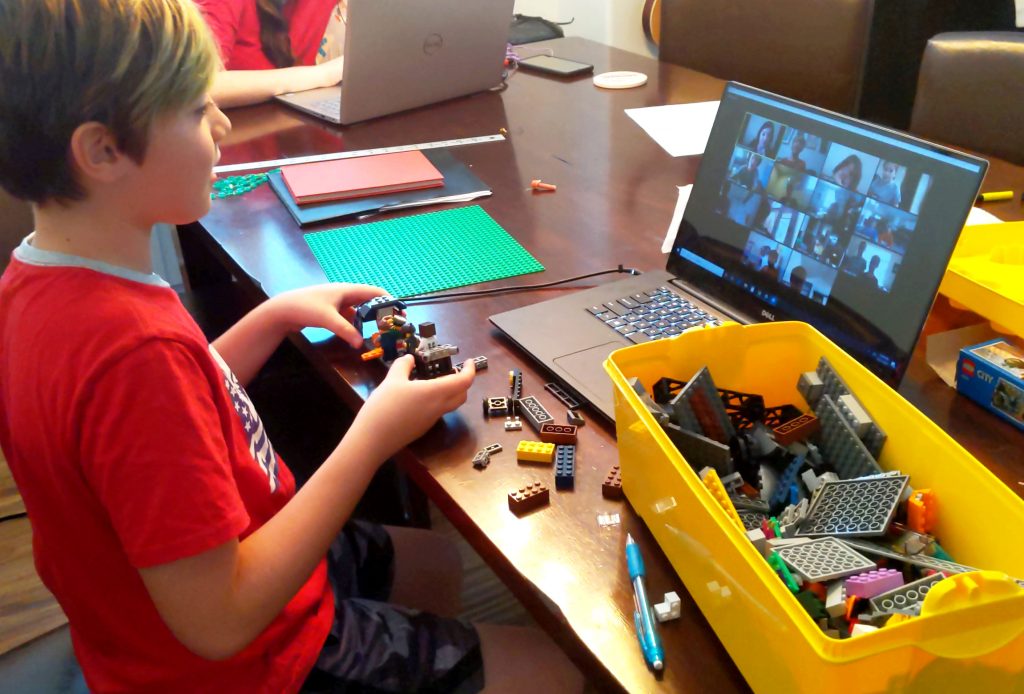 For kids 7-12 and teens 13-17, Full Sail University is offering Full Sail Labs – live Virtual Summer Camps this June and July. These live instructor camps teach STEAM-based topics in subjects students love including technology, entertainment, media, and art. Each week-long camp is designed to fully engage students 20 hours a week, Monday through Friday, with 4 hours of learning each day divided into 2 hour blocks.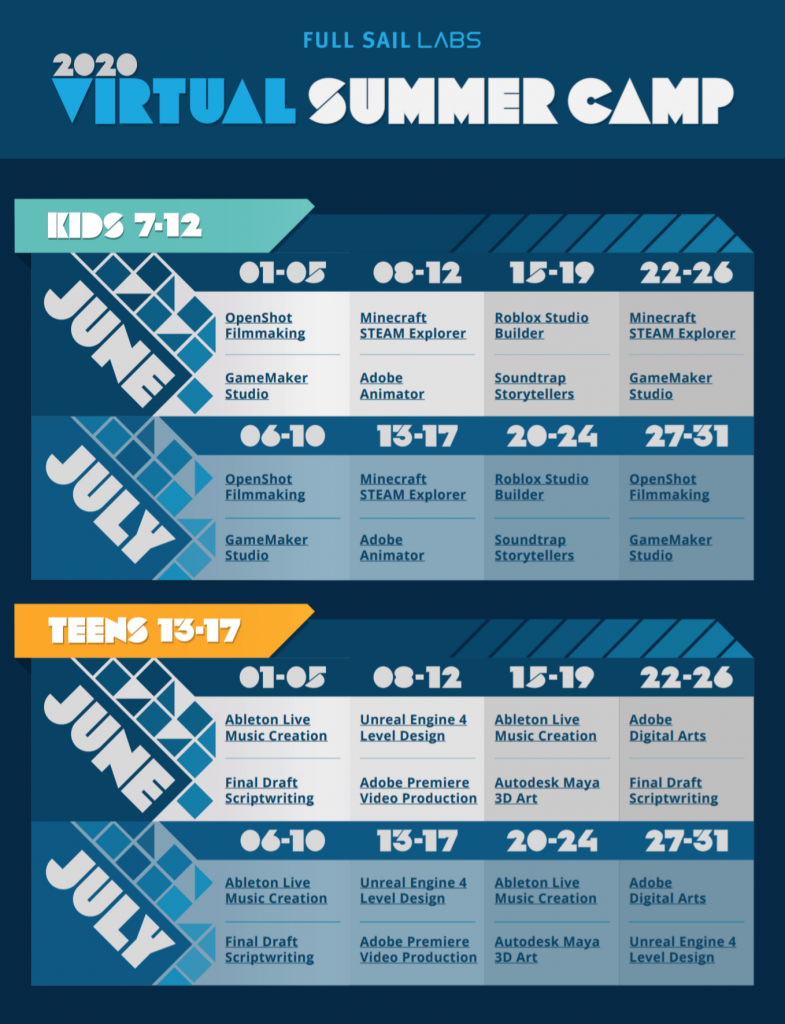 Learn more at www.fullsaillabs.com.
Last summer, my son had had a blast at Code Ninjas Roblox Create Summer Camp. This summer, in addition to its regular weekly coding camps on-site, Code Ninjas Carrollwood will offer TWO virtual camps from 10 am – 12pm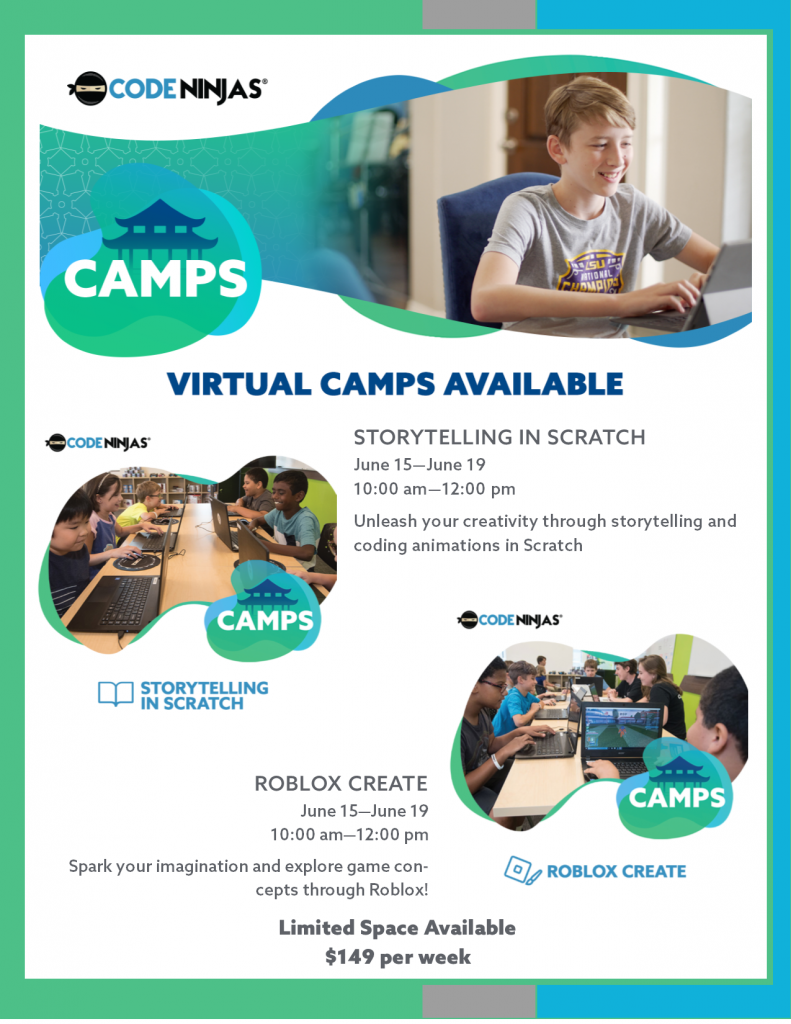 Storytelling in Scratch – June 15 – June 19
In Storytelling in Scratch, ninjas will unleash their creativity through storytelling and coding their own animations.
Roblox Create – June 29 – July 3
Roblox Create is for Ninjas of all levels, beginner to expert; explore game concepts in Roblox that are sure to spark the imagination.
Learn more at Code Ninjas' summer camps and register here.
For the past two years, my oldest attended METRO'S LGBTQ+ Summer Camp in St. Petersburg, which is invaluable community resource and FREE to all young people ages 13-17.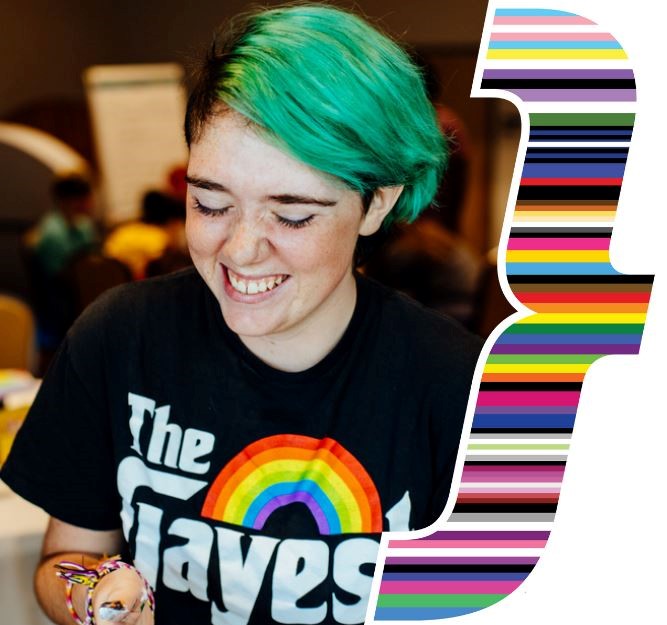 This year, METRO's will host its first ever Stay-In LGBTQ+ Summer Camp, presented by Tech Data from June 8-12 and July 27-31.
Participants will attend Zoom meetings for a week of incredible workshops led by fabulous folks from around the country. Meet and form lifelong friendships with other LGBTQ+ campers in this uniquely queer virtual experience. Campers will receive a Camp Care Package with bunk decorations, flags, and supplies for each workshop you choose.
Although the first session has already filled, sign up to be notified when the July camp registration opens. If you have any questions, email [email protected].
Go Girls! developed a Culture Code, a 5-part social-emotional learning framework that bridges art and science and answers the question, "What do girls need to be learning in order to become their boldest, bravest selves?"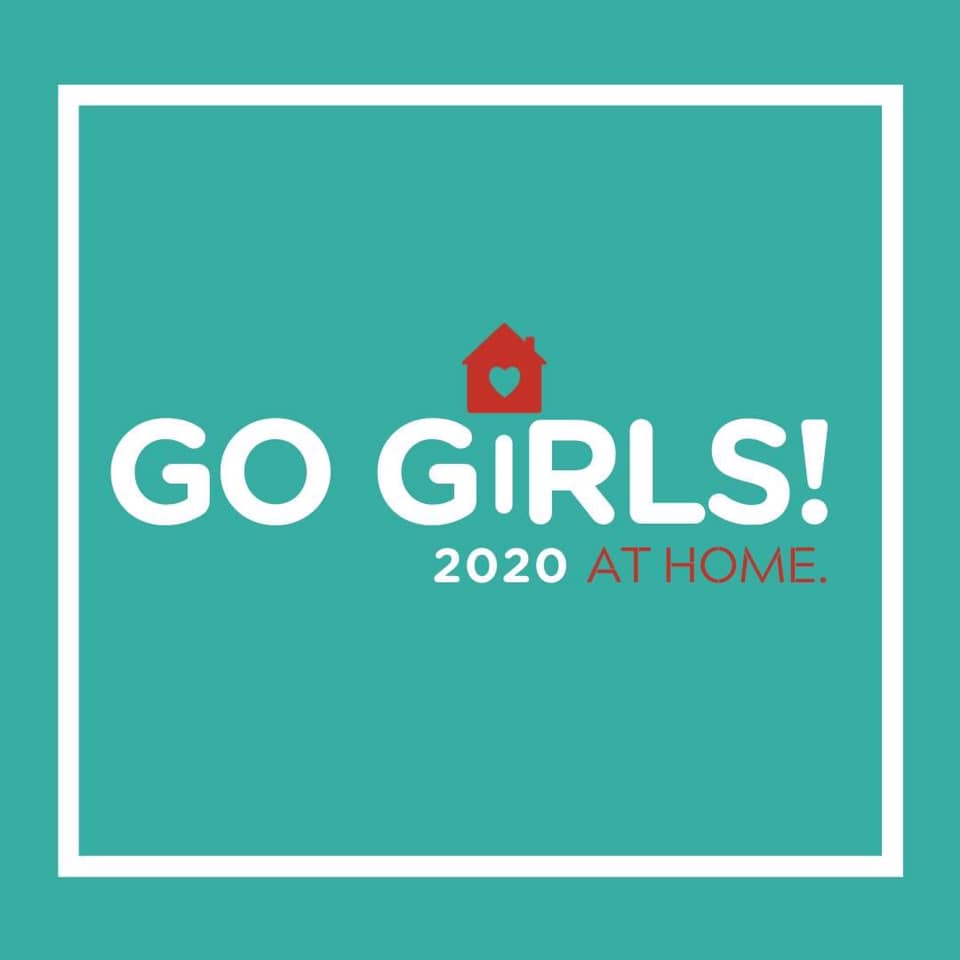 Go Girls! At Home program provides a virtual summer camp for girls and gender non-conforming kids ages 6-14 (rising 1st through 8th graders) to make art and media together – all while practicing the Go Girls! Culture Code.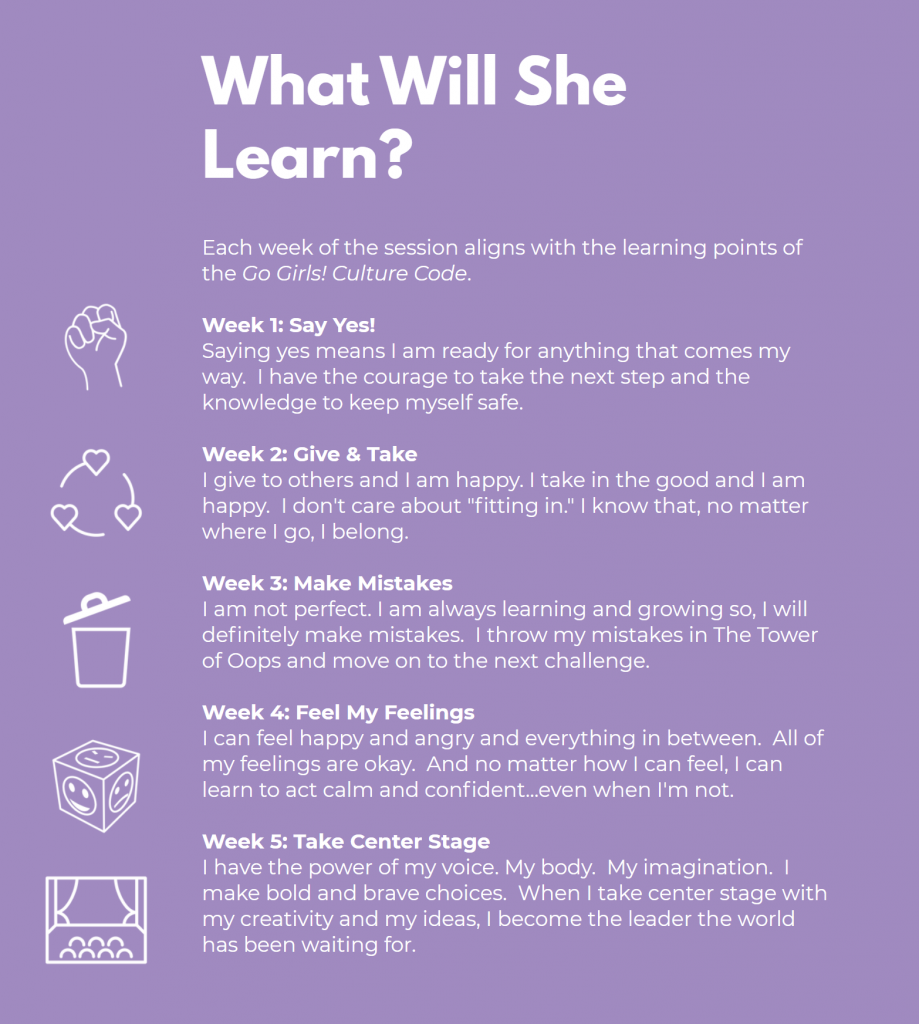 Throughout the course of this 5-week, virtual camp session, your Go Girl! will:
Attend a weekly live, virtual Community Circle with Go Girls! from all across the country to play, reflect, and celebrate
Make art, learn dances and songs, write original pieces, and more with the help of veteran Go Girls! teaching artists
Connect with other girls her age to practice the skills of the Go Girls! Culture Code in weekly small groups
Share and celebrate her creations within the context of a loving and supportive community.
Learn more about Go Girls! and the Girls! At Home here.
The Color Express 10-Week Summer Art Camp is a 'go at your own pace' art program, structured with weekly areas of focus. For only $15 a week per family, siblings can create masterpieces side by side at their own pace and level.
Perfect for art lovers, The Color Express Art Camps provide pre-recorded videos and a printed course guide. Once inside the course, your child will have access to two instructional videos per week.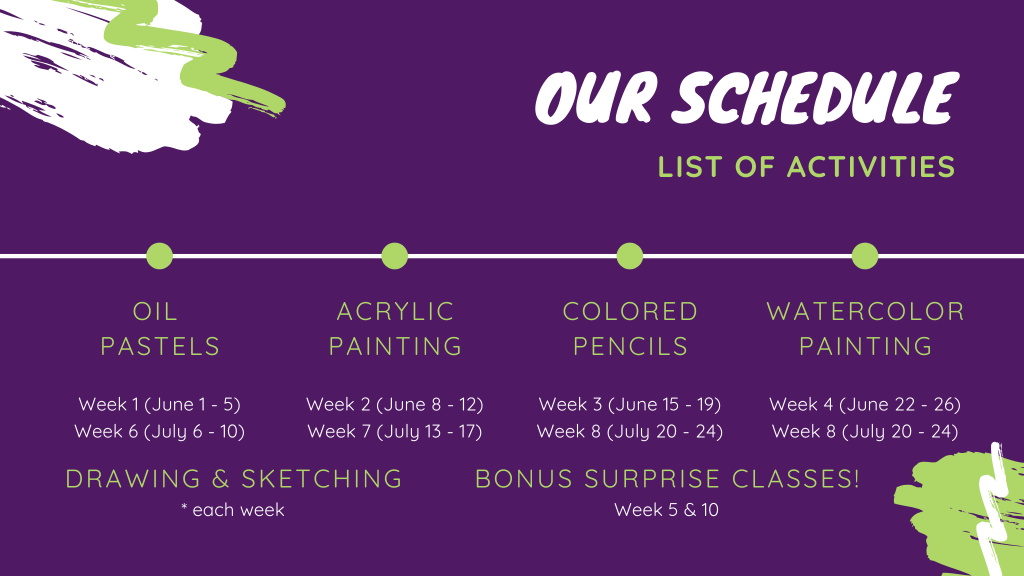 What is included in the camp fee?
Secure login for your child to access the program
2 classes per week with various areas of focus (Drawing, Canvas Painting, Watercolors, Oil Pastels, Colored Pencils, etc.)
Welcome Packet mailed to you – Camp guide, BINGO card, Supply list
3-D Virtual Art Museum of your child's creations
Parents also have option to add on an art kit for a $50 fee This includes all supplies for the entire 10 weeks for 1 child.
Try it before you buy it!
Sign up to be part of the The Color Express Community and take one of The Color Express FREE art classes, such as water color painting, anime or cartooning geared for each age group: Pre-K, Grades K-5 or Tweens and Teens!
Learn more about The Color Express here.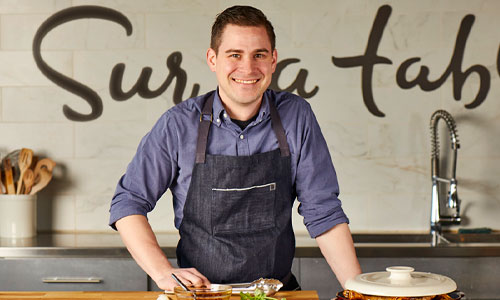 For the budding chef, Sur La Table offers some tasty online cooking classes. While they aren't a camp per say, the online instruction are perfect for older kids who are interested in learning techniques and menu planning.
Each course offers how to prepare a main entree, side dish and dessert. Shopping list and a list of equipment are provided before class. Prices vary.
See the Sur La Table online cooking classes here.
Other FREE Enriching Online Learning Opportunities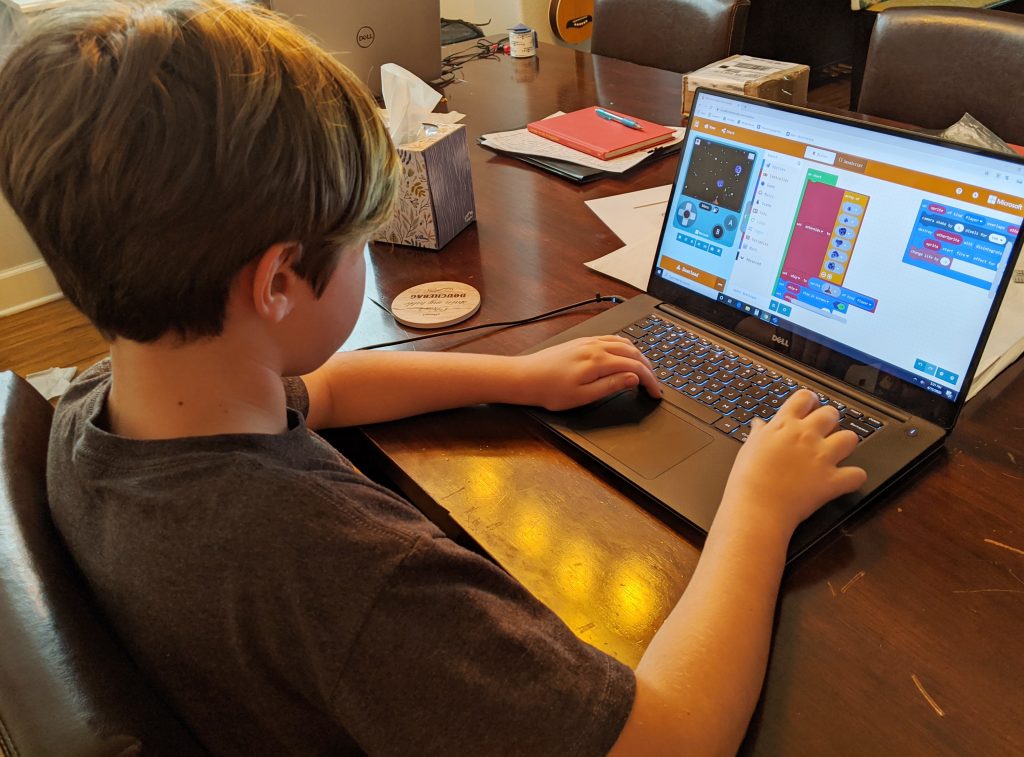 From coding to building a business for young entrepreneurs, Microsoft stores offer a variety of STEM workshops.
Gamers of all ages can even find tournaments with a chance to win a MS gift card.
See all the upcoming Microsoft Workshops here.
WeAreTeachers compiled an outstanding collection of 25 virtual field trips. From Slime in Space to the Smithsonian, this out of this world list will keep your kids exploring and learning!
Yahoo! Life compiled a list of 12 interactive virtual museum tours. Travel the world while observing the world's greatest masterpieces all from the comfort of your home.
What camps will your kids be participating in this summer?