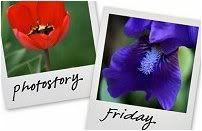 I've been wanting to share this Photo Story for some time but decided to save it for a rainy day.  Well that given that it has been rainy for days here and the rain has made me so lazy, there's no better time than the present to present my poochy past.  So, today is the day I have selected to share my junk in the trunk Photo Story.  
I've always struggled with my weight and I was never the athletic type.  The chunky little girl inside still craves Kit-Kats and Dr. Pepper for breakfast, which is what I ate every day during high school.  For most of my high school years, I wore an 11/12 and weighed 136.  For a girl just barely 5′ 1″, that is not good.  
Fast forward to my college years…Somehow the weight began to melt away.  I supposed I became more active, particularly dancing all night long at the clubs.  Then, my best friend died and I became severly depressed and dropped down to a size 1.  My family thought I was anorexic.  When I met my husband, I weighed 105 lbs.  
While dating Allan, I remained active with aerobics and rollerblading.  Allan and I would rollerblade for 16 miles on any given Saturday. We would pack a lunch and explore new trails.  It was our little weekend excursion.  In a time B.C. (before children), we were also avid SCUBA divers.
About a year after we were married, I became pregnant with our first daughter.  I was under the disillusion that you can eat whatever you want when you are pregnant because it will burn right off breastfeeding.  I satisfied all my cravings by eating everything and anything I wanted.  Snowcaps and sirloin were a staple in my pregnancy diet.   The little chunky girl inside happily ate cake for breakfast once again and I gained 90 pounds all due to my diet.
Despite popular belief, breastfeeding did not melt the pounds away, but rather stored all the extra fat.  As I weaned my daughter off, the pounds slowly slipped away.  It took two years for me to lose the weight.
I didn't shrink down to a size 1 again, but felt comfortable at a size 6.  Honestly, I didn't think I would ever see a size 1 again after having children.
For my pregnancy with DD#2, I watched what I ate the second time around and only gained 40 pounds.  
 The irony is it still took two years to come off!  Life is so cruel!
When we moved to our new two story home in 2006, the constant climbing up and down the stairs helped to shed a few more pounds. 
Then, my new friends introduced me to running and taught me how to overcome the hurdles associated with it.  I discovered I could run and that I could be lean and muscular after all.   In 2007, my fellow marathon moms encouraged me to run my first race, the Turkey Trot. 
Every day I struggle and fight with fat girl still inside me.  Fortunately, she is a runner now that only moves forward.