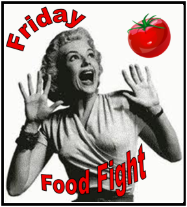 Growing up in Florida with its large Cuban population, you get quite accustomed to Cuban food and even take it for granted.  When my friend Lori moved away, she craved Florida's Cuban food.  So, I can imagine that my SIL Karen will be craving some good ol' Cuban food soon enough, particularly black beans and rice.  And try as she might, I highly doubt she can find a suitable substitute or replicate the authenticity of this popular Cuban dish.
Black beans and rice is a regular dish in our home.  I can't imagine going more than a week without it.  Do they even sell black beans in the UK?
Beans and rice…beans and rice…once or two or even thrice…beans and rice is nice.
[youtube=http://www.youtube.com/watch?v=heKYNWFBkW8]
Powered by Linky Tools
Click here to enter your link and view this Linky Tools list…