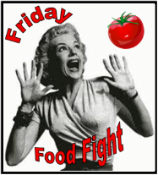 Breakfast may be the most important meal of the day, but sometimes it can be the most boring meal too. On more than one occasion, Kashi just doesn't cut it for me. Lumpy, plain oatmeal tends to be boring and lifeless in my bowl.  So when I'm craving a breakfast with a bit more flare, I hunt for leftovers in my fridge.
Since my hubby and I are trying to incorporate more vegetarian dishes into our family dinner menu, one evening I served my family roasted veggies (slices of yellow squash and zucchini, whole baby bella mushrooms and red onions marinated in the juice of one lemon, ¼ cup olive oil, two cloves of garlic, salt pepper, ¼ tsp red pepper flakes and 1 tsp thyme) on a bed of couscous.
If you watched my recent vlog, you may already be familiar with my love of couscous because a serving size is ONE CUP.  That's a whole lot of little pasta balls to leave me feeling full.  Throw some roasted veggies on top to make it a meal and I'm in vegetarian heaven.
Another night this week, I made my famous black beans.
Now you might be wondering what these two dishes have in common?  Well, they're two great tastes that taste great together.  You see, yesterday morning, I had a bit of the breakfast blues where none of the usual low fat breakfasts would do.  As I stared into my fridge for some inspiration, I spotted the eggs.  But an egg by itself is so blah and I was craving something a bit more eggs-traordinary.
That's when the black beans beckoned me.  Then, the lovely leftover veggies spoke to me.  They suggested I scramble an egg and toss in the beans and veggies.  Next the stack of tortillas in the pantry rolled in because they wanted to go to the party in my tummy.   So yummy.  So yummy.
Seriously, this was so delicious that I ate a second one for lunch.
Now link up and see what If I Could Escape and Gone Bananas are serving for this week's Friday Food Fight.
*Also submitted to*