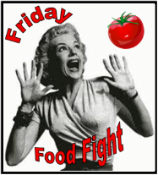 When my friend Kelly sent me a Facebook message requesting my black beans and rice recipe, it dawned on me that I had never shared it with my Run DMT readers.  I shared how much I love Cuban food and an old public service announcement video from the 80s, but I never shared my recipe.
Honestly, it's probably good that I didn't share my recipe in that post.  That photo was horrible.  Back then, Friday Food Fight was still in its early stage, where we actually fought over who was eating the tastiest food.  Hence, the term "fight" in Friday Food Fight.  In those early Friday Food Fight days, Kirsten, Karen and I tortured each other with bad photos of good food.
So although technically I already shared a photo of black beans and rice, I never shared my recipe.  And since my photography skills and Friday Food Fight have evolved into something more than just food porn and foodie photos, I thought I would serve this dish once again, because it's a really good recipe.  With one taste of my black beans and rice, you'll know just how truly Hispanic I am.  Black beans and rice this bueno is in my blood, y'all.
Beans and rice…beans and rice…once or two or even thrice…beans and rice is nice.
Black Beans and Rice
Ingredients
1 Tbsp olive oil
½ cup Spanish onion, chopped
½ cup red bell pepper, chopped
2 garlic cloves, minced
1 bay leaf
2 cans black beans
1 cup Pomi chopped tomatoes
2 tsp cumin
2 tsp oregano
¼ tsp turmeric
¼ tsp crushed red pepper
½ tsp salt
¼ tsp ground black pepper
1 Tbsp red wine vinegar
Directions
Heat olive oil in a large skillet on a low-medium heat.  Add onions and sauté until soft, about 5 minutes.
Add red bell pepper and cook until soft.
Stir in minced garlic and cook for 2 minutes.  Add bay leaf to pan and stir into vegetables.
Once the bay leaf appears wilted and warm, add black beans with water from the can to the skillet.
Add chopped tomatoes and all the dry spices.  Stir to combine.  Add red wine vinegar and mix thoroughly.
Allow beans to simmer for about 10 minutes before serving.  Serve with rice.  Top it with salsa or hot sauce.
Thanks for joining our weekly Friday Food Fight! Can't wait to see what everyone is flinging this week!


*Also submitted at*