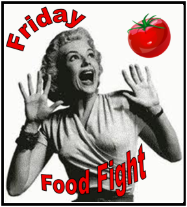 Every Boxing Day (the day after Christmas), Allan prepares a scrumptious breakfast (also known as a sweaty brekkie) with all the traditional British fixings: scrambled eggs,  potatoes, sausage, bacon, fried tomatoes, fried mushrooms and fried bread topped with Heinz baked beans.
Don't you just love all the bubbly grease on the bacon?
Celebrating Boxing Day with a breakfast feast is our little way of looking for an excuse to carb load teaching our children the reason behind this holiday while embracing some British customs.  You can read more about our Boxing Day tradition here.
When Allan's World Famous Boxing Day Sweaty Brekkie is plated and served, it looks like this.  A mimosa to wash it all down is my own flare added to the feast.
Now link up and see what If I Could Escape and Gone Bananas are serving for this week's Friday Food Fight.
Powered by Linky Tools
Click here to enter your link and view this Linky Tools list…
*Also submitted at*