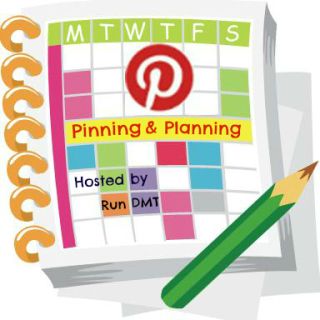 Honestly, I wasn't going to post a Pinning and Planning post since two days of this week's menu would be consumed with Christmas dinners.  But then I had a thought that perhaps my readers would want to see what Allan and I had planned for our Christmas dinners.
We spend Christmas Eve with my family which is typically a meatless meat per my mom's request.  It's an Italian-American Catholic thing.  Over the years, Allan has slowly added some meat dishes into the mix (chicken cutlets or Italian sausage) and no one has complained, although my mom, my sister and I still elect to remain meatless.  (Some really rude joke come to mind.  Keep it clean, guys! lol)
Growing up, our meatless Christmas Eve meals consisted on shrimp marinara, but Allan isn't the biggest fan of shrimp and so years ago, he decided to serve eggplant parmesan.  Now fifteen years later, everyone expects the dish on Christmas Eve.  No lie, Iron Chef Allan makes the most delicious eggplant parmesan and I can't stomach restaurant eggplant parmesan anymore.  I'm always disappointed because it doesn't taste as good as Allan's, which really is a thing of beauty and I'll have to post a photo of it for you.
Of course, there is nothing light about Allan's eggplant parmesan and you could probably bake the eggplant to save on calories and fat, but it's Christmas and Christmas calories don't count, right?  It's a Christmas miracle!  Thank you, Baby Jesus!
We serve our eggplant parmesan with spaghetti topped with marinara sauce and there's always a huge tossed salad.  So, those who are concerned with calories can pass on the parmesan and save room for the Yule log cake Allan always bakes (another photo worthy masterpiece).  My oldest daughter has requested cheesecake too.
On Christmas Day, we're entertaining Allan's family and for the Taylor Clan, Iron Chef Allan will prepare a somewhat traditional British Christmas dinner of roast lamb and a small turkey with all the trimmings, potatoes and stuffing.  His family loves Brussels sprouts so I think I'm going to try my hand at Healthy Homemade's Brussels sprouts because she promises that her recipe will make the pickiest person a fan.  There will also be roasted parsnips and mince pies for dessert.
The food fest continues the next day with Boxing Day.  Iron Chef Allan always prepares huge sweaty British breakfast complete with scrambled eggs, fried tomatoes and mushrooms, fried bread, baked beans, potatoes and English breakfast sausages.
Since the Day-After Turkey Soup was such a hit in our house will eat that for dinner on Boxing Day, if we have any room for food.
I imagine it's going to be a week of yummy leftovers.  I can be healthy again when January first rolls around next week.
S – Eggplant Parmesan with Pasta Marinara and Salad and Yule log for dessert
M – Roast Turkey and Lamb with Mashed Potatoes, Sage Stuffing, Lemon Roasted Brussels Sprouts, Glazed Winter Veggies, Parmesan Asparagus and Mince Pie for dessert
T – Sweaty Breakfast and Day-After Turkey Soup for dinner
W – Leftovers
Th – Leftovers
F – Pizza
What things are you cooking up for Christmas and the rest of the week?  Will it be a lotf of leftovers for you too?  Link up and share the delicious dishes you are pinning and planning to serve this week.
Plan your menu for the week and if you have some favorite food pins, add those too. Then, link up and share your post. If you're not on Pinterest, send me an email and I'll send you an invite.