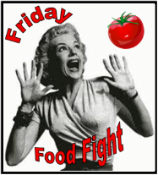 You know you're a foodie when you plan themed meals around holidays, observances and any and all ethnic festivals.  This past weekend was no exception.  Some celebrate Fat Tuesday.  Others flip over Pancake Day.  In this house, we do both.
It's fun to throw some new meals in the mix and for Fat Tuesday (which we celebrated on Presidents' Day), I wanted some true New Orleans style gumbo.  So, of course I turned to Pinterest and shared its wonderful world with Iron Chef Allan.  Better than a Google search, within seconds I had hundreds of visually appealing recipes.
As we read the different versions, we both agreed that Kaela of Local Kitchen's Chicken Sausage Gumbo looked and sounded best.
However, making a roux was definitely out of my cooking comfort zone, but I knew Iron Chef Allan could handle the challenge.  Boy, did my man ever deliver!
In her recipe write-up, Kaela explains the importance of okra in the recipe if not for anything but authenticity, however, Iron Chef Allan is not an okra lover.  And really, is anyone?   Although I was willing to give okra infused gumbo a go, Allan was not and since he was preparing the dish, the okra got eighty-sixed.
But sometimes you don't miss what you don't know, because my man made some crazy good gumbo!   This had to be the best tasting gumbo outside of New Orleans, even if he did omit the okra.
And of course to wash it down, only an Abita beer would do.  The sweetness of an Abita's Purple Haze is the perfect complement to this savory and oh so spicy dish.
For dessert, we had king cake which was store-bought.  (Hey, only one new recipe challenge at a time!) Next time, maybe I'll try my hand at this interesting bread machine king cake recipe.
On second thought, being President's Day and all, cherry pie may have been a better choice for dessert.  Nah, the king cake was a perfect finish to our NOLA meal.  I cannot tell a lie.
Do you like to plan themed meals that revolve around holidays, observances or ethnic celebrations?
Thanks for joining our weekly Friday Food Fight! Can't wait to see what everyone is flinging this week!
Chicken & Sausage Gumbo
Ingredients
1 ½ lbs boneless, skinless chicken meat, cut into 1-inch chunks
1 lb Andouille sausage
2 Tbsp canola oil
For the roux
1/3 cup + 1 Tbsp all-purpose flour
1/3 cup vegetable oil
4 cups chicken stock
1 large onion, diced
3 ribs celery, with leaves if possible, sliced
2 bell peppers, any color, diced
1-bunch scallions, white & light green parts sliced
6 – 8 cloves, peeled & minced
1 red jalapeno, with seeds & ribs, minced
½ lb okra, sliced
3 tbsp fresh parsley, chopped
2 tsp Cajun seasoning (a mix of paprika, salt, celery, sugar, garlic, black pepper, onion, oregano, red pepper, caraway, dill, turmeric, cumin, bay, mace, cardamom, basil, marjoram, rosemary, and thyme)
1 tsp sea salt
½ tsp cayenne pepper
½ tsp celery salt
½ tsp dried basil
½ tsp dried oregano
¼ tsp dried thyme
1 dried bay leaf
Salt and freshly ground black pepper
Directions
Brown meat. In a large skillet, brown the sausages over medium-high heat in canola oil. Remove sausage to a clean plate. Liberally sprinkle chicken pieces with salt, pepper and Cajun spice. Brown lightly in the sausage grease (add oil if needed), without crowding the pan; cook in batches if necessary. Do not cook all the way through; remove to the sausage plate when lightly browned on the outside. Strain sausage grease into a clean bowl.
Make roux. In a large, heavy-bottomed Dutch oven, cook the flour and canola oil (using any leftover sausage grease as part of the oil) over medium to medium-low heat, stirring constantly. Continue to cook, stirring constantly, until roux becomes smooth, silky and a deep chocolate brown, about 30 minutes (or longer at lower heat). Monitor the roux carefully as you stir: if you smell the flour burning, lower the heat; if you see black flecks in the roux, it is burnt, throw it out and start over. When the roux reaches the right color, add the onion, bell pepper and celery to the roux, turn off the heat, and keep stirring until the roux cools down.
Assemble and cook the gumbo.  Add stock, meat (with any juices accumulated on the plate), white & pale green scallions, garlic, jalapeno and spices to the roux and vegetables.  Bring to a boil, then reduce heat and simmer, partially covered for about 45 minutes.  Add the okra and cook for another 30 minutes, partially covered.  Add fresh parsley (add any seafood now if using).  Taste and adjust seasonings.  Remove cover and simmer an additional 15 minutes or longer to thicken the sauce. Taste and adjust seasonings one more time.
Serve hot over rice.  Garnish with parsley and sliced scallions.
Serves 12.
*Also shared at*