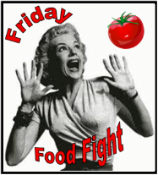 I make a mean sauce, but then being half Italian, it's in my blood.  If I didn't make a decent sauce, I would be shunned by my family.  Disowned, I tell ya!
Now you might think a good sauce should cook all day.  But when you're craving pasta for dinner, you don't have all day to wait to eat it, especially when you're a mom (or dad) on the run like me.  You may also think, "I'll just pour out some Prego on my pasta and call it a day".  *shudder*  Well, my friend, I would call that a very bad day.  Friends don't let friends use Prego or any other pasta sauce in a jar, not when you can make my easy, tasty seven ingredient sauce.
Run DMT's Seven Ingredient Sauce
Ingredients
2 Tbsp extra virgin olive oil
4 cloves of garlic minced
½ cup white wine
1 carton (26 oz) Pomi chopped tomatoes
¼ tsp crushed red pepper flakes
1 tsp salt
½ tsp ground black pepper
Directions
In a large saucepan, warm olive oil on a medium heat.  Add garlic and reduce heat to a very low setting.  Slowly cook the garlic until it becomes a golden brown color.  Do not burn!  When garlic is golden brown, add the white wine and gently raise the heat.  Cook wine for about 2-3 minutes or until wine evaporates.  Lower heat again and add tomatoes, red pepper flakes, salt, and pepper.  Stir often until sauce becomes light and slightly thickened.  Then remove from heat to avoid the tomatoes from breaking down and becoming too acidic.
Serve over the pasta of your choice.
For variations, add chopped fresh basil or oregano and stir into sauce a minute before you remove it from the heat.
On a side note, I started using the mini bottles of wine for my pasta sauce to avoid wasting a larger bottle of wine.  The mini bottles in a 4-pack are just the right size for any recipe and I can enjoy a small glass while I cook.  But if you use a full-size bottle of wine and find yourself with a lot of leftover white wine after making this recipe, Alex of Ma, What's for Dinner recommends making ice cubes with leftover wine.   This prevents you from wasting a whole bottle or adding a whole bottle to your waist!
Now link up and see what If I Could Escape and Gone Bananas are slinging for this week's Friday Food Fight.
*Also submitted at*