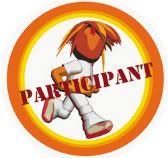 Next Friday evening, my friends and I will be running in the Oldsmar Tap House 5K.  I don't usually run in the evening, but I am making an exception for this race because beer will be served after we cross the finish line.  I will run in the evening for beer!
However an evening beer run requires training and therefore this evening, I decided to join the Suncoast Running crowd for a 3 mile Thirstday evening run and I dragged my friend, Faith, along for the ride.  After all, I've been having such great success with group runs and shaving minutes off my time, it only seemed like the right thing to do to keep improving my times.  And of course, the beer had nothing to do with it.
But this evening, running with a group with the promise of ice cold beer at the end didn't bring the same success of shaving minutes off my time.  Oh well.
3.1 Miles
Time 36:30
Ave Pace 11:47
Max Pace 8:49