I'm not exaggerating when I tell you my husband makes the BEST margaritas.  But like so many of my favorite foodie items, he's ruined me for order margaritas at restaurants, which is probably a good thing I suppose.
Many restaurant margaritas would give me heartburn, which I thought was related to the tequila.  But then I discovered that the margarita mix that many places use contains high fructose corn syrup, yellow dye #5 and blue dye #1.  Yuck.  I don't eat that garbage, so why should I drink it?
So hubby began searching for a margarita mix without high fructose corn syrup and food coloring and he found Stirrings cocktail mixers.  Stirrings margarita mix had a nice taste, but it was a bit pricey and we were going through the mix like mad.  With two margaritas between us, the bottle would empty rapidly.
So Iron Chef Allan decided to create his own concoction.  With a little tweaking here and there, he soon made the best margarita mix, minus the high fructose corn syrup and food coloring, of course.
Iron Chef Allan's Margarita Mix
1 container Nellie's Key Lime Juice
7 cups filtered water
1 cup sugar
Bring to a boil.  Let cool and refrigerate.
Once mix cools, fill a 16oz glass with ice.  Add  1 ¾ oz Camarna tequila.  Add ¾ oz Patrόn Citrόnge.  Squeeze ¼ lime into cup.  Fill with margarita mix.  Pour all ingredients into a shaker and shake well.  Salt rim of glass (optional).  Pour mix back into glass.  Add a wedge of lime for presentation.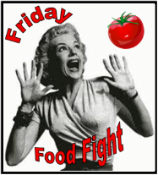 Now link up and see what If I Could Escape and Gone Bananas are serving for this week's Friday Food Fight.
*Also submitted at*