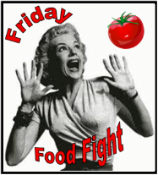 My family and I are participating in a Mexican-themed race today called the Crazy Sombrero.  Afterwards, one of our friends is hosting a post-race party where all the guests were asked to being a snack to share for the fiesta.
What to bring?  What to bring?  Margaritas?  Mexican Lasagna?  
As I flipped through the Mexican-flare recipe cards in my mind, I recalled the potluck luncheons from my early teaching days. Back then, I taught in a very rural community of Dade City with a large population of migrant workers, mostly Mexican and some were part of our school's staff.  Thanks to the lovely senoras on staff, Mexican Wedding Cakes were always part of the potluck and they were delicious.  Similar in texture to a shortbread (Scottish, not Martha's), they were a tasty light, flaky buttery cookie.
So, to pay homage to my Mexican homies, I tried my hand at Mexican Wedding Cakes like the senoras used to bake.  Traditionally, these cookies are made with pecans or walnuts, but due to my nut allergy, I chose to use almonds instead.
Before beginning the cookie batter, I roasted the almonds on an ungreased baking sheet at 325° for about 10 minutes for a rich fragrance but not burnt.
I let the roasted almonds cool completely before I chopped them in a food processor for a fine, almost mealy texture.
Using a standing electric mixer, I combined the butter, powdered sugar, salt, vanilla, ground nuts and flour.  Then, I rolled them into 2-inch balls and baked them for about 15 minutes until the edges were golden brown.
I let the cookies set and cool for a few minutes before rolling them in powdered sugar.  Once coated with a light layer of confectioners' sugar, I returned them to the cooling rack.
Honestly, Mexican Wedding Cakes are so easy to make and I think the senoras would be quite pleased with my cookies.  They tasted just like I remembered.  It's funny how one small taste can send you back in time.
Me gustan mucho.
Mexican Wedding Cakes
(Adapted from The Joy of Cooking)
Ingredients
1 cup (2 sticks) unsalted butter at room temperature
½ cup confectioners' (powdered) sugar
¼ tsp salt
2 tsp vanilla
1 cup nuts (pecans, walnuts or almonds), toasted and finely ground (See above.)
2 cups all-purpose flour
1 cup confectioners' sugar for topping
Directions
Preheat oven to 350°.
Grease or line two cookie baking sheets with parchment paper or Silpat liners.
Using a standing electric mixer, beat butter, sugar, salt and vanilla until well combined.  Then, add finely ground nuts and mix on a low setting for about 15 seconds.  Add flour and mix on a low setting until well combined.
Shape into 1-2 inch balls and arrange about 1 ¼ inch apart on the baking sheets.  Bake one at a time until edges are golden brown, about 15 minutes.  Remove sheet from oven and cool on a wired rack for about 5 minutes.
While still warm but cool enough to handle, roll each cookie in confectioners' sugar and return to cooling rack.  Just before serving, sift additional confectioners' sugar over cookies.
Yields about 2 dozen
Thanks for joining our weekly Friday Food Fight! Can't wait to see what everyone is flinging this week!
*Also submitted at*