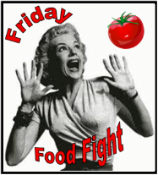 A few weeks ago, as part of our New Year's resolution, Iron Chef Allan and I thought it would be fun to have soup for dinner on Sundays, which we would appropriately call "Soup Sundays".  Original and clever, I know.
Our Soup Sundays would help us spice our usual menus by trying some recipe as well as returning some forgotten favorites into the mix.  Upon our first installment of Soup Sunday, we decided to try a new recipe and Rachel Ray's Chicken Salsa Soup.
Does anyone tear recipes out of magazines and store them into a notebook?  Well, this particular recipe had been tucked away in my notebook for a couple years.  Such a sin, because this soup is too delicious not to try!  And it was a perfectly delicious pick to start our Soup Sundays!
We modified the soup recipe by adding chicken breast instead of thighs, because we don't like dark meat.
Also, before you start the soup, you have to make the Rachel Ray's Salsa Fresca.  It's the base for the soup, but it is also delicious with tortilla chips or as topping to any Tex-Mex dish.  There's a ton of cilantro in it, which I love, because you can never have too much cilantro in salsa!
Rachel Ray's Salsa Fresca (Borrowed from Everyday with Rachel Ray Magazine.)
Ingredients
1 cup packed coarsely chopped cilantro
2 cloves garlic
½  onion, coarsely chopped
1 jalapeño chile, halved lengthwise
2 ½ pounds ripe tomatoes (7 or 8), cored and quartered
Juice of 1 lime
Salt
Directions
Using a food processor, pulse the cilantro and garlic together for 30 seconds. Scrape down the sides, add the onion and jalapeño and pulse until finely chopped; transfer to a medium bowl.
Working in batches, add the tomatoes to the food processor and pulse until finely chopped. Add to the cilantro mixture. Stir in the lime juice; season with salt.
Rachel Ray's Chicken Salsa Soup (Borrowed from Everyday with Rachel Ray Magazine.)
Ingredients
¼ cup extra-virgin olive oil
1 onion, chopped
1 head garlic, cloves finely chopped
2 pounds skinless, boneless chicken breasts
One 32-ounce container (4 cups) chicken broth
1 ½ cups Salsa Fresca
Salt
1 avocado, thinly sliced lengthwise (optional)
1 cup chopped cilantro (optional)
¼ cup sour cream (optional)
Directions
In a large Dutch oven, heat the olive oil over medium-low heat. Add the onion and cook, stirring occasionally, until softened, about 7 minutes. Add the garlic and cook for 3 minutes. Add the chicken breast and broth, bring to a boil and simmer for 4 minutes. Stir in 1 cup salsa, cover and remove from the heat. Let stand until the chicken is cooked through, about 45 minutes. Transfer the chicken to a cutting board and shred.
Return the broth to a simmer; season with salt. Add shredded chicken to pot.
When ready to serve soup, top each bowl with avocado, cilantro, sour cream and remaining salsa.
Now link up and see what If I Could Escape and Gone Bananas are flinging for this week's Friday Food Fight.  
*Also shared at*