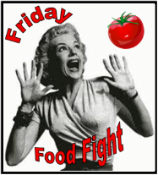 Remember how I told you I steal borrow cookbooks from my MIL on a permanent basis?  Well, this recipe is from one of her cookbooks that found a new home on my kitchen counter.
Better Homes and Gardens: Fast & Fresh Family Dinners offers many recipes that are truly fast and fresh as well as simple and healthy.  All which are important factors with my busy runner mother lifestyle with three kids.
My favorite recipe so far from Better Homes and Gardens : Fast & Fresh Family Dinners is Pollo Relleno, but then I love anything Tex Mex.
When I make this meal for my family, I always serve it with a side of Spanish rice.  It's a wonderful accompaniment to the chicken and it just finishes the meal off perfectly.  For my kids, I add a dollop of light sour cream to hide the heat.  And to really finish it off, top it off with some of Rachel Ray's Salsa Fresca.  Yum.  Es muy bueno.
This dish is gluten free as no wheat products were used in the making of this meal, however, it is definitely not dairy free.

Pollo Relleno
Ingredients
6 medium skinless, boneless chicken breast halves (about 1 ½ pounds)
½ yellow cornmeal
2 Tbsp chili powder
1 tsp garlic powder
2 tsp cumin
½ tsp salt
2 eggs
1 4-ounce can whole green chile peppers, rinsed, seeded and cut half lengthwise (6 pieces total)
2 ounces Monterey Jack cheese cut into six 2 x ½ strips
2 Tbsp snipped fresh cilantro or parsley
½ tsp ground black pepper
¼ tsp crushed red pepper
Salsa
½ cup shredded Monterey Jack, Colby Jack or cheddar cheese (optional)
Fresh cilantro sprigs (optional)
2 cups shredded romaine lettuce (optional)
Light sour cream (optional)

Directions
Preheat oven to 375.  Prepare a shallow baking pan with cooking spray.
Place chicken piece between two pieces of plastic wrap and pound lightly with flat side of meat mallet until ¼ inch thick.  Remove plastic wrap and repeat with other chicken pieces.
In a shallow bowl, combine well cornmeal, chili powder, garlic powder, cumin and salt.  Place eggs in another shallow bowl; beat lightly to make an egg wash.
For each chicken roll, place a chili pepper half on piece near edge.  Place a cheese stick on top of chili pepper.  Sprinkle with some of the snipped cilantro or parsley, black pepper and crushed red pepper flakes.  Fold in sides, starting from edge with cheese, roll up chicken.
Dip chicken rolls into egg wash and roll in cornmeal mixture to coat.  Place rolls, seam sides down, in a prepared shallow baking pan.  Bake for 25-30 minutes or until chicken is no longer pink.
Serve on a bed on shredded lettuce with a side Spanish rice.  Sprinkle rolls with shredded cheese and some Salsa Fresca.  Add a dollop of light sour cream and a few sprigs of fresh cilantro for garnish.
Thanks for joining our weekly Friday Food Fight! Can't wait to see what everyone is flinging this week!
*Also submitted at*