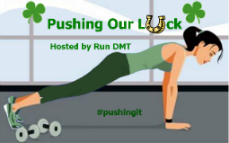 If you're just hearing about March's Pushing Our Luck Challenge for the first time, it's not too late to join in the fun.  Basically, we're following the One Hundred Pushups Program and tweeting about our achievements: #pushingit.  Then, each Thursday, I host a linky party for you to link up and share your recap post or add your Twitter handle.
Week 4 was pathetic.  With my dog dying, adopting a new dog, organizing a Tampa Bay Blogger meetup and baking for Purple Day, I didn't know which way was up!  I was a complete slacker last week.
With all of that, I never completed the last two sets for Week 5/Day3/Level 3 and although I pinkie swore to do my exhaustion test on Sunday, I didn't actually get around to doing until Tuesday.  See, I was a total slacker, who could barely push out 50 pathetic girlie push-ups for my exhaustion test.
[youtube=http://www.youtube.com/v/VTPLzGRUt2I?version=3&hl=en_US]
However, my slacker behavior had some benefits once I realized new my placement after the exhaustion test: Week 6/Day1/Level1.
Postponing my exhaustion test means that I'm now behind and I won't finish the final day of the Pushing Our Luck Challenge until Monday, April 2 with a final test on Wednesday, April 4.  Did I mention my girls have spring break next week?  Lord only knows how I'll pull all this off!  Oh the pressure I put on myself!
How are you doing?  Are you in better shape than me?  Do you plan to finish the last week of the Pushing Our Luck Challenge strong?
Psst… My #pushingit posse (@ForrestGump49er ,@acraftychick ,@runningmom2boys , @amanda_mowry, @RunningRealtor1 , @runmama2girls, @SeeKateRun1 ) and I are planning a new challenge for April: "Spring into Spring with Burpees"!  Details to be announced on April 1!  Stay tuned!