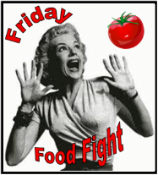 You know how I'm always stealing permanently borrowing cookbooks from my MIL?  Well, I've taken it another step further.  Now, I'm stealing her balls.
Last Sunday for Easter, my MIL threw together a gorgeous spread, which included three meats (lamb, ham and chicken), a number of veggies and two kinds of potatoes.  Yes, you heard me right. Two kinds of potatoes!  One was a delicious cheesy layered scalloped potato casserole.  The other spud she called "French-Style Potatoes" to sound all posh, but to the rest of the family, these potatoes will be forever known as "Potato Balls".
Obviously, French-Style Potatoes has a nice ring to it, but there's no disputing the salty, heavenly taste of these balls in your mouth.  (Sounds like the infamous Schweddyy Balls from Saturday Night Live, doesn't?)
A few days later, I decided to try my hand at these balls.  Although my MIL preferred to handle hers with butter, I chose to lather mine in olive oil.
Ok enough with the innuendoes!  To start, I par-boiled the potatoes until a bit firmer than fork tender.  For portion control, I only boiled 6 medium sized potatoes for my family of five.
Then, using the larger end of a melon baller, I scooped and rolled out some potato.
Then, I tossed those bad boys into some pre-heated olive oil in an electric griddle and cooked them until crispy.
These potato balls present well and are a tasty companion to any meat dish.   For this meal, I served it as a side dish to my Mojo Chicken.  And don't worry.  I didn't serve two potatoes.  That's mashed cauliflower as the other side dish, but more about that lovely carb substitute another day.
Elizabeth's Posh Potato Balls
(serves 4)
Ingredients
1-2 lb medium size baking potatoes
¼ – ½ cup olive oil
Salt and pepper to taste
Directions
Par-boil potatoes until slightly firmer than fork tender.  Drain and allow potatoes to cool.  Using a melon baller, scoop out small amounts of potato.
Heat about ¼ – ½ cup olive oil at 350° in a electric griddle.  Toss in the potato balls and occasionally flip potatoes as they sauté in the oil. Cook until crispy and golden brown (about 20 minutes).
Thanks for joining our weekly Friday Food Fight! Can't wait to see what everyone is flinging this week!
*Also submitted at*