Mojo roast chicken is an entrée that's a regular on our menu rotation, especially since my husband raves about it every time I serve it.
My mojo roast chicken always finishes nicely with the gorgeous golden brown color and crunchy charred garlic bits.  The kids devour the crispy skin which is probably not the healthiest part of the chicken, but at least they save me from eating it and that's a good thing.  Although, if you eat the skin, it could very well clog and cleanse out your arteries at the same time with each bite since my mojo marinade recipe contains 6 cloves of garlic.  But if it doesn't cleanse your arteries, at least it will keep the werewolves away!
After I prepare the marinade and completely coat the chicken over and under the skin, I pour the remaining mojo marinade inside the cavity and stuff the squeezed limes in there too.  This produces an even juicer and tender mouth-watering meat.  Then on top, I'll sprinkle a bit more kosher salt and a touch more black pepper.
Then this perfectly dressed bird flies into the oven set at 450˚ and cooks for about 20 minutes per pound or until it reaches an internal temperature of 170˚.  Once out of the oven, it rests for a few minutes or until it reaches 180˚ after which my lovely assistant, Iron Chef Allan, carves it.
As for side dishes, I'll serve slices of chicken breast or a leg portion on top of a bed of couscous with a heaping pile of roasted veggies.  I know how to put the mojo in my mojo.  Yeah, baby!
Mojo Marinade for Roast Chicken
Ingredients
¼-½ cup olive oil
Juice of two limes
2 tsp cumin
2 tsp oregano
6 cloves garlic, minced
1 tsp salt
½ tsp black pepper
¼ tsp red pepper flakes.
Directions
Add all the ingredients in a small bowl.  Whisk until well combined.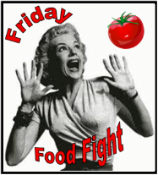 *Also submitted at*