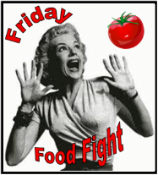 I seriously love Spanish food.  For me, Spanish food is comfort food, like someone's else mac and cheese.  Throw a bunch of ingredients together and it's like a latino's version of a casserole.  Not to mention, there's just something about the saffron that just makes me happy.
I'm just mad about Saffron. 
So when I found this easy, low-fat version of a Spanish classic, I had to give it a whirl.  Thankfully, my family loved it and now this meal is a regular on our weekly dinner menu.
Now, if I was a better latina, I would go to the bodega to buy my chorizo, but I'm too lazy for that, which is just sad really because there's a bodega on every corner in Tampa.  However, there is really no need for me to make an extra trip to the bodega, except to support small business owners which I really should instead of giving money to big corporation.
But in one weekly shopping trip to my local Target, I can buy MSG-free Archer Farms Chorizo Sausage as well as pick up a allergy medication, tampons, a cute sundress, some new sandals for my kids and deeply discounted running clothes.  See how I save money shopping at Target?
But this post is about paella not summer deals at Target.
Chicken and Chorizo Paella (Pollo y Chorizo Paella)
(Borrowed from So Easy by Ellie Krieger)
Ingredients
1 Tbsp olive oil
3 chorizo sausage links
1 lb skinless boneless chicken breasts, cut into 1-inch cubes
1 medium onion, chopped
1 garlic cloves, minced
2 cups low-sodium free range chicken broth
½ cup frozen peas
1 cup uncooked white rice
1 ripe tomato, chopped
¼ sliced green Spanish olives with pimentos
½ tsp salt
¼ tsp ground black pepper
¼ tsp turmeric
Pinch of Saffron threads
Directions
Preheat oven to 375.
Using a large, heavy skillet with lid, heat olive oil in skillet on a medium heat.  Add chorizo links and cook for about 3 minutes on each side or until brown.  Remove links from skillet and slice into ½ inch round slices.  Return chorizo to skillet and add chicken.  Cook both meats together for about 5 minutes or until chicken is no longer pink on outside.  Transfer chicken and chorizo to a plate.
Add onions to skillet and cook, stirring often until softened, about 3-5 minutes.  (There should be enough oil in the pan left from the chorizo, but if need be, add 1 Tbsp olive oil to skillet.)  Add garlic and cook for about a minute.  Return chicken and chorizo to skillet and add chicken broth, peas, rice, tomato, olives, salt, pepper, turmeric and saffron.  Bring to a boil, cover and transfer to oven.  Cook until rice is tender and the liquid is completely absorbed, 25-45 minutes*.
*Time may vary depending on oven.  This dish takes closer to 45 minutes in my oven.
Thanks for joining our weekly Friday Food Fight! Can't wait to see what everyone is flinging this week!
*Also submitted at*