For the past two weeks, I had been suffering from a really nasty cold that I just couldn't shake.  One of the fantastic symptoms of my cold was a horrible, wet hacking cough, like a smoker's cough. No exaggeration, I sounded as though I had been smoking unfiltered Lucky Strikes for 20 years. With the cough, I also had this horrible tightness in my chest, which made it very difficult to breathe.
Despite not being able to breathe, I decided to go ahead and run in the 5 Miles for Moffitt race.  I already had skipped out on the Crazy Sombrero 5K the week before due to my cold and I didn't want to miss another race.  Besides, my aunt spent the better part of two years fighting lung cancer, the least I could do was suck it up and run with a little chest cold.  Admittedly, that wasn't the smartest thing I've ever done.
Just as the experts warn you, you shouldn't run with a chest cold.  A runny nose or sore throat is a different story.  Limited breathing due to chest congestion is not a good thing and I truly believe running in the race extended the life of my cold.  So, let this be a lesson to you. Learn from my mistake.  Always listen to the Livestrong Gods.
So while I spent the time recovering from my cold, my blog suffered.  Actually, everything suffered.  I didn't have the energy to do much.  I missed out on the superhero challenge.   I missed out on the Track Tuesday speed work.  I missed out on logging miles for the Joggermom Marathon. It made me sad to miss out on it all.  For almost two weeks, I was a super sloth with a cough.
Then when I woke up on Saturday morning, I could breathe, but I waited a couple more days just to be safe. I started running again on Monday and today it was back to business as usual with my speed work.  I am happy to be back on "track" now.
Now that I'm all healthy again, I'm a #superhero once again doing my Spiderman and Superman sets as well as running and blogging again.  The first half of the month may have been a loss, but next couple of weeks and the Joggermom Marathon will end on a high note.
Although my running may be back to business as usual, my blogging still had a slow start because yesterday, I totally flaked on a Music Monday post, which is a first in almost 3 years.  I've been playing catch up now that I'm feeling better and blogging a music post didn't make the must-do list.  I felt horrible about it too since I'm an honorary co-host this month with Xmas Dolly and 4M crew.  Plus, this week's theme was a song from a movie and movie soundtracks are my thing, a lesson I learned from the late John Hughes.  And I had such a good one in my head, but it just never made it to the blog.  Aw hell, I'll share it now.
Is anyone else sad that all the shows are ending?  I am not happy about all these season finales and cliff hangers.  I am completely addicted to Once Upon a Time and that cliff hanger was the worst best.  Of course, if the show is not renewed for another season, I would be happy with the ending, without giving too much away.
Please tell me I'm not alone with my Once Upon a Time obsession!  I can't wait for the Season 1 DVD to be released (August 28) so I can watch it all over again.  Seriously, it's that good.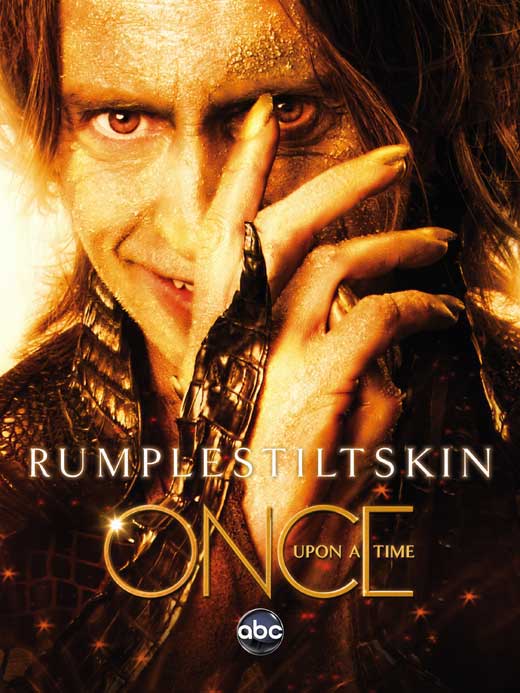 When I am really into a show, like I am with this one, I visit the show's website and read all the actors' bios and watch the interviews.  I love reading where the actors studied and what other shows they've done. 
Since I'm a bit entranced by the actor who plays Rumplestiltskin/Mr. Gold, Robert Carlyle was the first I investigated.  Imagine my surprise, when I learned he was the actor who played Begbie in Trainspotting.  Actually, I wasn't truly surprised, because Rumplestiltskin in pretty creepy as is Begbie.  But Begbie gave me nightmares.
In case you aren't familiar with it, here's a glimpse.  Warning: Begbie is a psycho sociopath and these clips are violent and riddled with vulgarities.
[youtube=http://www.youtube.com/v/EsRoSsauhss?version=3&hl=en_US]
Robert Carlyle may be better known for his role as Gaz in The Full Monty. (Be sure to click on that link and watch the movie clip.  Gaz is one sexy thing. lol)  Truthfully, I prefer to remember him as Gaz than Begbie.  It also demonstrates the depth to his acting ability.  Plus, with Donna Summer's passing over the weekend, this scene and song seem very fitting pretty fitting.
[youtube=http://www.youtube.com/v/bW1-1XAhR6Q?version=3&hl=en_US]
[youtube=http://www.youtube.com/v/wPlV2dzXWCw?version=3&hl=en_US]
So, there you have it. My Music Monday post may be a day late, but Track Tuesday is now literally Track Tuesday.  And now for the sprints…
1.1   Mile
Time 11:05
Ave Pace 10:05
Lap 1 –  0.25 mile
Time 1:73
Ave Pace 7:37
Lap 2 – 0.25 mile
Time 1:73
Ave Pace 7:37
Lap 3 – 0.26 mile
Time 2:01
Ave Pace 7:53
Lap 4 0.24
Time 1:52
Ave Pace 7:39
1 mile
Time 10:14
Link up and share your speed work and some music for your Track Tuesday/Track Tuesday post.
*Also linking up at*