As you probably noticed, it's been over a week since I've posted any of my Juneathon efforts.  I last ran 3.5 miles and forgot to post it.  I didn't even add it to my Running Free profile or tweet it.  Shame on me.  In case you're curious, here's my stats.  I did pretty good on that last run.
3.5 miles
Time 32:57
Ave Pace 9:25
Max Pace 6:59
As for the rest of the missing posts, I've got over a week's worth of excuses.
The family and I spent a few days in Orlando.
I had to pack instead of running.
I walked and pushed a stroller all over Downtown Disney instead of running.
It took 15 minutes to walk from my hotel room to my car (30 minutes round trip). No exaggeration.
The kids and I splashed around at Aquatica instead of running.
We kept getting lost in our labyrinth hotel, which meant more walking and occasionally running through corridors to catch elevators.
I couldn't leave my kids alone in the hotel room while I ran.
Tropical Storm Debby decided to visit for a few days and packed with her 45 mph winds and heavy rain.
I couldn't run/swim because our community pool was closed due to inclement weather.
Tropical Storm Debby (or TS Debby Downer as I like to call her) really put a damper in my exercise routine.  With all that wind and rain, I couldn't do my sprints for Track Tuesday.  Unfortunately, I don't belong to a gym or own a treadmill, so I couldn't even fake it like a hamster on a spinning wheel.  But honestly, the gray days just made me lazy and for that, there's no excuse.
Today was the day I decided to get back on track.  I ran 6.2 miles, but I ain't going to lie.  It wasn't easy, thanks to my weeklong break.  Plus, it was very humid.  I think TS Debby Downer left some humidity behind like a pair of used sticky panties.
6.2 miles
Time 1:07:07
Ave Pace 10:50
Max Pace 8:18
So, there's only two days left of the Juneathon.   Tomorrow, I have blood work for my follow-up physical, which means fasting and no running in the morning.  I'll try to do something afterwards.  Then, on June 30th (the last day of the Juneathon), Mamavation is hosting a virtual 5K.  I'm totally in as well as so many others. You should join us.
Before I wrap up this post, I promised you a Super Why Live winner.
Congratulations to Shannon!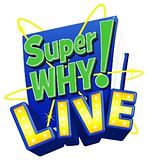 She won 4 tickets to see Super WHY Live on Tour in Tampa next month!