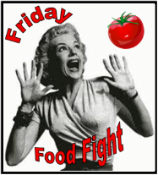 A few weeks ago, one of my regular Friday Food Flight participants, Ms. enPlace, shared a delicious Jamie Oliver inspired sausage bake.  I immediately pinned it.
I knew the dish would go over well with my family, because…
1)      It's a Jamie Oliver recipe.  (Iron Chef Allan loves all his recipes.)
2)      There's tons of rosemary (one of Iron Chef Allan's favorite spices) in the recipe.
3)      We love sausages, especially Italian sausage.
4)      We love Italian food.
But what I loved most about this dish was the simplicity of it.  Throw all the stuff in a roasting pan and toss it on the oven.
Actually, it involved a few more steps than that.  I tossed all the spices, olive oil, balsamic vinegar, salt, pepper and 4 pints of cherry tomatoes in a large bowl and then tossed it all into a roasting pan with the Italian chicken sausage on top. Baked it in the oven for a hour, flipping the sausages after 30 minutes.
It was seriously that simple.
However, after an hour in the oven, the tomato sauce looked a little thin to me.  So per Jamie Oliver's suggestion, I removed the sausages and poured the tomatoes into a saucepan on the stove on a medium-high heat to reduce it to a thicker sauce.
It came out perfect and I loved the bright, fresh tomato taste of the sauce.
When I recreated this dish, I substituted the Italian pork sausage for Publix Greenwise Italian chicken sausage to make my sausage bake is a tad bit healthier.
For the full recipe, visit Ms. Enplace for Jamie Oliver's Sweet Cherry Tomato & Italian Sausage Bake.
Jamie Oliver suggests serving the sausage bake with mashed potatoes or polenta.  I chose mashed potatoes as our side dish and in the process created what I believe to the best low fat mashed potatoes ever.  My mashed potatoes even passed the Iron Chef Allan taste test and that's no easy feat.  Mind you, I wouldn't tell him what was in it until he tasted it and even when he heard the ingredients, he still liked it.
Allan prefers mashed potatoes loaded with butter and sour cream, but that is just way too fattening.  My low fat garlic mashed potatoes are a much healthier, tastier alternative that offers an equally buttery, creamy full flavor as its unhealthy counterpart.
Run DMT's Low Fat Garlic Mashed Potatoes
Ingredients
2 lbs (about 6-7) Russett potatoes, peeled
1 tbsp olive oil
6 cloves garlic, minced
1/3 cup Greek-style plain non-fat yogurt
½ cup skim milk
Salt and pepper to taste
Directions
Boil potatoes for about 20 minutes until very tender and soft. (I added a tsp salt to my water.)
While potatoes are boiling, heat olive oil in a small non-stick skillet.  Once oil is warm, add garlic and sauté on a low heat until golden brown.  Remove pan from heat and set aside.
Add potatoes to a large bowl and mash them with a wired potato masher.  Once potatoes are broken down, add sautéed garlic and olive oil from the cooled skillet and mix through the potatoes.  Stir in yogurt.  Slowly add milk a ¼ cup at a time and mix until well incorporated.  Salt and pepper according to taste.
Thanks for joining our weekly Friday Food Fight! Can't wait to see what everyone is flinging this week!
*Also submitted at*