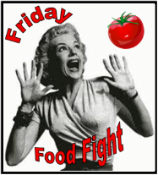 The ladies in my moms group host a fun Moms Night In every month that revolves around a Bingo-type game called Pokeno.  I rarely ever make it but this week presented itself with an opportunity to attend the game night.
The rules of the house for Pokeno dictate everyone to bring a dish to share.  With Tuesday being National Piña Colada Day, I thought Skinnytaste's Piña Colada Cupcakes would be a nice treat.  A low calorie, low fat spongy treat to soak up the alcohol everyone would be drinking while they played.
Many low fat cupcake or muffin recipes use applesauce in place of egg and oil, but Skinnytaste created a tropical flare to the average low fat cupcake by adding crushed pineapple to her recipe.  And much like many of Skinnytaste's recipe, this was a simple one too.  Seriously, can you get much simpler than two ingredients: a box of cake mix and a can of crushed pineapple?
As for the recipe, I followed it as is, even "completely draining" my crushed pineapple chunks with a small sieve and a spatula for the icing.
Just like Skinnytaste promises, my cupcakes were moist and flavorful.  The pineapple cream cheese coconut topping finished it off perfectly. I sprinkled a dash more shredded coconut on top for an extra tropical taste.
Funny thing, it rained Tuesday evening.  It's a darn good thing my cupcakes had umbrellas.
If you like piña coladas and getting caught in the rain…
Skinnytaste's Piña Colada Cupcakes (Borrowed from Skinnytaste.com)
Low Fat Pineapple Cupcakes
Ingredients
1 box Betty Crocker Super Moist Butter Recipe Yellow cake mix
20 oz can crushed pineapple in juice
Directions
Preheat oven to 350 degrees.
Combine ingredients in a large bowl and mix on medium speed with electric mixer for about two minutes.
Prepare a muffin tin with cupcake liners.  Ladle the batter into liners, about 2/3 full. Bake in accordance with cake mix directions or until a toothpick inserted comes out clean. Set aside to cool.
Pineapple Coconut Cream Cheese Frosting
Ingredients
8 oz Philadelphia 1/3 less fat cream cheese
20 oz can crushed pineapple in pineapple juice, completely drained of any liquid
1 cup sweetened coconut flakes
1/4 cup sugar
Directions
Combine cream cheese, crushed pineapple, sugar and coconut flakes in a medium bowl and mix with a hand mixer until combined well. Spread on cooled cupcakes and refrigerate until ready to eat.
Thanks for joining our weekly Friday Food Fight! Can't wait to see what yummy food everyone is flinging this week!
*Also submitted at*