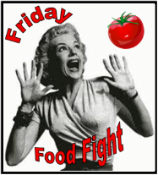 It's no secret that Allan and I love Indian cuisine, but for whatever reason, it's so hard for us to replicate in our home.  That was true until we discovered some of our favorite dishes on Pinterest and then we realized they weren't really that difficult to do.
One of our favorite vegetarian dishes, Saag Aloo (Potato and Spinach), packs all the wonderful aromatic flavors and heat of Indian cuisine without all the clarified butter and fat. The potatoes add heartiness to the dish which also makes it rich and filling.
I submitted the recipe and all its secret ingredients to Iron Chef Allan for approval.  Then, while he prepared the Saag Aloo, I worked diligently as his sous chef by preparing the Kachumber Salad to accompany the main entrée.
The meal was like eating Indian take-away without having to leave our home.  Of course, our kids wouldn't eat it, but at least we didn't have to pick up fast food on the way to the Indian restaurant, like we normally do.  The kids ate loaded baked potatoes as Iron Chef Allan and I dined on our own five star Indian cuisine in the comfort of our kitchen.
Saag Aloo
(Adapted from Quick Indian Cooking)
Ingredients
4 medium waxy potatoes (Yukon Gold or red)
1 – 10 oz package of frozen leafy spinach, defrosted and completely drained
1 small onion, chopped
2 garlic cloves, minced
2 green or red chili pepper, finely chopped
2 tsp cumin powder
2 tsp coriander powder
1 tsp garam masala
2 tbsp lemon juice
2 tbsp olive oil
1 tsp salt
½ tsp ground black pepper
Directions
Par boil the potatoes until still firm, about 10 minutes.  Drain and set aside to cool.  Once cooled, slice the potatoes into small one square inch cubes.
Mix the chili pepper, spinach lemon juice and leave to sit in a bowl.
Heat oil in a medium-sized pan.   Add chopped onion and garlic and sauté until onions are soft. Then add the potatoes, cumin and coriander and stir for five minutes.  If the spices stick to the bottom of the pan, add a tablespoon of hot water.
Add hot (not boiling) water to the pan until it covers the potatoes halfway. Lower the heat and cook the potatoes until soft are done, about ten minutes.  Stir often.
When you can easily insert a fork through the potatoes without breaking them, add the spinach mixture. Add salt and pepper and simmer for 5 minutes. Finally stir in the garam masala.
Kachumber Salad
(Adapted from Chef in You)
Ingredients
1 onion, thinly sliced
1 cucumber, peeled and chopped
1 green or red chili
2 medium tomatoes, chopped
1 tsp cumin powder
Juice of 1 lemon and 1/2 tsp zest
Dash of sugar
Salt and pepper to taste
Few sprigs of cilantro for garnish
Directions
Mix lemon juice, spices and sugar in one bowl.  Toss in all the vegetables and combine until well coated.  Cover and chill for about 1-2 hours in the refrigerator.
Thanks for joining our weekly Friday Food Fight! Can't wait to see what everyone is flinging this week!
*Also submitted at*