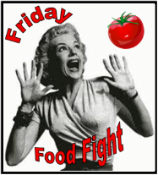 Either my oldest daughter is obsessed with food as I am or she is one very creative kid.  We'll go with the latter.  Either way, she does have some delicious and ingenious ideas when it comes to cookies.
We're huge ice cream fans, especially Ben & Jerry's, however, we only splurge on the Cadillac of ice cream when it's on BOGO at our local supermarket.  Thankfully, that hasn't happened in a while.  Though my taste buds miss the ice cold delicacy, my thighs can do without it.
Then, one day in a sad we-miss-Ben & Jerry's moment, Allana says, "You know what would be really good?  An Everything But The… cookie."
"Oh my God.  That's genius!"  I felt a twinge in my thighs when I said it.
Then in like an ironic twist of fate, I woke up in the middle of the night with a Charlie horse in my right quad.  My thigh was already Jonesing for the chocolaty goodness.
These ice cream inspired cookies came out better than Allana and I imagined.  I just hope my thighs don't beg for them in the middle of the night again.
Everything But The… Cookies
Ingredients
1 stick unsalted butter, cold
¾ cup white sugar
¾ cup brown sugar
2 eggs
1 tsp vanilla extract
2 cups all purpose flour
½ tsp salt
½ tsp baking soda
½ cup chopped almonds
½ cup pretzel sticks
½ cup semi-sweet chocolate chips
½ cup white chocolate chips
½ cup Heath English Toffee Bits
½ cup Reese's Peanut Butter Cups Minis
Directions
Preheat oven to 375 degrees.  Line baking sheets with Silpats or parchment paper.
Using a standing electric mixer, cream together butter and sugar.  Then add eggs one at a time and beat until well blended.  Mix in vanilla.
In another bowl, whisk together flour, baking soda and salt.  Add flour to wet ingredients a little at a time and mix on a low speed until well combined.  Mix in pretzel sticks and almonds.
Remove bowl from mixer and fold in chocolate chips, Heath bits and mini peanut butter cups.
Drop about a tablespoon amount of dough onto baking sheets about 2 inches apart.  Bake for 13-15 minutes.
Remove from oven and allow cookies to cool on baking sheets for five minutes.  Then, move cookies to cooling rack to cool completely.
Makes approximately three dozen.
Thanks for joining our weekly Friday Food Fight! Can't wait to see what everyone is flinging this week!
And while here, don't forget to toss some cookies at The Ultimate Virtual Christmas Cookie Swap!
*Also submitted at*