For this week's Friday Food Fight, I have a special treat for you.
In addition to this yummy Peach-Blueberry Egg Bread Bake, I have another tasty morsel to share with you.  This recipe was featured in Eggland's Best eCookbook, which is yours to download for FREE until February 15th.
Eggland's Best is excited to announce the launch of our second original eCookbook, "Your Best Recipes" featuring the Top 20 recipes from the first nation-wide Eggland's Best "Your Best Recipe Contest".   These delicious recipes were selected from thousands of entries submitted by at-home chefs and bloggers.  Each recipe highlights a creative way of using EB eggs.
There are two easy steps to download the FREE Eggland's eCookbook:
1.  Visit the special promotion page and connect your Facebook account to "like" Eggland's Best on Facebook.
2.  Once you've connected your Facebook account, click the red button to download your eCookbook.
Hurry! This free eCookbook download offer is only available through February 15, 2013.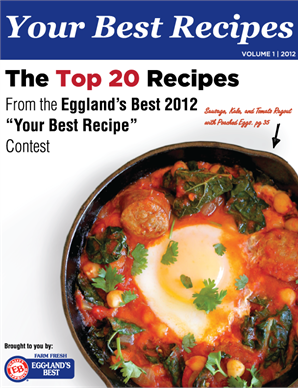 More about Eggland's Best:
Eggland's Best is America's #1 egg, and cooking with Eggland's Best has never been more nutritious! Compared to ordinary eggs, Eggland's Best eggs have:

25% less Saturated Fat
10 times more Vitamin E
3 times more Vitamin B12
2 times more Vitamin D
More than double the Omega-3
35% more Lutein

…and so much more! Click here to find out about the nutrition in Eggland's Best eggs.
We honestly use Eggland's Best Organic Eggs often, especially since there's frequently a coupon in the Sunday paper which makes a dozen of Eggland's Best cheaper than the store brand organic.
As I've previous mentioned, this Peach-Blueberry Egg Bread Bake was one of the 20 recipes in the eCookbook.  It's perfect addition to a brunch.  I used challah bread, nonfat milk and ½ stick of butter rather than a full stick as listed in the recipe.  You could also use modify the fat content by using one egg and two egg whites.  Also, when I do make this for my next brunch, I will assemble it all the night before to let the ingredients set longer than one hour as instructed in the recipe.
Thanks for joining our weekly Friday Food Fight! Can't wait to see what everyone is flinging this week! And while you adding your link below, be sure to download your FREE eCookbook from Eggland's Best!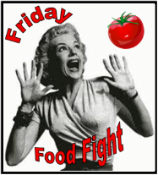 *Also submitted at*