For the past two months, I participated in the #WakeUpWithStoneyfield campaign. Out of thousands of bloggers, tomorrow one blogger will be selected as the Stonyfield ambassador.  The campaign was a lot of fun and challenged us to think outside the yogurt box.  Every day during the campaign, Stonyfield provided a prompt to get our creative photo juices flowing.
Sometimes life would get in the way and I would forget to submit a photo, so I didn't tweet every day.  Although the photos I did tweet would often make the Stonyfield #WakeUpWithStonyfield homepage scroll.  Funny enough, my friend Jenny's tweets would be featured alongside mine.
There are a ton of tweets on the site and it's fun to scroll through all the images.  Here are a few of my tweets from the #WakeUpWithStonyfield feed.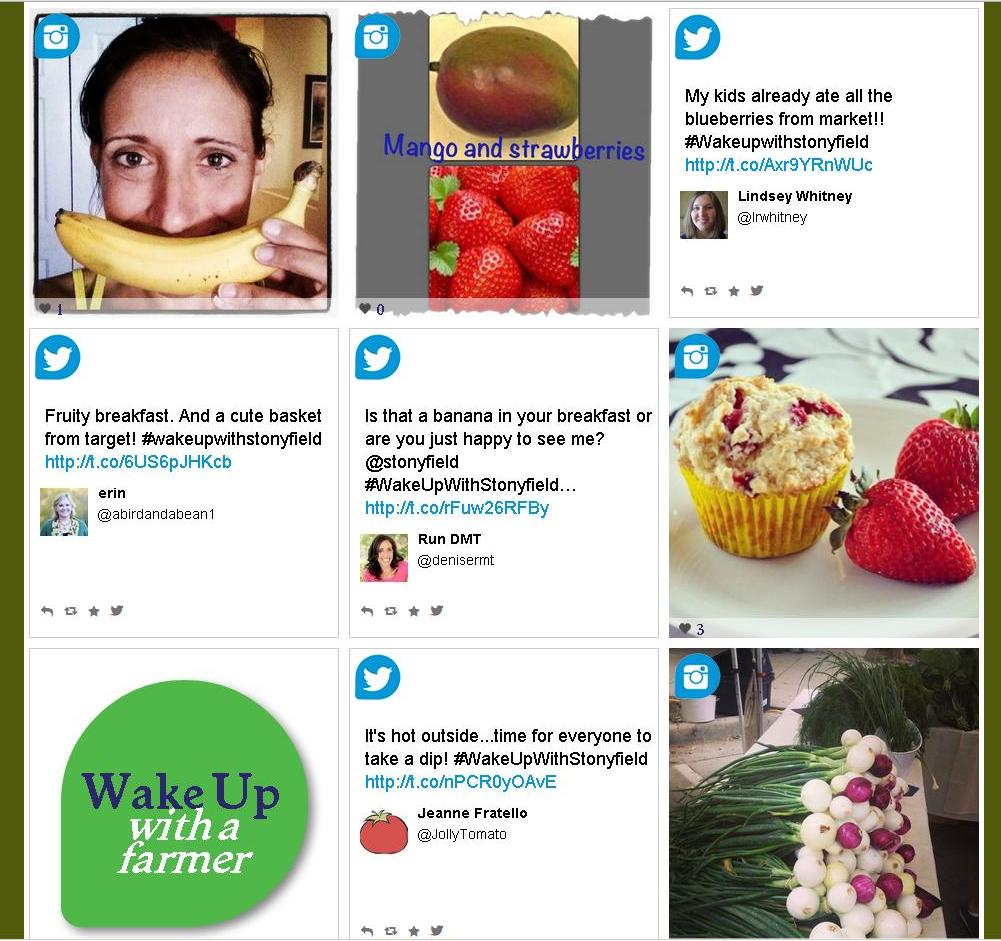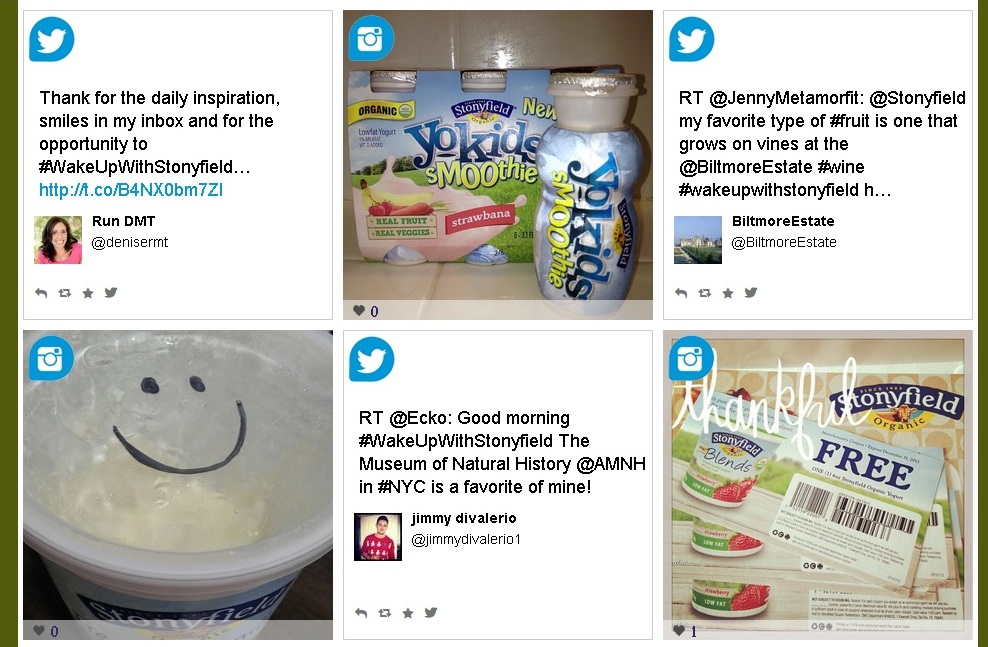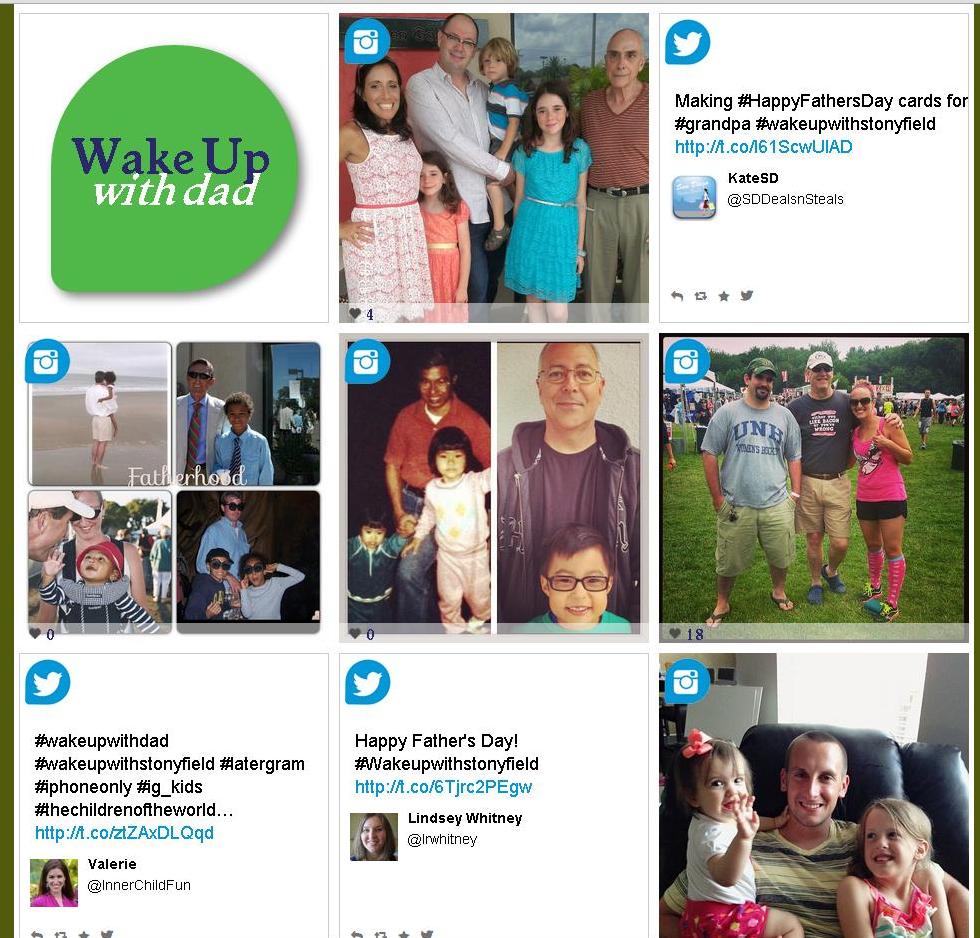 In other food news, I will be at the Food and Wine Conference in Orlando this Friday and I have yet to pack because I'm not sure what to wear.  I don't own a lot of business casual clothes and it's way too hot here for jeans.  For BlogHer, we were recommended to wear comfortable shoes and clothes, nothing too dressy although I dressed up.  I'd rather be overdressed than under-dressed, but Florida is flip-flop friendly and I make look silly dressed up.  What should I wear?  I never have such clothes trauma working out.  Thank goodness!
Last Wednesday, Jenny and I met at the trail to ride.  Each week, we're going to push a little further and a little faster.  I did all right but not great.  I want to hit at least 15 mph and stay there.
7-10-13
Cycled 12.15 miles
Time 53:43
Ave Speed 13.6
Max Speed 16.2
Speaking of pushing it faster, last Thursday I met the Striders for a 6 mile tempo run.  Somehow, I missed everyone taking off at the start so I pushed it to catch up with my fast friends, Tara, Jackie, Kim, Rachel and Christina.  When I finally reached the pack, Jackie asked, "D, are you doing intervals?"
"No, I'm just trying to catch up with my fast friends."  I held that pace until the first water stop at 3.1 miles.  Once we stopped for water, I hit "lap" on my Garmin to record it and to compare it to the second half of the 6.2 miles.
The second half wasn't a speedy, but I was only about a minute behind Rachel, Kim and Christina, which was the perfect window of time to receive praise and pat of the backs from them when I caught up to the pack.
At the 10K mark, I hit "lap" once more and caught the glimpse of my 6.2 time, 59:04.  I couldn't help but smile.  I haven't been able to finish a 10K at that time since 2009 at the Race for the Cure 10K.  Here, in the heat and humidity of the summer, I finally made it back to finishing under an hour. So, here's to hoping that come this fall when the weather cools, I can beat my PB-PB (pre-baby personal best) and/or my PR of 55:04 (from Race for the Cure 10K 2008) at my next 10K.
In the meantime, I will be racing to catch up with my fast friends every Thursday.
7-11-13
6.40
Total Time 1:00:57
10K Time 59:04
Ave Pace 9:32
Max Pace 6:53
Lap 1 – 3.14 miles, Time 27:51, Ave Pace 8:53
Lap 2 – 3:07 miles, Time 31:13, Ave Pace 10:10
Lap 3 – 0.19 miles, Time 1:52, Ave Pace 9:53
Friday, my legs were sore so I opted for a rest day.  Plus, it was my 8 year old's birthday and I wanted to be around when she woke up and not all sweaty and smelly.  On Saturday, I ran another 6.2 miles but not at quite the same speed as Thursday.  My legs were still so sore!
7-13-13
6.2 miles
Time 1:04:34
Ave Pace 10:24
Max 8:27
On Sunday, I was shattered.  After two days of non-stop birthday celebrations, I was exhausted and I couldn't move.  Shamefully, I stayed in bed.  Come Monday, I was back on track and I met my Monday Morning Running Group for an easy 4 miles.  Sadly, my legs did not feel like running, but at least I ran instead of staying in bed.
7-15-13
4.03 miles
Time 39:02
Ave Pace 9:41
Max Pace 8:20
Monday afternoon, I visited Outspokin in Tampa to have my bike fitted.  I think a lot of my riding issues stem from the fact I never had my bike tailored to me.  For a proper and accurate fit, Outspokin uses this amazing high-tech system called Retül.
With a few stretches, Andres assessed the flexibility of my back, legs and hips. To assess the flexibility in my hips, I had to perform this frog-like maneuver.  As Andres pushed down on my legs, I said, "Honey, I've pushed out three kids with these hips.  I know I'm flexible!  My hips are more than flexible and they ain't bending back."
Next, I climbed up on the Retül fit bike and Andres adjusted it to my height.  Then, he located all my joints and stuck wires to me for a Retül capture and computer reading.  With my inefficient pedaling and what Andres called my "long femurs", I needed some serious work.  While pedaling numerous sprints for a reading, he adjusted the Retül fit bike accordingly.  He moved my seat forward and back.  He adjusted the handlebars.  Then, he did the same with my road bike.
The long femurs comment killed me and made me giggle. That was the first time in my life someone ever told me I had long femurs.  I chuckled and serenaded Andres with a bad rendition of Cake's Short Skirt Long Jacket.  "I am a girl with short legs and lonnnnng….lonnnnggg femurs.  Na nah nah nah nah…"
The whole process took about two and a half hours, but I felt really confident about Andres's thoroughness.  After the fitting, I received a printout of my computer assessment and my measurements in case I buy a new bike, which is possible because Andres didn't feel my road bike was the right bike for me.  But that's another whole Outspokin experience!
During the fitting, I also had clips added to my bike and hopefully, that will make me a more proficient pedaler.  We'll find out on the trail tomorrow.  I haven't fallen on my bike in a while.  I'm about due for a good fall.
Tuesday is Track Tuesday and all my friends are out of town, so I ran the loop in front of my house for intervals.  My times are getting sloppy and I need my fast peeps around me for some speedy inspiration.  At least, I tried to keep my 800s around 4 minutes.
7-16-13
1.1   mile warm-up, Time 10:48
1 mile cool down, Time 9:52


To punish my legs for being so tired and sloppy, I decided to punish them with some Body Pump at the YMCA.  Tons of squats and lunges with a bar would give my legs a real reason to be tired.
Tomorrow is another cycling day and I need to do some laps in the pool afterwards since I missed my swim this past weekend.  Since I'm headed out of town of Friday, I'm going to try to fit in some extra heavy duty work-outs since I probably won't be running during the conference.
*Submitted to*