My running went pretty well last week with my Asics-Kastor 6-weeks to train plan.  I stay on scheduled.  I met all my miles and I even made it to Body Pump twice.
Wednesday I ran 3 miles.
3.14 miles
Time 31:34
Ave Pace 10:03
Max Pace 7:59
Thursday I ran 6 miles with Mica.  Her faithful dog of 16 years had passed away the night before and really needed a run to clear her head.  I was glad to be there for her.  Even though the winds were crazy strong and the temps dropped to a feels like around 38, the run did us both some good. Afterwards, we celebrated and warmed up with some cafe con leche at Havana Dreamers. (I am so excited that the new owners are back!)
Friday, Body Pump kicked my butt, but my glutes and quads were so sore in a good way.  They basically complained to remind me that they were still around.
Saturday, I ran 15 miles.  I think my body is finally getting back into the groove of running again.  Even though I only ran two more miles than last week, this week's long run seemed to be a bit better and less of a struggle. That might be due to the fact I was running with Daffodil, whom I haven't run with in ages. We spent most of the run catching up. I miss running Daffodil!
15 miles
Time 2:57:06
Ave Pace 11:44
Max Pace 8:45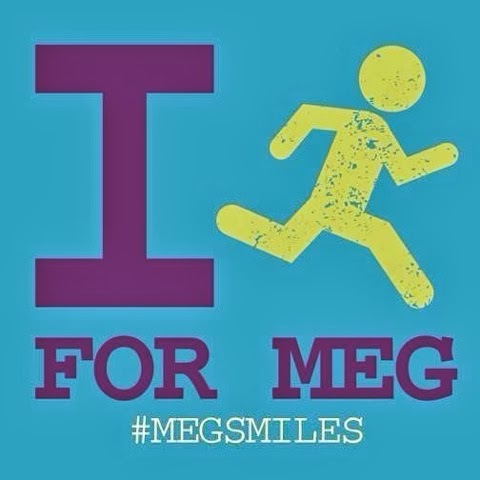 I dedicated Saturday's run to Meg Cross Menzies, a fellow mother runner of three children who was tragically killed by a drunk driver while out for her morning run on January 13, 2014. It is something that could happen to any of us while we are out running in the dark, trying to fit in miles before our families wake up.

A Facebook event was created in her name and encouraged runners all over the world to dedicate their Saturday miles to Meg, #MegsMiles.  On Friday, posts from Australia flooded the page's newsfeed as tears flooded my eyes.
Runners are the most caring, most compassionate people on the planet and this Facebook event proved it to be true.  This tragic event inspired people to move.  Close to 100,000 people mapped their locations and posted smiling faces and printed out bibs with their hometowns as the backdrop.  It was more than an event that went viral. It was a Facebook phenomenon.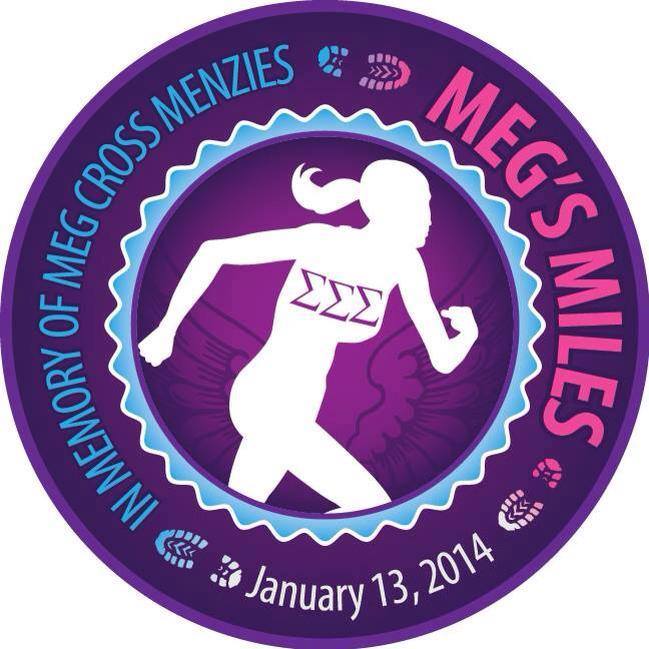 For me, the giving did not end of Saturday. On Sunday, I organized the first Run DMT Cheering Squad for the Clearwater Marathon.  A large crowd full of smiles, signs and cowbells commenced on streets of Indian Rocks Beach around mile 10 of the Clearwater Marathon.
My sister joined us and to her surprise, she couldn't believe how happy the runners were to see us. Some even thanked us for being there, although Simone was a bit worried that we would bruise from all the runners hitting the "Touch here for POWER " sign with such force as they ran by.
It was so rewarding to lift the runners' spirits.   My daughter, Allana, was so moved by the experience, she asked when was the next cheering squad event.
We cheered for the very first runner…
and stayed until the very last runner ran by, Lois Huyghue.
Her journey and her story is an incredible one. As the very last finisher, she completed her marathon in 8:14:37.
As told by the race director, Chris Lauber,

"Lois started with the early walkers, so with the exception of those early starters who were ahead of her at the start line, nearly all our athletes passed Lois along the way. Imagine how much mental toughness it takes to watch every marathoner pass you by until there is no one left and you are out there all alone, with the exception of some uber-dedicated volunteers."
Lois shared her own incredible recap with Chris.
"I just completed my very first marathon today. It was awesome.

Let me share my story. I had a stroke at age 18 months old and it left me with a partial paralysis on my left side. I did the marathon, at time dragging my left foot because it is spastic and has a mind of it's own.

I did the race, first to inspire others with limitations to try things that you may think you can't do and second because a dear friend of mine was involved in a serious car accident and her youngest daughter lost her life at age 6. This little girl was a runner and I dedicated the race in her memory because she would have been a marathoner.

I was the last to finish the course but I crossed that finish line with the help of Chris and others. I was treated so well.

I have done lots of races and never got the support like I got from this race. I am so grateful for the personal concern and attention.

I will do this again and make it a yearly goal."
Thank you for sharing your story with us Lois and many blessings to you for being so courageous!  You are inspiration to all of us! You may have finished last, but you are first in our hearts! The Run DMT Cheering Squad will definitely see you next year!
If you have never spectated at a race or volunteered handing out water at a race, you need to make it a bucket list item. You have no idea how important your smile and kindness is to a runner.  People like Lois and I need you out there.
I was feeling pretty lazy and sluggish on Monday until I saw this running shoe memorial for Meg captured by Loren Rosado which she shared with the Meg's Miles Facebook group.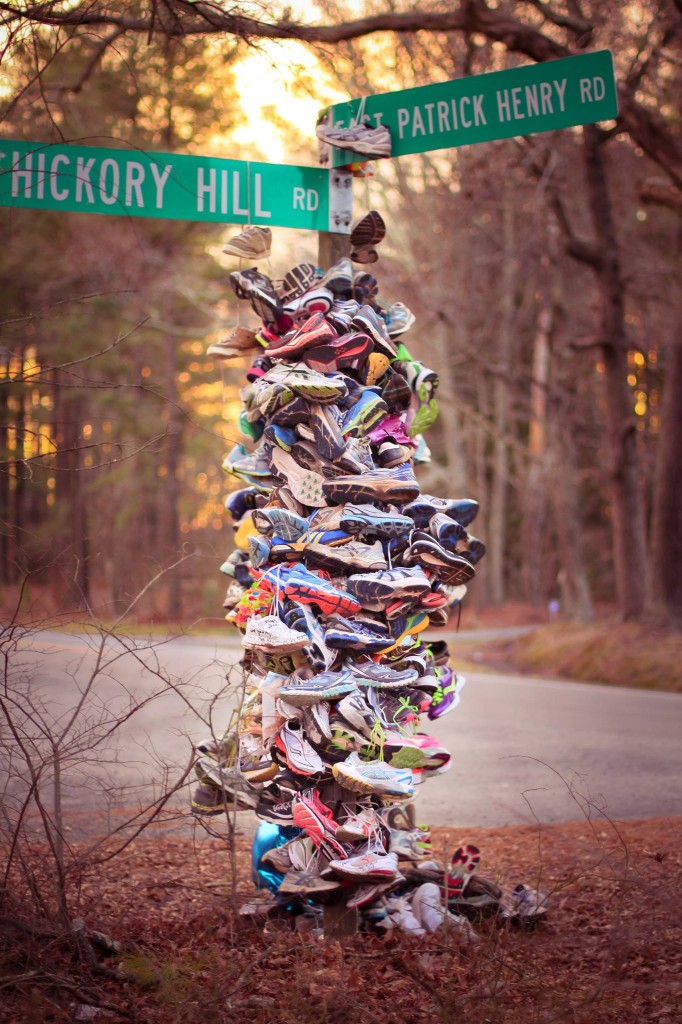 Seeing this emotional visual prompted me to run 3 miles in the evening. It wasn't nearly as emotional as Saturday or Thursday's run, but simply just time on my feet.
3.11 miles
Time 30:39
Max Pace 9:51
Max Pace 6:56
Today with 2 out of 3 kids at home due to bad colds, I procrastinated my 10 miler this morning. I decided to go for a run around lunch time and then skies opened half way through my run. When the cold rain and wind hit me, it took every ounce of strength in me to not give up and go home. Even when my worried husband showed up to give me a ride home, I stuck to my training plan. Ten miles in the books and I even finished 16 minutes faster than last week!
10 miles
Time 1:48:54
Ave Pace 10:52
Max Pace 7:59
As for the rest of the miles this week, it's more of the same and then I have the Celebration Half Marathon on Sunday followed by 5 more miles to hit 18 for this week's long run.  Wish me luck!