I did pretty good last week sticking to my adjusted Asics-Kastor 6 Week Marathon Training plan. I took a active rest day on Friday and worked in Body Pump again to offer some strength training. Of course, that meant my legs were SCREAMING the next day for my 18-miler. Note to self: Avoid strength training and weight-lifting the day before a long run.
On Wednesday, I set out to run 10 miles, but I left my house a little too late, which worked out fine when 7 miles into the run, I needed to use the bathroom. Since my son started attending the preschool in our neighborhood, I have a public restroom right smack in the center of my long runs that opens around 6:00 am. It's so much better than losing a sock in the woods, if you know what I mean. (If you need me to spell it out, that's runner code for pooping in the woods.)
My new Garmin 310XT arrived just in time for my 6 mile Thursday tempo-run and I absolutely love it. It's so slim compared to my old Granny Garmin.
I'm still trying to figure out how to sync it to my Garmin to the Daily Mile or Map My Run so I can see all my miles logged in a week. Are you on Garmin Connect?  If so, connect with me, Run_DMT! I need friends! lol
As for the 6-miler, I really pushed it the first few miles with Marcia pacing me around a 9:00 mm. I was really impressed with my 5K time and then I died the second half. I just keep losing steam during these runs.
There's only five weeks left until the Chicago Marathon and only 30 days left to raise the money for #TeamDannyDid. EEK!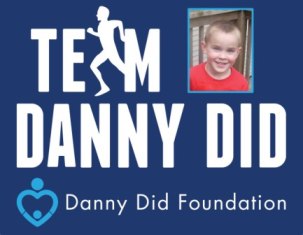 I'm already looking forward to my drop back week of 12 miles this weekend. Last week's 18 miler was really slow and pathetic. I could get a decent pace going and then my plantar fasciitis began to bother me. It took everything in me to keep moving and I walked a good portion of it.
After that 18-miler, I felt so deflated. I'm struggling trying to get my speed up while dealing with this stupid PF that just won't go away. Thank goodness, Daffodil ran with me because I think I would have spiraled into some ugly despair. Whose brilliant idea was in to train for a marathon in this heat?!
Then, a friend shared this video and it was all I needed to shake off my pathetic mood. It totally inspired me to keep persevering towards my marathon goal.
I rested Sunday and Monday because I really needed the recovery. Today, I was ready for some speedwork but my body was not ready to jump up to intervals of 8 x 800s. That was torture, although according to my splits, it looks like I did well with the sprints. Sadly, because it was so hot and humid, I really needed to walk the ¼ mile laps. Next week, I will shoot for walking less.
Did you know it's perfectly acceptable to walk at fun runs like The Flavor Run? I really wish I could run this race with my kids, but I will be at FLBlogCon that day. I've heard so much great things about this tasty family-friendly 5K!  You literally taste the rainbow at The Flavor Run.
From the website
The Flavor Run is meant for all levels and ages of runners. This 5K promotes a fun, family, community event where participants are coated from head to toe in different colored, fruit flavored, celebration powder at each mile. These FDA approved, fruit flavored corn starch, including banana, orange, grape, strawberry, watermelon, and blueberry will be spread throughout the run at aptly named "flavor stations" where runners will be covered with the powder as they run by.
I really wish I could be part of this with my kids in Tampa on September 20th because I know they would enjoy it so much! I love that The Flavor Run Post-Run Flavor Zone includes everything from fruit, vendors, live entertainment, and children's activities. Plus, the race gives back to the community by supporting a Tampa charity.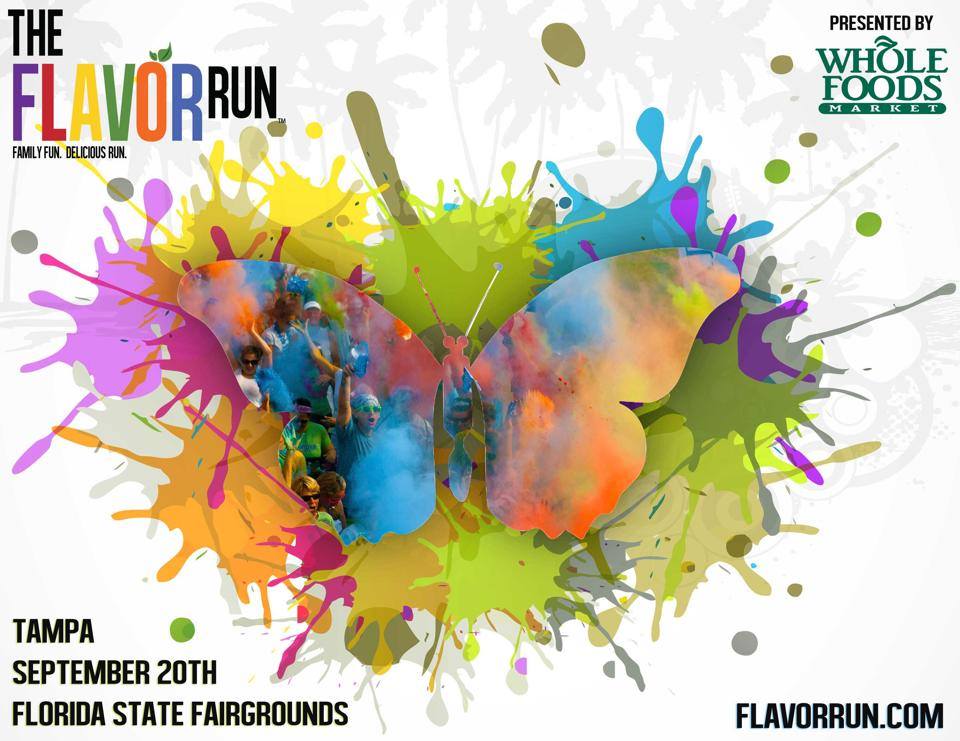 I guess I will have to enjoy all the delicious fun through Instagram and live vicariously through one of my readers. One lucky Run DMT will TWO Flavor Run race entries. To enter, tell me who you plan to bring along to taste The Flavor Run rainbow with you. For additional entries, follow the Rafflecopter prompts.
REMEMBER online registration closes on 9/19 at midnight. Use code RUNDMTSAVES to save $5 off your entry.