It's been YEARS since I ran an real Thanksgiving Day road race. I have had my share of Turkey Trots but to be honest, the sheer volume of runners overwhelmed me. With tens of thousands of runners, a middle of the pack runner like me would never make the top 5o female finishers. Although it's more about the run and burning Thanksgiving Day calories than an age group placement, it's still nice to see my name somewhere at the top of the list.
Then, there's the whole added stress of running a race on Thanksgiving Day and then coming home to prepare a holiday meal for my extended family. Instead of racing around on Thanksgiving Day, I opted to run a virtual Turkey Trot in my own neighborhood. I found that a virtual Turkey Trot helped clear mind, alleviated some of the holiday stress and burned a few calories to make room all the food. I would feel less guilty about indulging on Thanksgiving if I ran earlier that morning.
But now, Downtown Tampa now has its own hometown Thanksgiving Day race which is like having a Thanksgiving Day race practically in my backyard and that makes the Goody Goody Turkey Gobble a winner-winner turkey dinner!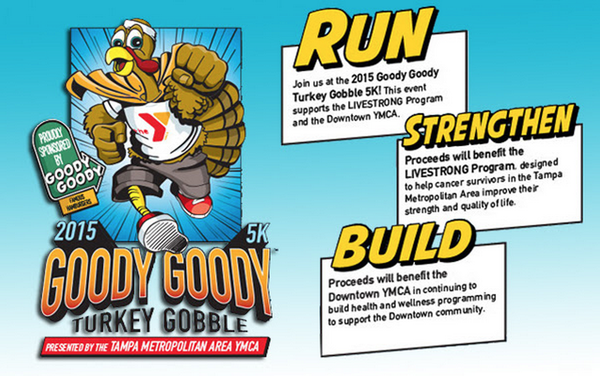 Tampa's Thanksgiving Day race begins and ends at Downtown Tampa's Amalie Arena across the Platt Street bridge and along the beautiful and scenic Bayshore Blvd. After the picturesque course through the streets of Downtown Tampa, runners can enjoy a post race breakfast from the highly anticipated soon-to-open Goody Goody Burgers Restaurant!
Prizes will be awarded to 1st place overall Male/Female finishers and 1st place overall Male/Female youth (ages 12 and under) finisher. The next 50 men and 50 women finishers, regardless of age,  will receive a commemorative gift.
But more than the traditional finisher awards, the Goody Goody Turkey Gobble is all about the good ol' Turkey Day fun! All participants are encouraged to dust off their tale feathers and lace up in their finest Thanksgiving dressings to be entered in the Reeves VW Goody Goody Turkey Gobble Costume Contest. Reeves will be giving away gas cards totaling in $250.
In addition to all Thanksgiving Day race fixings, there is a giveback benefit to this inaugural race: 100% of the proceeds raised from the Goody Goody Turkey Gobble 5K will support the Tampa YMCA's LIVESTRONG® at the YMCA cancer wellness programs. The free 12-week program offers people affected by cancer a safe, supportive environment to participate in physical and social activities focused on strengthening the whole person.
Or enter the giveaway below for a chance to win a Goody Goody Turkey Gobble race entry.
To enter, share some of your favorite Thanksgiving Day traditions.
Follow the Rafflecopter entries for additional entries.