One more month in 2020's Coronavirus world means another month of compiling virtual races. We've hit eight months and counting.
The holidays often cause me to lose sight of my fitness goals. Now more than ever, I need virtual races to stay focused and motivated with the absence of in-person events.
This month, in addition to staying true to my fitness goals, I'm striving to find gratitude every day. Living with gratitude, I am truly grateful for so many organizations offering virtual races and as we roll into the holiday season, there is cornucopia filled to the brim of fun Thanksgiving themes and other fun runs.
One of my personal favorites Thanksgiving virtual races is the Goody Goody Turkey Gobble which benefits the Metro Tampa YMCA's LIVESTRONG families.
Since Thanksgiving Day tends to be a bit chaotic in our home, I chose to run the Goody Goody Turkey Gobble virtually for the past couple of years. I prefer to run a virtual race where and when it fits into my Thanksgiving Day rather than racing around trying to fit it all.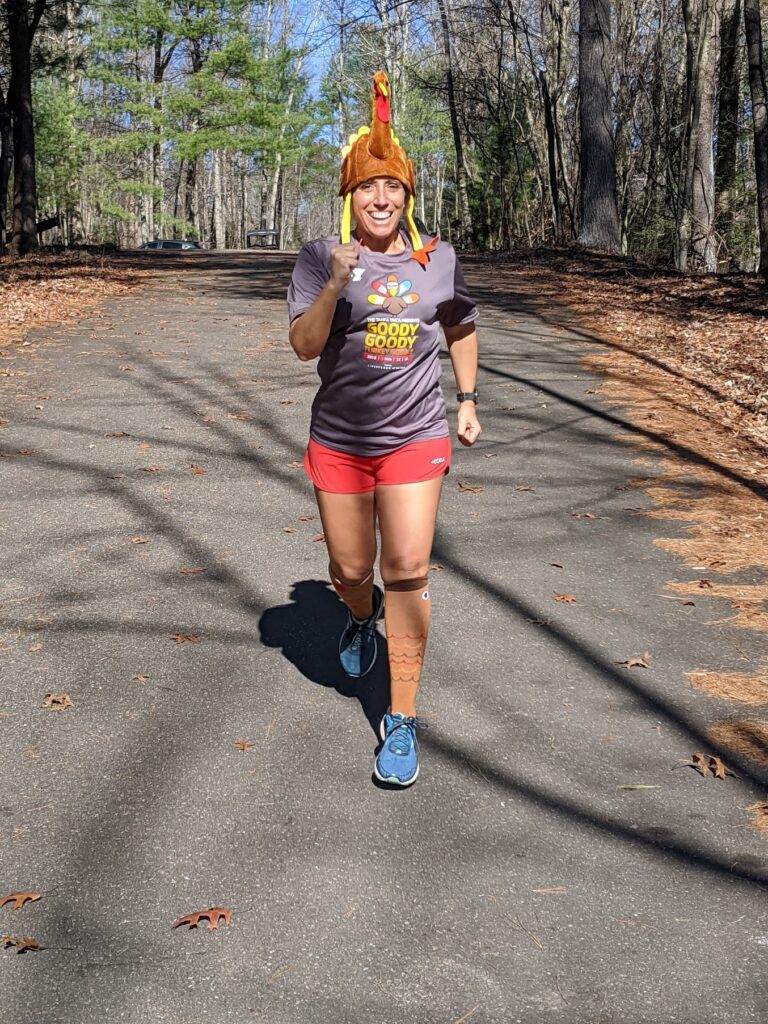 This year, participants can run their 5K anytime and anywhere between November 22 – November 28.
Although this year lacks the Goody Goody post-race treats, the 6th Annual Goody Goody Turkey promises the all the fun Thanksgiving themed swag: a bib, the Goody Goody Turkey Gobble Medal and the Goody Goody Turkey Gobble tech tee.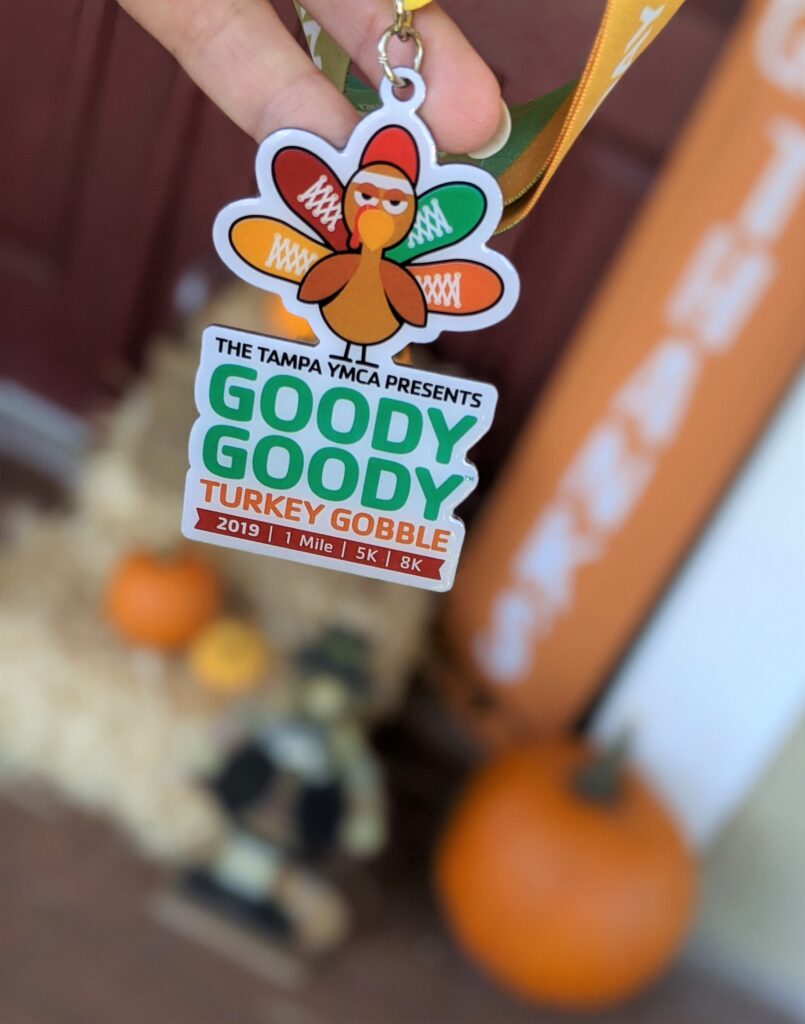 And thankfully, I have a virtual race entry to give away to one lucky winner! (Scroll to the bottom of this post to enter the giveaway.)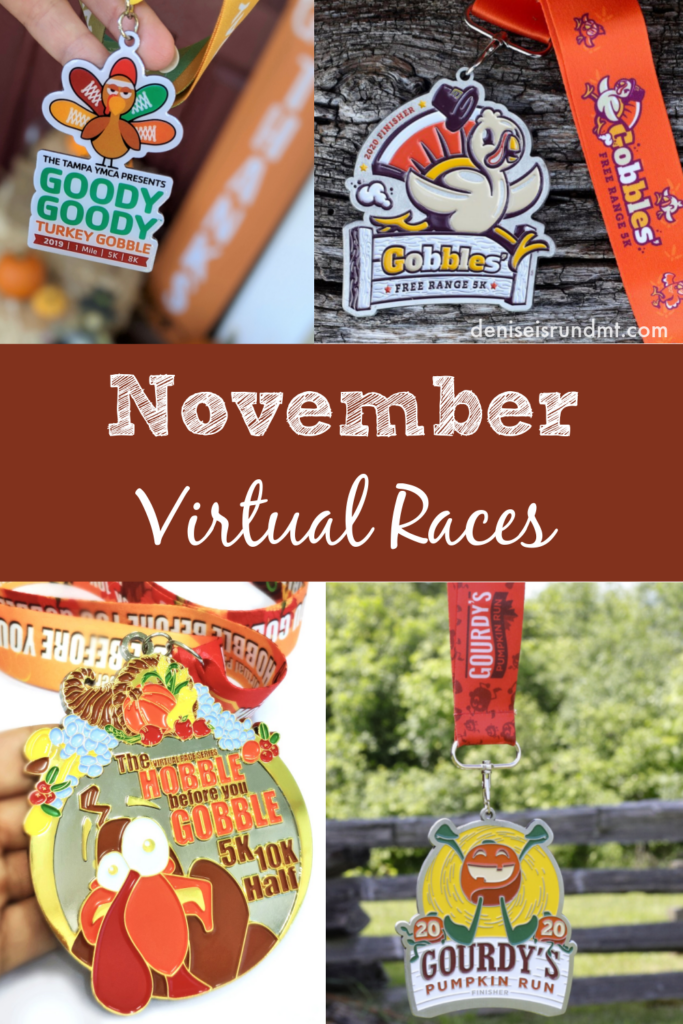 November Virtual Races
Thanksgiving Themes
Nov. 22 – Nov 28
$29
5K
Bib
Goody Goody Turkey Gobble Medal
Tech tee
Benefits the Tampa YMCA LIVESTRONG Program
Share on social media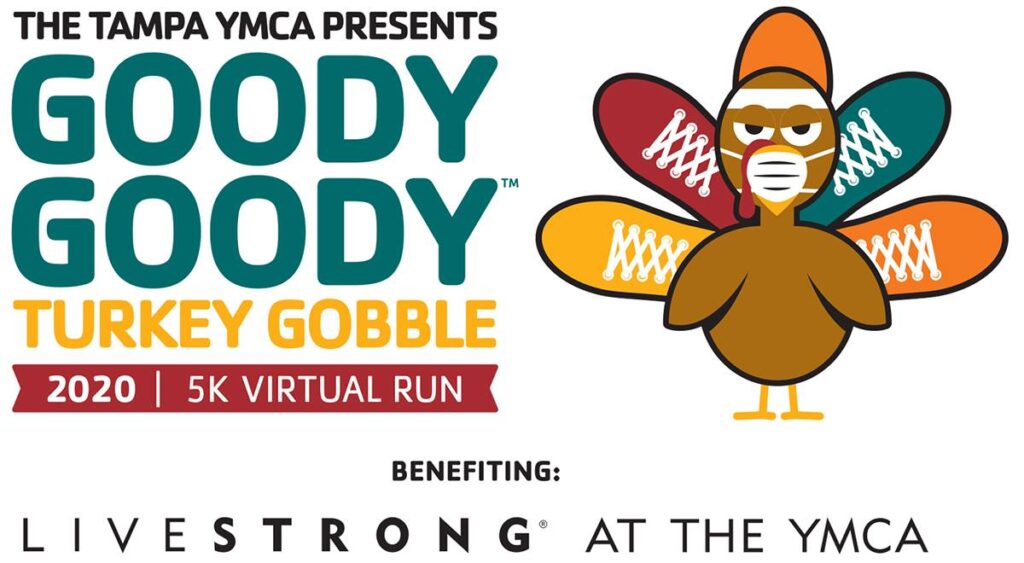 November 23 – November 29
$48
Seven days worth of professional guided meditations
Custom wall art wooden mandala
ThanksRunning T-shirt
Buy one, give one item (journal or set of 8 cards)
Meditations only – $10
Mandala and meditations only – $30
For every registration, $1 will be donated to each charity: Whale Scout, Food Lifeline, Mary's Place and Lambert House
$34.95
Oct. 1 – 31
5K/10K
I Run 4 Pie t-shirt OR tank
Pumpkin pie medal
Bib
Benefits Feeding America
Share on social media #IRun4Pie #IRun4Movement
Chance to win prizes
Earn money back when you refer friends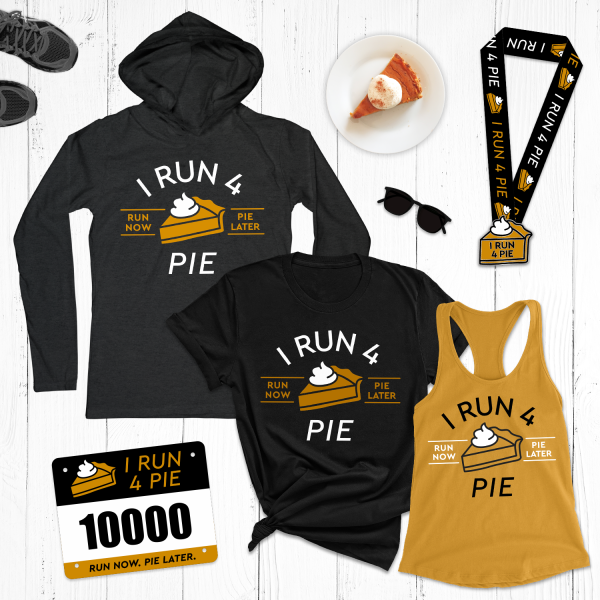 $10 + $5 shipping
Turkey medal
Bib
Bundle purchase with 12Ks of Christmas to save on shipping ($20 + $5)
November 19 – 26
General registration (no bib or tee) – $25
Bib registration (no tee) – $30
T-shirt registration (no bib) – $40
Deluxe registration (bib, long sleeve t-shirt) – $45
Share results and photo in the Facebook 5 K group (*Must be registered for bib, t-shirt or deluxe to join.)
Loads of contests and prizes
Benefits the Boone Hospitality House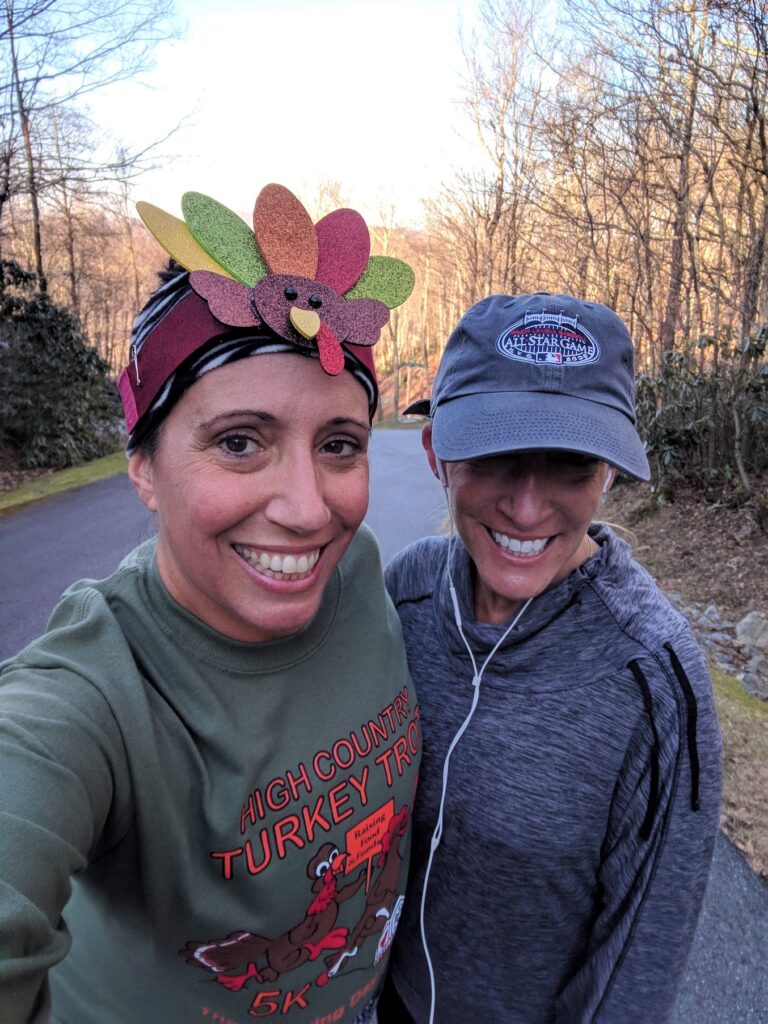 Now until November 30
$34.99 – 5K or 10K
Thankful Run shirt or tank
Finisher medal
Customizable bib to share what you are thankful for!
Share on social media for a chance to win cash and other cool prizes #TheThankfulRun #IRun4Movement
Earn money back when friends register using your referral link
Benefits Feeding America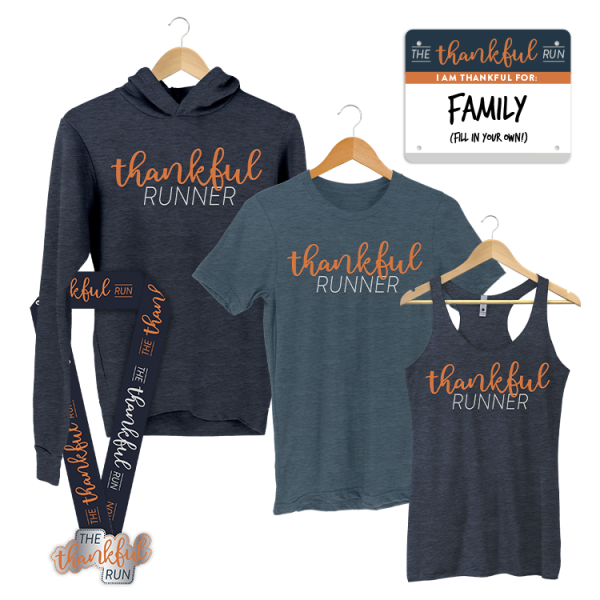 November 23 – 26 (Register by 11/15)
$40
1 mile, 5K, 10 or half m arathon
Jacket with a zipped chest and side pockets
Pumpkin-pie inspired finisher's medal
Navy blue beanie
Additional items available for purchase
Benefits Feeding America
November 22-29
$30 (Individual)
$25 (Team)
Hoodie
2020 Finisher's Gobbles' Medal
Bib
Virtual Finisher's Badge
Gobbles' Spice Mix
Additional gear available for purchase
Take on the "Toucan Challenge"
Run or walk your 5K while holding two canned goods
Earn the exclusive Toucan Challenge Medal in addition to the regular Finisher's Medal
Donate canned goods to your local food pantry to help those in need
Share on social media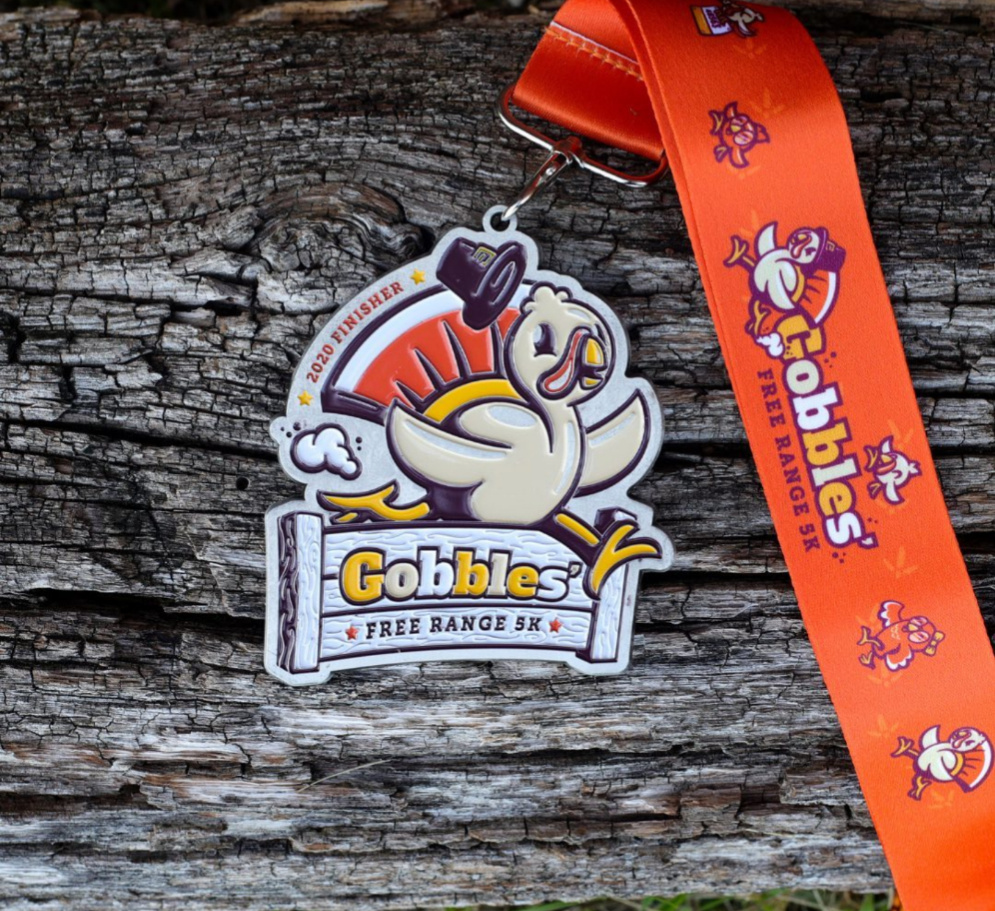 $24.00 – 5K, 10K or half marathon
Turkey medal
Digital bib
Post finish time online or in Facebook group
Benefits FeedTheChildren.org
November 15 – 30
$44.99
8 mile, 5K or 1 mile
Bib
Gender-Specific Performance Turkey Trot Shirt
Medal
Irving Marathon clear clinch bag
Silicon "Join The Movement" bracelet
Event Sticker
Submit results online
Benefits childhood obesity prevention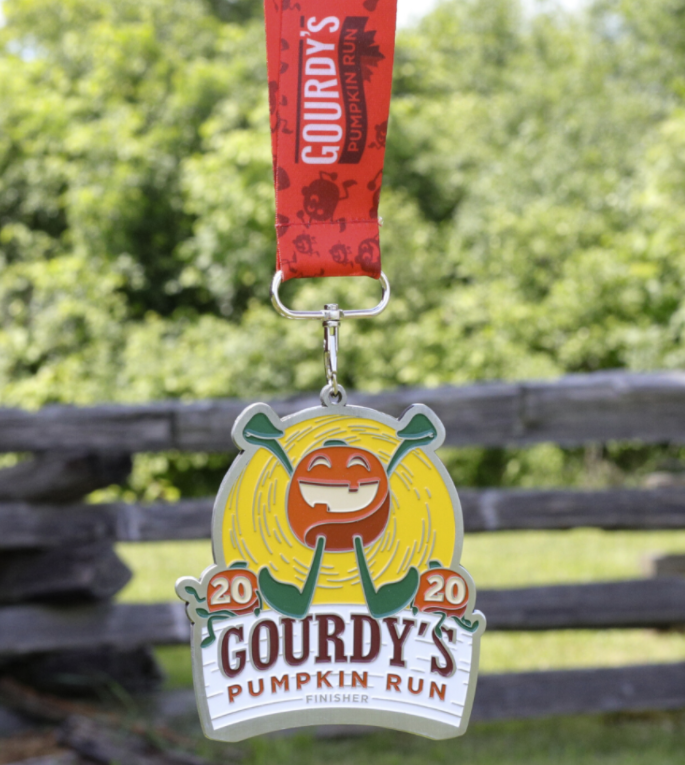 Now until November 22
$39
Lightweight tech hoodie
Medal
Bib
Gourdy's Apple Cider Spice Blend
Virtual finisher's badge
Submit finish time online
Share on social media @gourdyspumpkin run #GourdysPumpkinRun
Form a team and save $5 per person
Benefits Girls on the Run
#toughpumpkin option – Run with a pumpkin – earn a tough pumpkin medal
Now until Nov 8
Marathon, half Marathon, 10K & 5K
Submit finish time online
Long sleeved t-shirt
Digital bib
Digital finisher certificate
Mug and medal are available as add-ons during registration. (Included in marathon registration)
Submit results online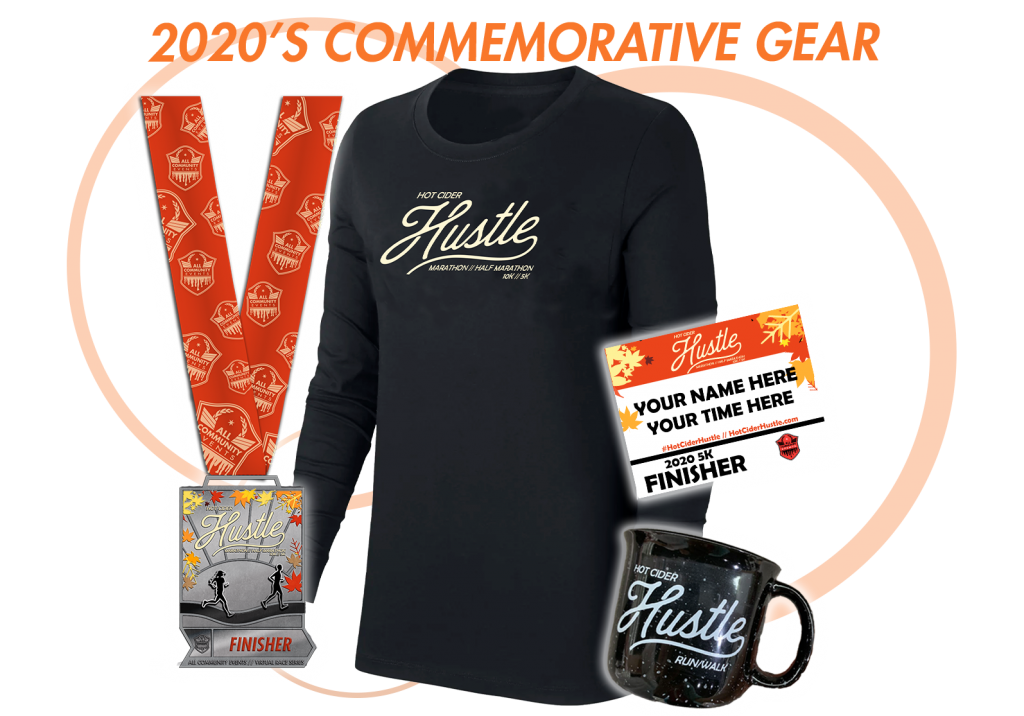 Other Fun November Virtual Races
Now until Nov. 3
$29 – 5K or 87 mile run or bike challenge
T-Shirt
Digital Race Bib
Finisher Medal
Proceeds benefits a woman's organization of your choice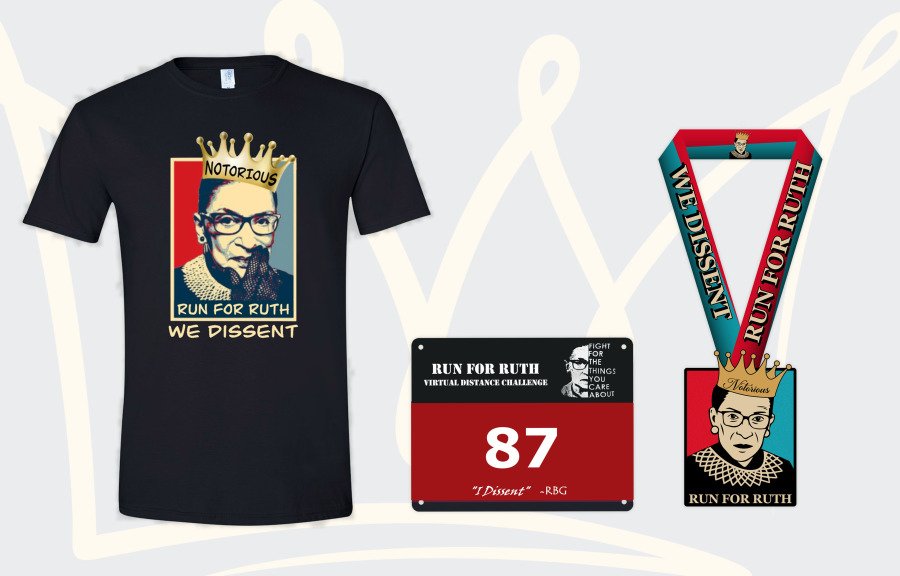 November 27 – 28
$35 – 5K, 10K or half marathon
Bib
Medal
Sticker
Virtual expo fr discounted gear
Benefits the Startling Line Scholarship
Share on social media #ForTheBling
November 7
$65
Half Marathon, 10K or 5K or Challenge ($85 – 5K + Half Marathon or 10K)
ZOOMA Wine Country corkscrew medal
Bib
"Keep your eye on the finish wine" t-shirt
Zooma "Will Run for Wine" insulated tote
ZOOMA sticker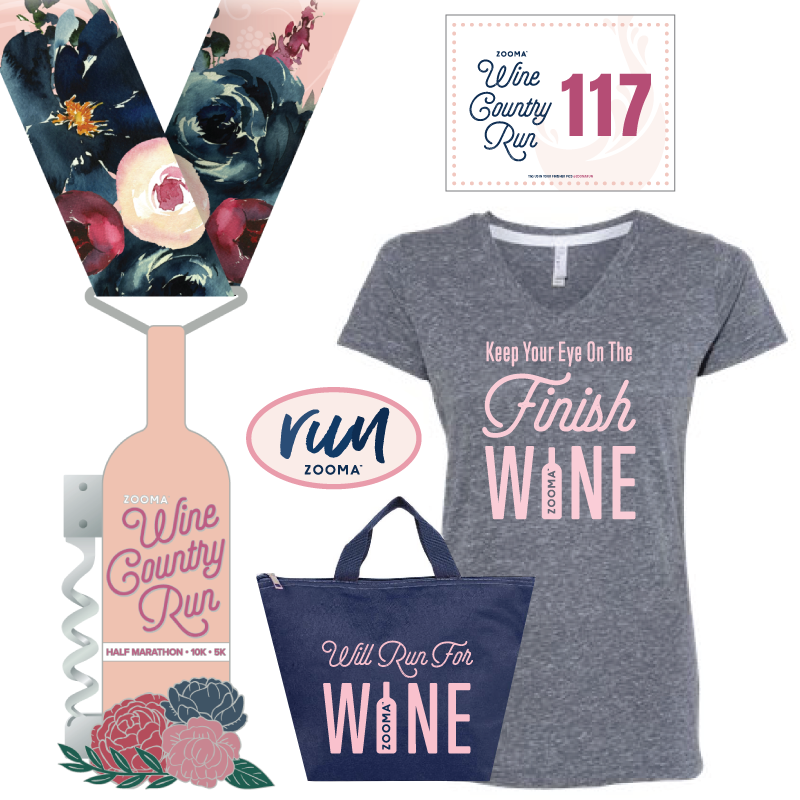 November 8
5K
$20 -registration only
$50 – commemorative t-shirt
Benefits Out Athletics
Share on social media @out.athletics @athleticbrewing #OA5K #WithoutCompromise
Now until November 30
$30 registration
5K
$25 gift certificate to Ulele or the Columbia Restaurant
Race t-shirt available for purchase
100% of the revenue benefits Moffitt Cancer Center
Nov. 1 – Dec. 31
Dia De Los Muertos theme
Half – $39
5K – $29
Kid's Run (0.5 mile) – $29
Digital bib
Sugar medal or Day of the Dead Couple medal
Temporary tattoos
Race t-shirt – $15
Submit results online
Share on social media @thehauntedhalf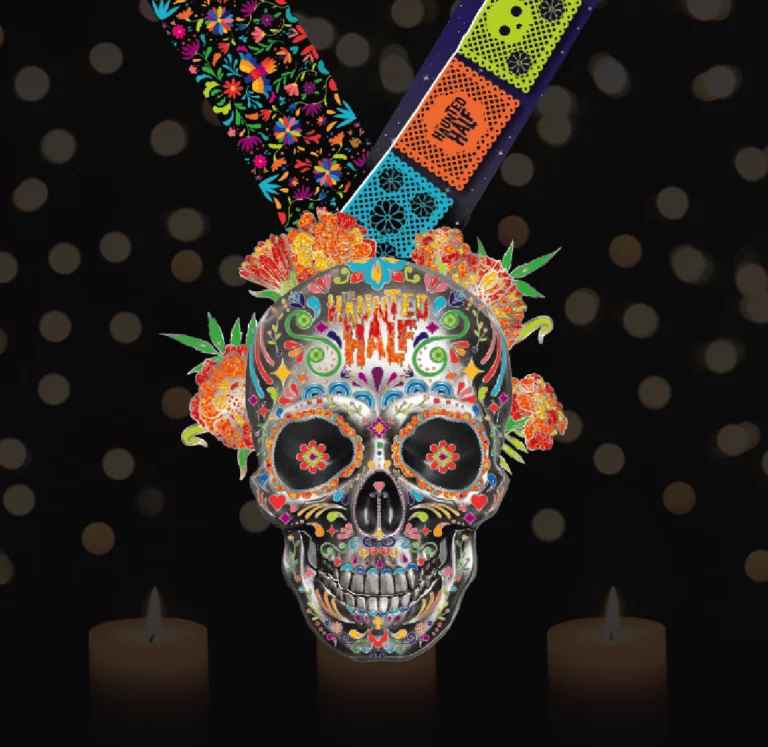 Fundraiser
Run or walk 60 miles during November
Go solo or join a team
Log miles in the Mo Space fitness app
Share on social media
Benefits health projects related to testicular and prostate cancers including mental health and suicide prevention.
November 22
$24.95
5K
Bride and groom medal
Digital bib
Submit finish time to Badass Virtual Run Facebook group or Strava
Benefits Special Spaces
November 16 – December 27
$55
Move 30 minutes a day, 4-5 times a week
Commit to 1-2 days of self-care or rest a week
7-Week Holiday Challenge with weekly workout plan
Holiday Challenge Tracker to track workouts
Includes The Great Turkey Trot 5K and 12Ks of Christmas *Medals sold separately*
Weekly emails, videos and tips on how to fit in workouts, strength training ideas, keeping stress at a minimum
Access to the private Facebook Motivation Group and our ZOOMA Coach
Holiday Vibes lightweight Zooma hoodie
Snowflake spinner medal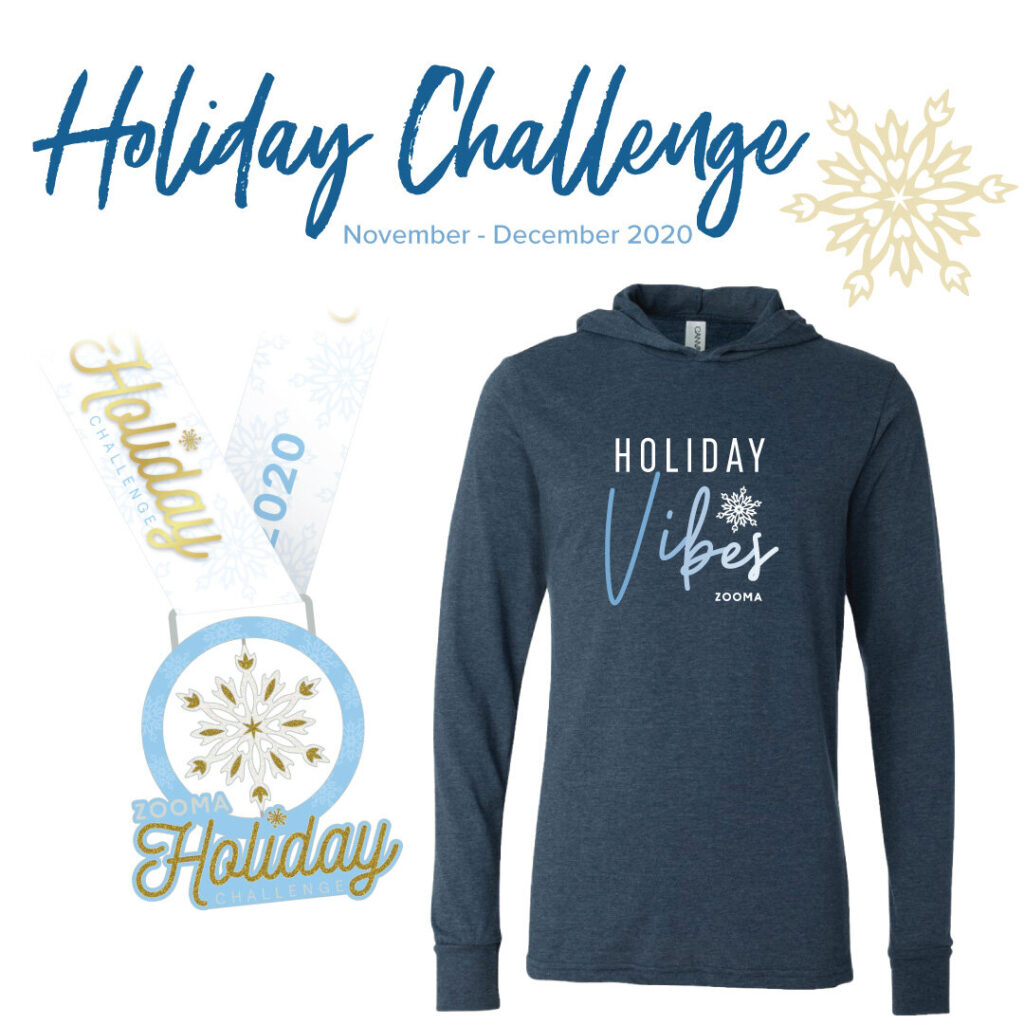 Which November Virtual Race will you run?
Enter to Win a Goody Goody Turkey Gobble Virtual Race Entry!
a Rafflecopter giveaway