Let's face it. This year has been challenging. 
In 2020, every holiday and celebration has forced families to think outside the box and Halloween is no exception. 
Since many of us grew up trick-or-treating, Halloween is as much fun for the adults as it is for the kids, especially when neighbors offer grown up treats for the parents like Jello shots. With cookouts under canopies with kegs, Halloween in Florida is a tailgating holiday. But this year, Halloween will look a lot different to keep our families and loved ones safe.
For all fall outdoor activities, the CDC recommends wearing masks, hand washing often and social distancing. In addition, the CDC also recommends avoiding hay rides, haunted houses and other crowded gatherings such as traditional trick-or-treating, as these activities are high risk.
Therefore, if you have not had the conversation with your kids about not trick-or-treating this year, I highly recommend you explain the reasons why and start planning some new Halloween traditions that do not require you going door-to-door collecting candy from strangers in a Coronavirus world. 
Once you have that conversation with your family, start brainstorming ways to celebrate the season. You may be surprised with some of the creative ideas your kids will conjure up to celebrate a safer Halloween. If you need some suggestions, my family and I materialized a list for you below.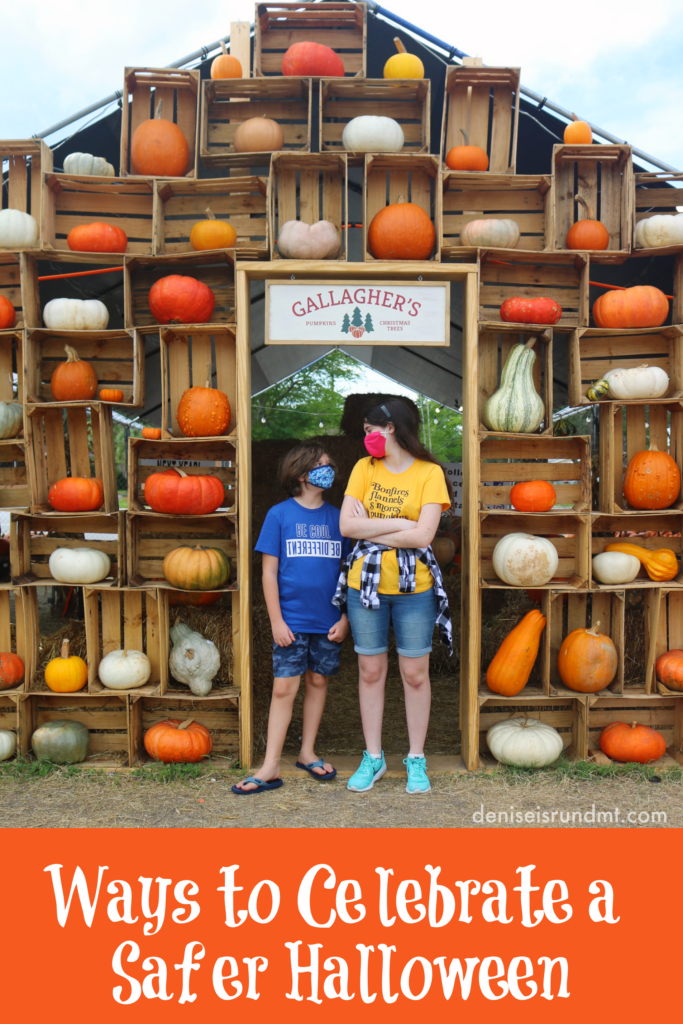 Ways to Celebrate a Safer Halloween 
Build a Candy Catapult
Did you see the Ohio Dad who built a Halloween chute to hand out candy to trick-o-treaters? What an ingenious way to celebrate Halloween while social distancing!
My middle child suggested building a catapult to toss candy to trick-or-treaters from the front door. If you want to be part of the Halloween fun safely from a distance, put your best mad scientist engineering skills to the test and as a family, build a contraption to deliver candy to kids. Dress in costume and catapult candy from six feet away! Why not?! Take that 2020! Muhahahahahaha
​​​​​​​Watch a Halloween Movie
When my son learned trick-or-treating would not be happening for us this year, he suggested we buy a ton of our favorite candy and watch our favorite Halloween movie. He even said, "Then we can be sure we won't get any loser candy." Out of the mouth of babes, because let's face it. Halloween really is just all about the candy and costumes. 
Host a Halloween Zoom Party
Just because you[re not trick-or-treating doesn't mean you can't wear a costume! Dress up and hangout with your friends and family online. Turn up the Halloween tunes and have a spine tingling dance party or sing-along. Pounce on the opportunity to take on a Halloween themed TikTok dance, too.
Visit a Pumpkin Patch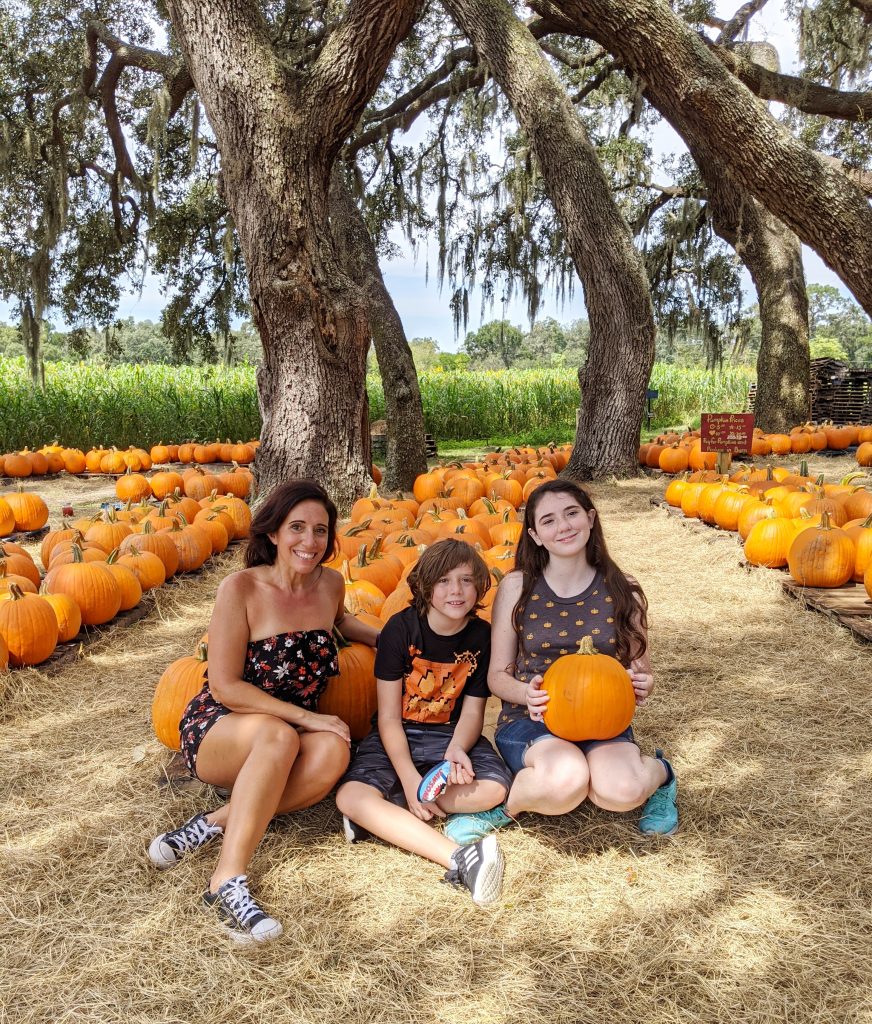 Many of our local farms offer advance ticket sales to limit crowds at their pumpkin patches and corn mazes. Or, instead of a farm, visit a local pumpkin stand on a weekday leading up to Halloween. Pumpkin stands tend to be less crowded during the week.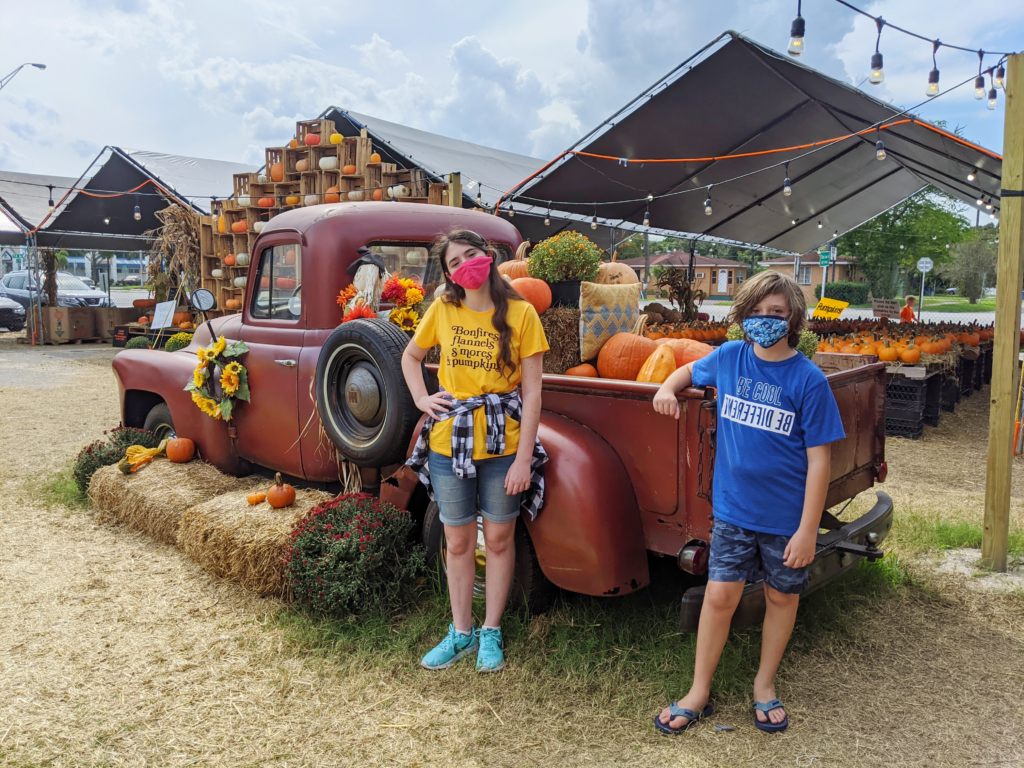 Carve Pumpkins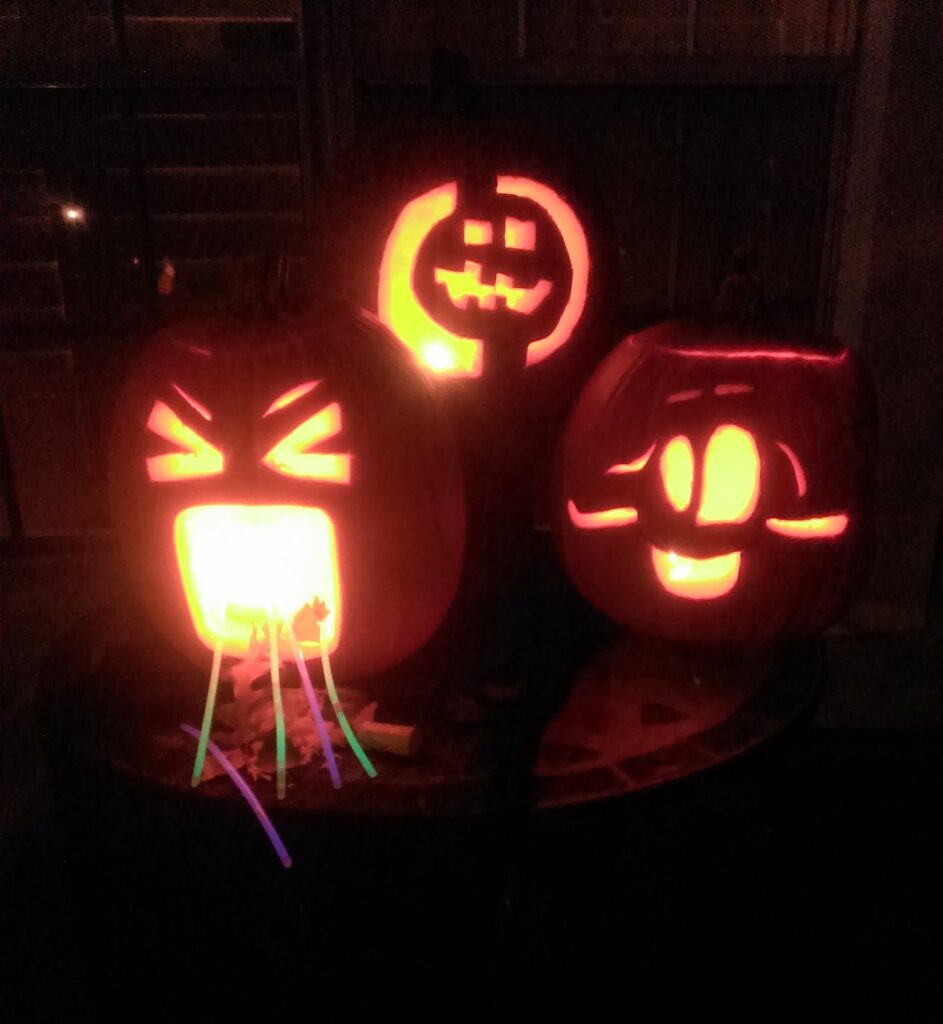 After you pick your pumpkin, set some time on Halloween to carve it. With a quick Google search, you can find some really cool pumpkin carving designs online to print out or have your kids design their own. Add a little competitive edge to your pumpkin carvings by posting photos of the carvings on Facebook and have your friends and family judge a winning carving.
Build a Haunted House
Many retail stores sell haunted gingerbread house kits that make it simple to construct a spooktacular haunted house masterpiece. If you can't find a haunted house gingerbread kit, channel your inner Halloween Wars and bake your own gingerbread. 
Or if you're feeling spirited, turn the activity into a STEAM lesson. Give your kids a box of graham crackers and construct their own house using icing as glue. Decorate it with edible eye candy, crumbled Oreos for dirt, gummy worms, bone candy and candy pumpkins. 
If you want to be a bit more crafty while minimizing the sweets, try constructing a haunted house out of cardboard boxes.
Bake Halloween Treats
Buy some edible eye candy cake decorations to turn your favorite cookie recipe into "spooky cookies". If you want a wicked simple edible craft, try making witch hats using Fudge Stripe Cookies and Hershey's Kisses. If you are up for a more wicked challenging treat, try my Broken Glass Cupcakes.
Plan Halloween-Themed Dinner
Get the kids in the kitchen and involve them in planning and cooking a Halloween themed dinner. For picky eaters, make Mummy Pizzas or Mummy Hot Dogs. Jack 'O Lantern Quesadillas are super simple and fun to make too. If you are looking for something more hearty, whip up my personal favorite – Jack 'O Lantern Stuffed Peppers.
Halloween Charades
During lockdown, charades became a favorite pastime in our home. I created game cards for Easter and now, I have a set for Halloween that include iconic Halloween characters and movies. Download my free complete set of printable Halloween Charades cards here. Or, be spontaneous and have your family create their own Halloween charades as you play.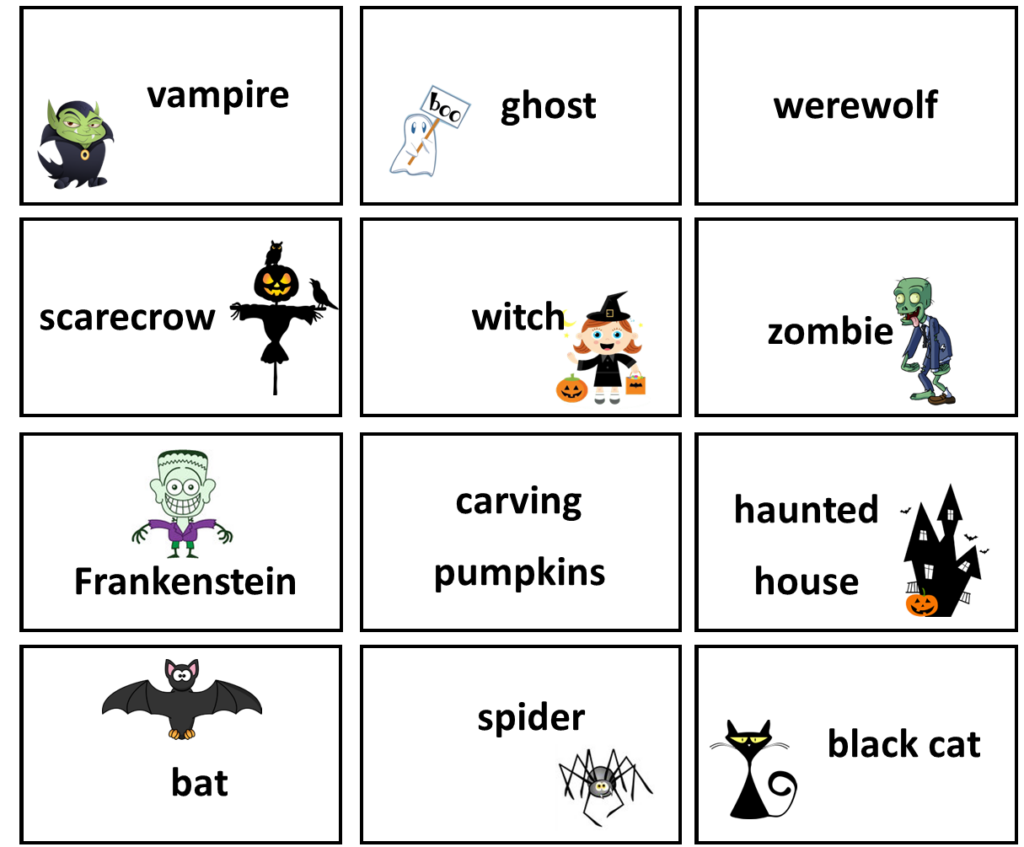 Solve a Murder Mystery
Dress up and solve a Halloween themed whodunnit. Murder mystery games are great fun and Amazon sells affordable 2-6 player games such as Betrayal at House on the Hill or Bloody Mansion, perfect for families or your small quaranteam of less than 10 people. 
Hunt for Halloween Candy 
Instead of trick-or-treating, hide your kids' favorite Halloween candy around your house or in your yard, similar to an egg hunt. If you prefer to make it a bit more challenging for older kids, create clues for them to solve. You can find some great scavenger hunt clue ideas here or print out these already made clues by Party Delights here.
Locally, the Tampa Riverwalk is hosting its free annual Halloween Hunt – a virtual family friendly scavenger hunt – every day now until November 1. Download the Mobile Adventures app, amble along the Riverwalk and solve the riddles, puzzles, tasks in this safe, outdoor Halloween activity fun for all ages.  For more details, visit thetampariverwalk.com/events/trick-or-treat/ or RSVP via the Tampa Riverwalks Facebook Event.
Drive-Thru Trick-or-Treatings and Hauntings
Growing up, my parents were not big into trick-or-treating. ​​​​​​​​​​​​​​​​​​​​​​​​​​​​​​​​​​​Rather knocking on neighbor's doors, my parents drove my sister and I around town to visit with relatives and friends to trick-or-treat. This year, I may revise that old school drive-around-town Halloween and visit with family members that we haven't seen in person for months for a social distancing trick-or-treating.
​​​​​​​​​​​​​​​​​​​​​​​​​​​​​​​​​​And while we are driving around on Halloween, my family and I may take advantage of all the drive through Halloween events. From local parks to car washes, local organizations and businesses are thinking outside the pumpkin pail and taking Halloween to the next level. 
Search your local paper or Facebook events for drive-through trick-or-treating events instead of a trunk-or-treat. Much like a restaurant's drive through window, drive through trick-or-treating or hauntings minimize your contact and avoids large gatherings since you stay in your car.
Locally, here in Tampa Bay, we have so many wicked fun drive through events such as drive through trick-or-treating or drive through hauntings.
Largo Central Park is hosting its Drive-O-Ween Spooktacular, a drive through trick-or-treating even on Friday, October 30 from 6:00 pm – 7:00 pm. Visitors can drive through decorated booths and receive a goody bag filled with treats at the end. Learn more and RSVP via the Largo Central Park's Drive-O-Ween Spooktacular Facebook Event.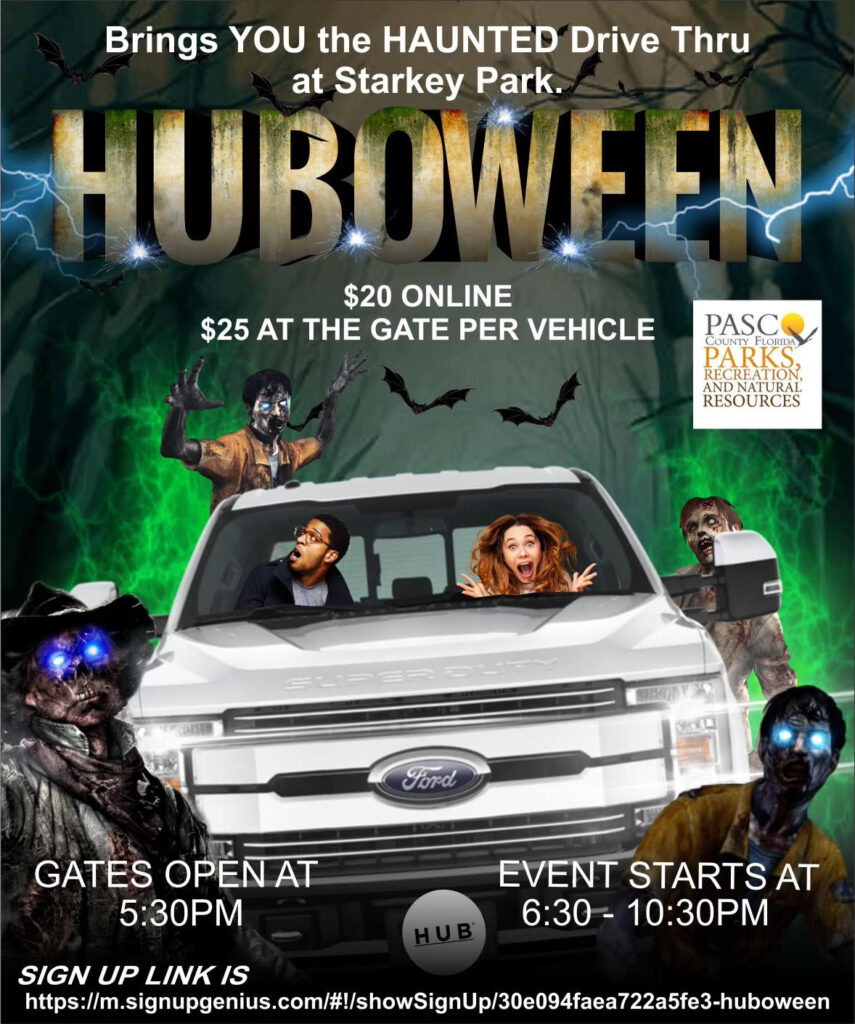 On Friday, October 30, Jay B. Starkey Wilderness Park in New Port Richey will host Huboweeen, a free haunted Halloween drive through event. Visitors stay in their vehicles and journey through the park for a bone chilling good time. Learn more and RSVP the park's Huboween Facebook Event Page.​​​​​​​​​​​​​​​​​​​​​
On Halloween night from 6:00 – 8:00 pm, the Hillsborough County Sherriff's Office will be handing out pre-bagged treats at multiple drive-thru trick-or-treat locations around Hillsborough County.
Sylvan Ramble Lights will frightfully delight families this Halloween with a computerized light show of 200,000 lights, fountains, smoke effects, and moving props. While the event is free, the organizers are requesting donations to help benefit a local charity. Visitors can stay in their cars or social distance on the sidewalk for Sylvan Ramble Light performances happening three times (8:00, 8:30 and 9:00) every evening leading up to Halloween. Visit www.sylvanramblelights.com for more details or to register and donate.
How are you planning to celebrate a safer Halloween this year?
If you are looking for a few more spooktacular creative ways to celebrate a safer Halloween, check out my list of 31 Halloween Ideas.​​​​​​​​​​​​​​