Disclosure: The following post contains affiliate links. All opinions are my own.
In 2020, I've noticed people have been falling in two camps in this Covid lockdown life.
People taking the opportunity to live a healthier life by working out more and eating healthy.
People slipping into some very unhealthy habits by drinking more alcohol and eating large amounts of unhealthy comfort foods.
For me, I have been trying to be mindful of my healthy habits by eating real foods, drinking more water, drinking less alcohol, moving more and getting a solid seven hours of sleep.
As the holidays start revving up, we start loosening our grip on healthy habits in the rush of the holidays. Therefore, I am adding a new habit to my healthy lifestyle by incorporating a daily probiotic. That way when 2021 rolls around, taking a daily probiotic will be a habit already set in place.
Gut health matters.
You've heard it all before. Gut health is critical to well-being, particularly metabolic health.
But you might be thinking, "I don't have any digestive issues, why should I take a probiotic?"
Taking a daily probiotic goes way beyond digestive issues. Your body is complex and interconnected and the gastrointestinal system sits at the core of it all. It influences everything from metabolic and gut immune function to cardiovascular, skin, and urogenital health. While improvements in gut health are often the most immediate result, probiotics can have powerful effects across the entire body.
For me, since I prioritize sleep as part of my healthy lifestyle for optimal metabolic performance, incorporating a daily probiotic is essential given that the latest research has found a correlation between insufficient sleep and gut microbiota.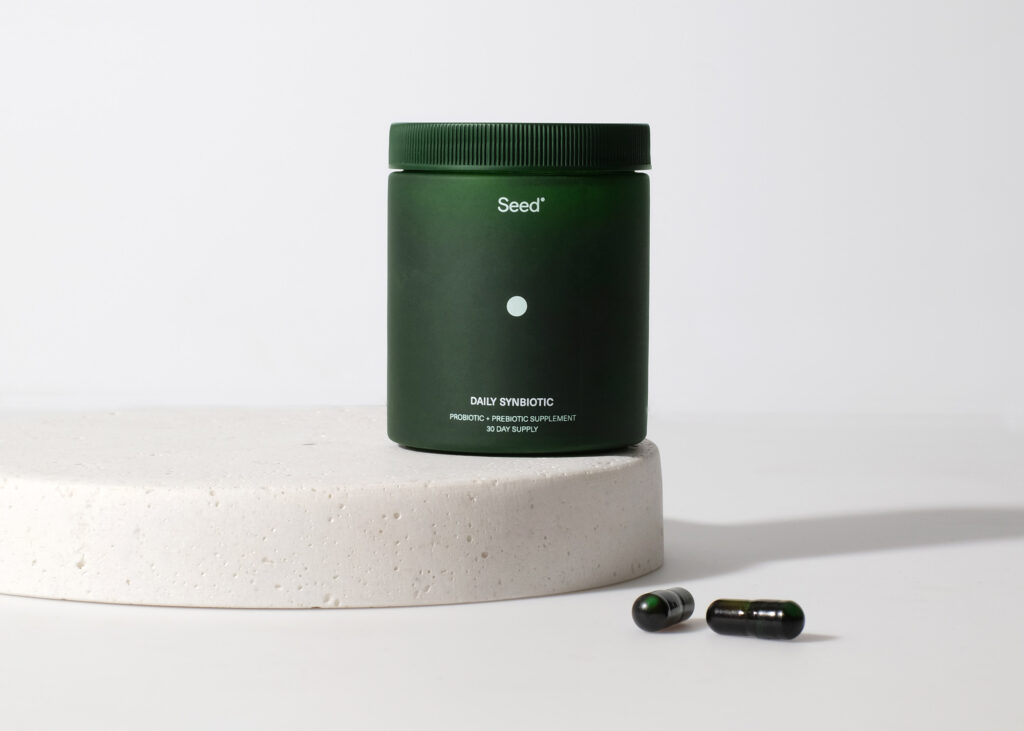 Which probiotic do I take?
You might be thinking, "Well, I drink kombucha, eat yogurt and other fermented foods. That's enough, right? Short answer… Nope.
Scientifically speaking, those foods do not qualify as a probiotic. Just because something contains live microorganisms, doesn't mean it satisfies the definition. Many fermented foods and beverages are extremely nutritious and very tasty additions to your daily diet. The distinction is that they are not necessarily reliable sources of beneficial, effective bacteria.
As a recent Seed University graduate and a Seed partner, I have learned that Seed is not your average probiotic because Seed is so much more than a probiotic.
Seed is a synbiotic.
Simply put, Seed combines a probiotic + prebiotic in one capsule.
Not of animal or soil origin, Seed's Daily Synbiotic combines 24 clinically-studied probiotic strains** (not found in yogurt, most supplements, or fermented foods and beverages) with a non-fermenting prebiotic compound isolated and purified from Indian pomegranate skin, Scandinavian pine bark and mushroom. As the probiotic works to rid the body of "bad" bacteria, the prebiotic serves as the probiotic's food supply, to deliver the ultimate symbiotic.
This incredible symbiotic was biofermented in Europe and free of the 14 classes of allergens identified by the European Food Safety Authority (EFSA) Panel on Dietetic Products, Nutrition, and Allergies.
Seed's Daily Synbiotic 2-in-1 capsule technology protects sensitive bacteria, delivering a full dose to the colon to provide benefits in gastrointestinal function, skin health, heart health, gut immune function, gut barrier integrity, and micronutrient synthesis.
In a huge advancement in the field of probiotics research, Seed recently received FDA authorization for its IND (Investigational New Drug) application for its symbiotic in patients with Irritable Bowel Syndrome (IBS),
And can we talk about sustainability? In addition to Seed's commitment to gut health, the company is also committed to planetary health. Instead of one time use plastics like so many other brands on the market, Seed utilizes a sustainable refill system that starts with a beautiful glass jar and continues with monthly refills.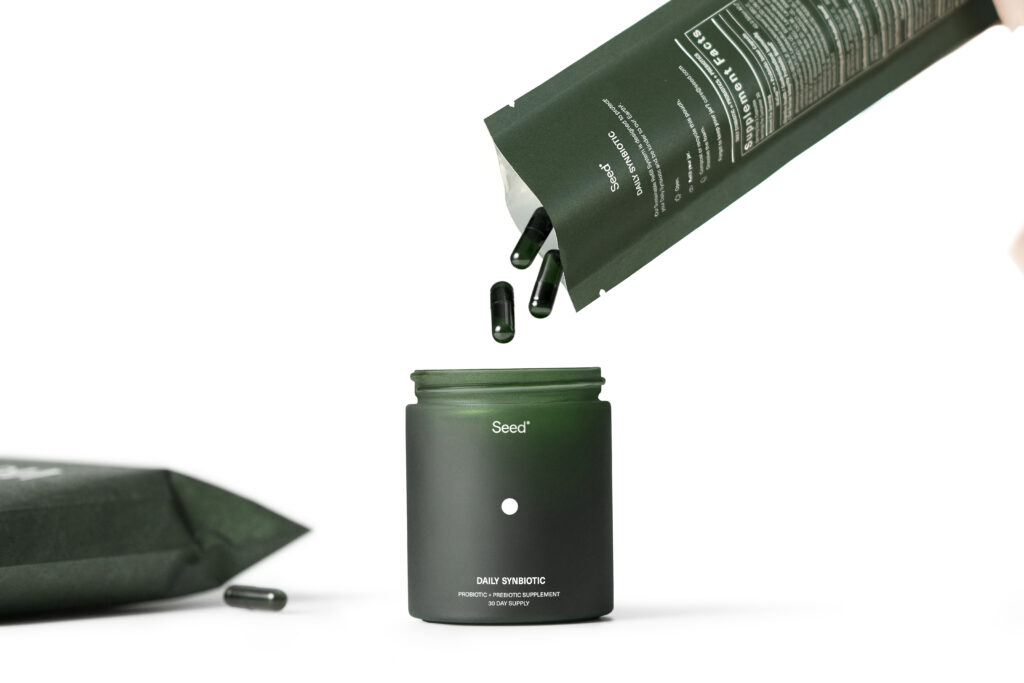 Give the Gift of Gut Health This Holiday
Now until Monday, November 30, Run DMT readers can save 20% off their first month of Seed Daily Synbiotic by using promo code CYBERGUT.
In each Welcome Kit, you will receive a refillable-glass jar, a 30-day supply of probiotics, and a free glass travel vial. The subscription is available for $49.99 per month.
How will you improve your health this holiday season?
What healthy habits will you start now to head into 2021 on a healthier path?
What questions do you have about probiotics or Seed's Daily Synbiotic?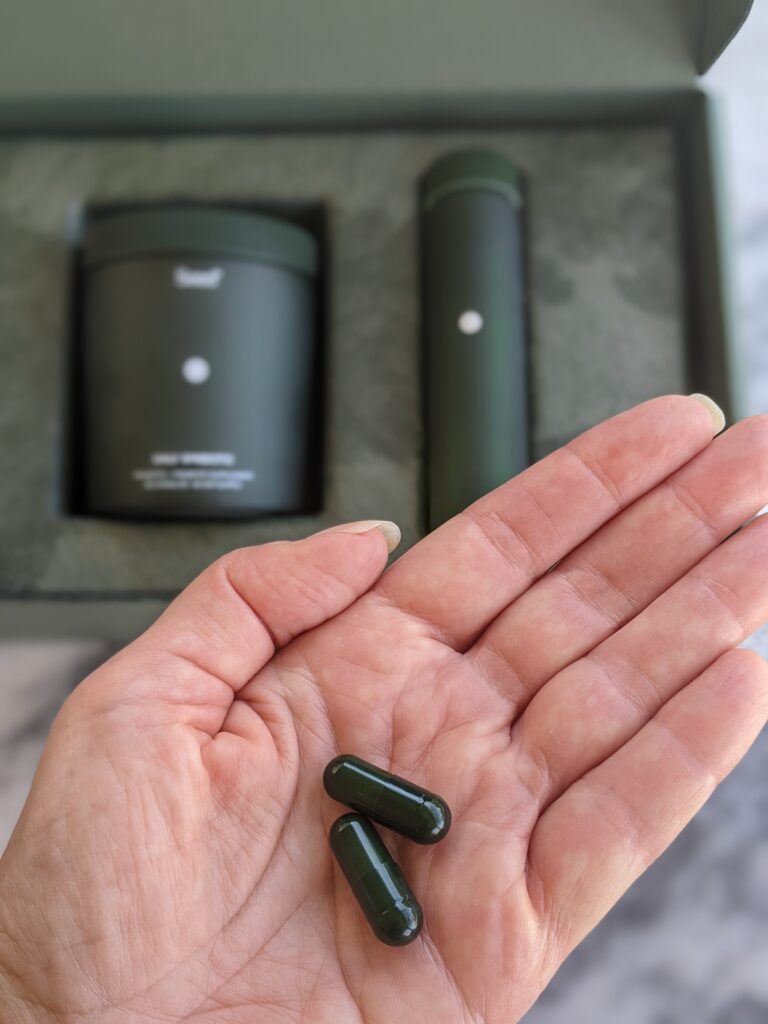 **24 active ingredients found in Seed include Bifidobacterium longum SD-BB536-JP, Bifidobacterium breve SD-BR3-IT, Lactobacillus plantarum SD-LP1-IT, Lactobacillus rhamnosus SD-LR6-IT, Lactobacillus reuteri SD-LRE2-IT, Bifidobacterium longum HRVD90b-US, Bifidobacterium lactis RD-BS5-IT, Lactobacillus casei HRVD300-US, Bifidobacterium breve HRVD521-US, Bifidobacterium lactis HRVD524-US, Lactobacillus rhamnosus HRVD113-US, Bifidobacterium lactis SD-150-BE, Lactobacillus rhamnosus SD-GG-BE, Lactobacillus reuteri SD-RD830-FR, Bifidobacterium adolescentis SD-BA5-IT, Lactobacillus crispatus SD-LCR01-IT, Lactobacillus fermentum SD-LF8-IT, Lactobacillus plantarum SD-LPLDL-UK, Bifidobacterium lactis SD-MB2409-IT, Lactobacillus salivarius SD-LS1-IT, Bifidobacterium lactis SD-CECT8145-SP, Bifidobacterium longum SD-CECT7347-SP, Lactobacillus casei SD-CECT9104-SP.