I know many of you are anxiously awaiting my recap of Disney Marathon Weekend (My Unofficial Goofy Challenge) and may be wondering how I did.  Well, after running 39.3 miles, the good news is I can still walk and climb the stairs in my home without falling!
Of course, my legs were sore, but I was not in agonizing pain simply because I took each race at a moderate pace.  At the beginning of each race, it was difficult to find a pace faster than 12 minute miles due to the sheer volume of runners and speed walkers but I was grateful for the forced slow pace to reserve my energy for the long haul.
Thrilled to be part of an amazing experience, I learned several things:
1.  True athletes are the most supportive and encouraging people you will ever meet.  Before the race weekend, I arranged to meet Lindsay of Chasing the Kenyans.  She is a dedicated runner who thought I was full of energy!  It was such a pleasure to meet her!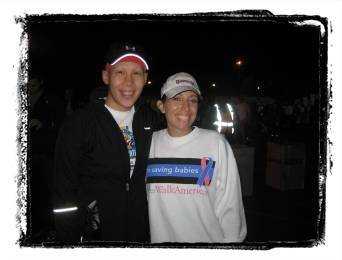 Another runner blogger, Becelisa, also offered her encouraging words via text messages.  Although we missed each other this race, I am sure I will see her at Gasparilla.  Both Lindsay and Becelisa finished with excellent times.  (Be sure to visit their blogs to read about their Disney experience.)
I also met a pair of father and son marathoners.  The son attempted his first marathon.  Dad faced marathon #9 and strived for a time around 4:40.  Yet, both gentlemen wished Tiffany and I success on our first marathon.
Then, I met the most supportive athlete out of the pack.  This runner overheard me telling Lori that I needed to remove my sweatshirt after our first couple of miles in the half marathon.  Hoping for another type of entertainment outside of the usual Disney productions, he encouraged me to run topless, if necessary.  I happened across him in the Tomorrowland restrooms during our marathon on Sunday and on our second encounter, he happily posed for a picture hoping once again for a free peek at my pups.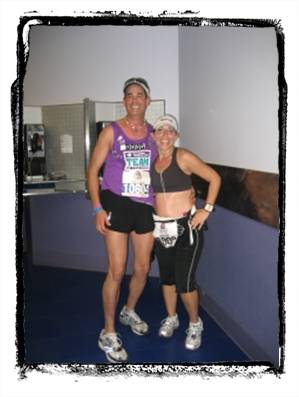 2.  It really is a small world after all!  While walking to the start line of the marathon, another runner commented on Tiffany's hideous hieroglyphic mocha explosion colored blanket that she wrapped around herself to combat the cold.  After chatting a bit, I realized that I had stumbled across Chloe from Running with a Bottle of Wine!  Although we started the race together, she took off and finished in record speed.  Chloe was as adorable as I expected and I am so happy for our chance encounter!
3.  Runners are highly driven, goal-oriented people.  During this race weekend, there were blind runners, competitors in wheelchairs and runners with prosthetics.  I met one woman who decided to run after surviving a stroke and another woman who ran after surviving a brain aneurysm.  I also spotted two pregnant mommas running in the marathon.  I am in awe in what drives these athletes.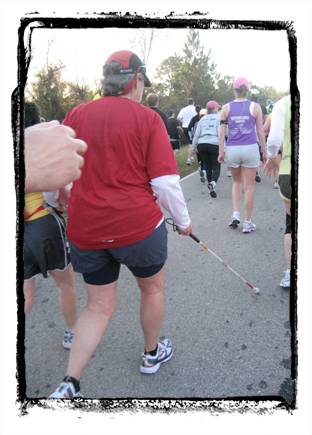 4.  Sport gels pack an amazing amount of energy boost!  Although I like to believe the magic of Disney carried me through to the finish line, it was more likely the Clif Shots.  I highly recommend Vanilla.
5.  Clif Shots make you gassy and may even cause you to shit yourself diarrhea.  Thankfully, I did not experience the latter, but I would like to publicly apologize to anyone who may have been standing in line near me at any number of rides at Magic Kingdom or Epcot.  No, Walt Disney World does not smell like that.
6.  Black pepper makes you gassy.  A new bit of knowledge shared in passing by this gentleman.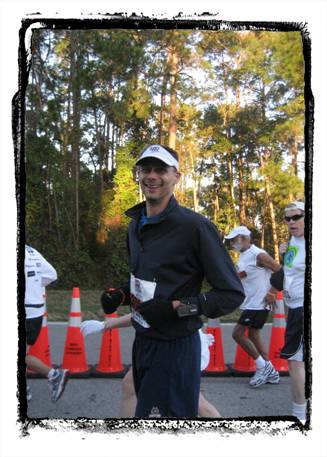 Let me clarify.  He did not pass gas nor did I run through an unpleasant cloud produced by his bowels, rather I overheard a conversation he shared with his friend.  Thanks for the tip!
7.  And most importantly, I CAN RUN A MARATHON!  Correction, I can run a HALF marathon and a FULL marathon the next day!  That's 39.3 miles, BABY!  Like Lori said to me throughout the race, "It's not about the time, but the experience.  Worry about your time at Gasparilla.  There are way too many distractions at Disney."  And when you see my video slideshow of the weekend, you will see why I was easily distracted!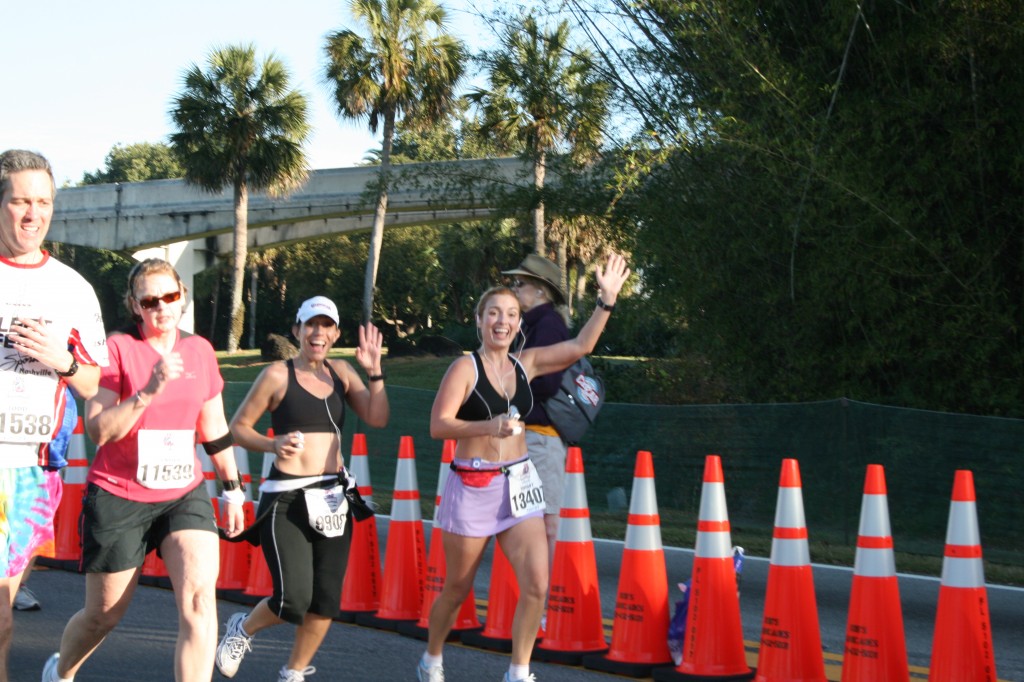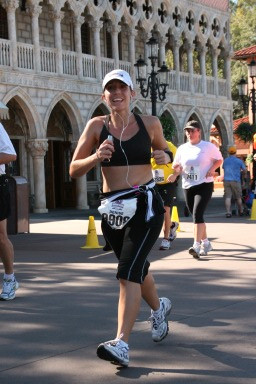 I mostly ran each race, with some walking at the water stations/snack stops and occasionally posing for pictures.  I also danced when the mood hit me.  I finished each race strong and sprinted across the finish line like a Kenyan!  Crossing the finish at the end of the marathon, I cranked my arm in the air and encouraged the crowd "To make some noise!" all while still smiling.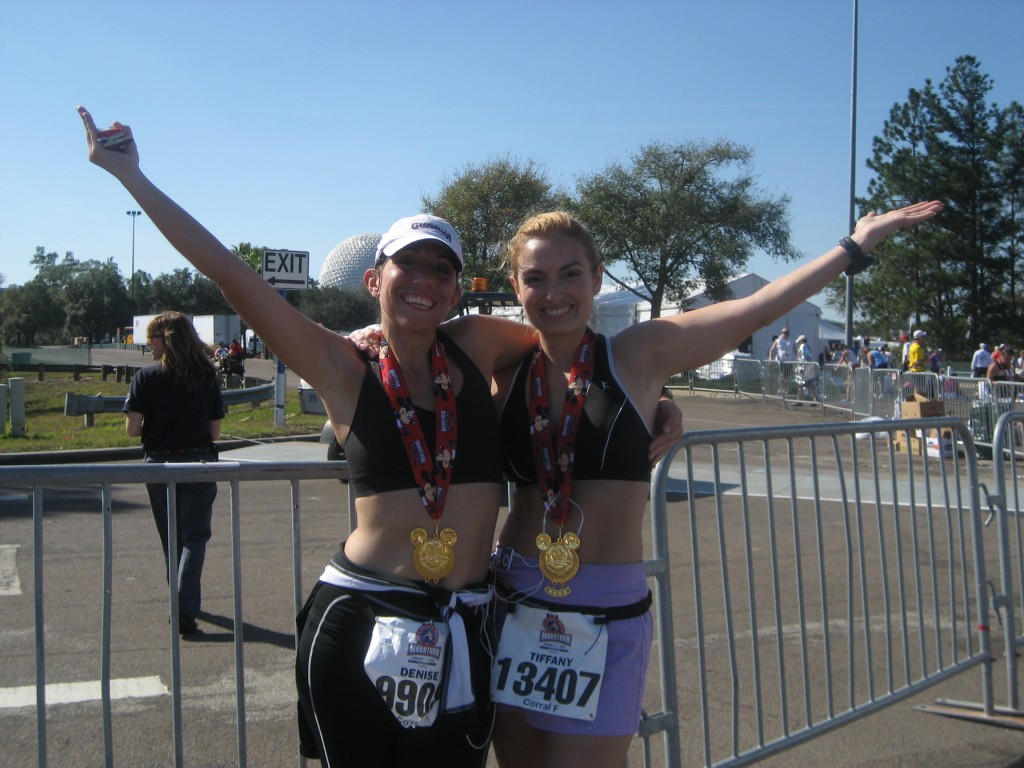 When a volunteer placed my Mickey medal around my neck, I cried.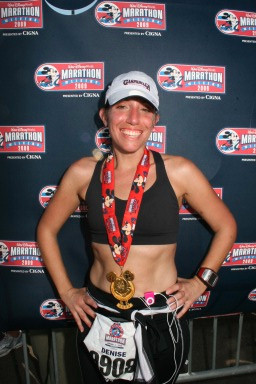 Like I said before, there were a lot of Disney distractions during the race, which is reflected in my time.  But when you do ever get the opportunity to pose with Mickey Mouse during a race?  For kicks and grins and a good laugh, here are my stats for both races:
Half Marathon
| | |
| --- | --- |
| Clock Time | 3:09:42 |
| Chip Time | 2:45:42 |
| Overall Place | 7621 / 12434 |
| Gender Place | 3746 / 7181 |
| Division Place | 756 / 1326 |
| Age Grade | 40.6% |
| 5K Split | 38:20 |
| 10K Split | 1:26:23 |
| 15K Split | 2:03:0 |
 Marathon
| | |
| --- | --- |
| Distance | MAR |
| Clock Time | 6:07:24 |
| Chip Time | 5:59:30 |
| Overall Place | 11729 / 14940 |
| Gender Place | 5118 / 7139 |
| Division Place | 980 / 1317 |
| Age Grade | 38.6% |
| 5 Mile | 1:09:20 |
| 10 Mile | 2:06:37 |
| Half Split | 2:58:29 |
| 20 Mile | 4:39:30 |
I captured both races in pictures and I have complied a video of the whole experience.
After the marathon, my family and Lori's family met me at Epcot to celebrate.  Allan and I celebrated my accomplishment with some beer, of course!