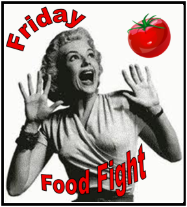 My family and I love food with a Tex Mex flavor.  Anything with the earthiness of cumin, the heat of chili pepper and mountains of cheese is always a winner in this house.  The other night I made one of our favorite Tex Mex dishes: Mexican Lasagna.
It's so simple to make, too.  Instead of taco sauce, I use Muir Glen Fire Roasted Diced Tomatoes, as suggested in the recipe.  Instead of a cup of frozen corn, I add a whole can of corn.  
The recipe recommends oiling your pan with olive oil, but I coat my baking pan with Pam cooking spray to avoid the tortillas sticking to the bottom and it works just fine.  For the lasagna's layers, I cut one tortilla into quarters, lay those pieces in the corners of the pan and lay a whole one in the center.  To make this lower in fat, you could sprinkle your layers with low fat cheddar cheese, but I use full fat colby-jack cheese.
I also omitted the scallions, because I knew my kids wouldn't eat them.  The girls ate theirs with dollop of sour cream on top.  Allana and I added some salsa to our servings for a little extra heat.
This dish is great for a crowd as there are more than enough helpings.  I froze our leftovers for a fuss free dinner another night.
Ingredients
3 tablespoons extra-virgin olive oil
2 pounds ground chicken breast, available in the packaged meats case
2 tablespoons chili powder
2 teaspoons ground cumin
1/2 red onion, chopped
1 (15-ounce) can black beans, drained
1 cup medium heat taco sauce or 1 (14-oz) can stewed or fire roasted tomatoes
1 cup frozen corn kernels
Salt
8 (8 inch) spinach flour tortillas, available on dairy aisle of market
2 1/2 cups shredded Cheddar or shredded pepper jack
2 scallions, finely chopped (optional)
Directions
Preheat the oven to 425 degrees F.
Preheat a large skillet over medium high heat. Add 2 tablespoons extra-virgin olive oil – twice around the pan. Add chicken and season with chili powder, cumin, and red onion. Brown the meat, 5 minutes. Add taco sauce or stewed or fire roasted tomatoes. Add black beans and corn. Heat the mixture through, 2 to 3 minutes then season with salt, to your taste.
Coat a shallow baking dish with remaining extra-virgin olive oil (about 1 tablespoon oil). Cut the tortillas in half or quarters to make them easy to layer with. Build lasagna in layers of meat and beans, then tortillas, then cheese. Repeat: meat, tortilla, cheese again. Bake lasagna 12 to 15 minutes until cheese is brown and bubbly. Top with the scallions and serve.
Now link up and see what If I Could Escape and Gone Bananas are serving for this week's Friday Food Fight.
Powered by Linky Tools
Click here to enter your link and view this Linky Tools list…
*Also submitted at*