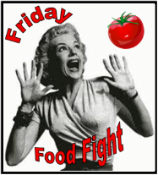 Originally, I was going to title this Friday Food Fight post after a really bad joke I remembered reading as a small child on a South of the Border billboard along I-95. "Pedro's weather report: Chili Today. Hot Tamali.  South of the Border."
But then I decided a reference to Blazing Saddles would be far funnier given my distaste for packaged spices.  And with the Cinco de Mayo fiestas still fresh on our minds, sharing my chili powder recipe seems pretty fitting since I use this blend in all my Tex-Mex dishes.
Making chili powder is so simple, healthier and better tasting since you know exactly what spices go into the mixture.  Sometimes I use organic ingredients and sometimes I use Badia or Archer Farms.  Whatever I can find or whichever is cheapest.  But I always use this chili powder mixture in my chili, tacos and Mexican Lasagna.
Chili Powder (borrowed from The Joy of Cooking)
5 Tbsp ground ancho pepper
2 Tbsp dried oregano
1 ½ Tbsp ground cumin
½ tsp ground red pepper or cayenne pepper
Combine spices in a small bowl.  Then, pour into a air tight container to maintain freshness and potency.
Now link up and see what If I Could Escape and Gone Bananas are serving for this week's Friday Food Fight.
*Also submitted at*