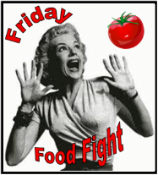 For our New Year's Resolution, Allan and I sworn off red meat and we have been eating more vegetarian dishes.  About a month into the New Year and our commitment to a healthier lifestyle, Allan's gallbladder and my high cholesterol would force us to limit our diet and menu selections even more.
Then on Tuesday, Allan underwent the knife laser to have his gall bladder removed just in time for St. Patrick's Day and a traditional Irish dinner: Corned Beef with Red Potatoes and Cabbage.  There went our New Year's Resolution, along with my cholesterol and our vegetarian diet.
Oh well.  We can always start over and go back to tofu tomorrow.
Corned Beef with Red Potatoes and Cabbage
(Modified Food Network Recipe)
Ingredients:
1 (3-pound) corned beef brisket (uncooked), in brine with seasoning packet included
12 cups cold water
2 bay leaves
20 black peppercorns
1 tsp crushed red pepper flakes
1/2 large head green cabbage (about 2 pounds), cut into 8 thick wedges
1 ½ lbs small red potatoes, quartered
Freshly ground black pepper
Directions:
Preheat the oven to 300 degrees F.
Place the corned beef in a colander in the sink and rinse well under cold running water.
Place the corned beef in a large Dutch oven with a tight-fitting lid. Add the water, bay leaves, peppercorns, red pepper flakes and seasoning packet. Bring to a boil, uncovered, and skim off any scum that rises to the surface. Cover and transfer pan to the oven, and braise until very tender (about 6 hours).
Transfer the corned beef to a cutting board and cover tightly with foil to keep warm. Add the cabbage and potatoes to the cooking liquid and bring to a boil. Lower the heat and simmer until the vegetables are tender (about 20 minutes).
Using a slotted spoon, transfer the cabbage and potatoes to a large bowl. Slice the corned beef across the grain of the meat into thin slices. To serve, lay the slices over the cabbage and surround it with the potatoes. Top it all with fresh ground pepper.
Now link up and see what If I Could Escape and Gone Bananas are serving for this week's Friday Food Fight.
*Also submitted at*