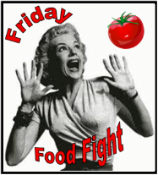 With all the talk of Fat Tuesday activities a couple weeks ago, I had a hankering for some Creole cuisine.  So I tried my hand at some red beans and rice and man, it satisfied my N'awlins need.  I attempted to recreate the red beans and rice dish at our own NOLA Café in Tampa and I think I did a damn good job.
Since it's difficult to find MSG-free and nitrites free Andouille sausage in these parts, I substituted the Andouille sausage for Al Fresco Sundried Tomato Chicken Sausage.  (Next time, I'd like to try Al Fresco Spicy Jalepeno Chicken Sausage or the Tofurky Kielbasa just to see how that works in place of the Andouille sausage.)  I topped it with some Crystal hot sauce for some extra heat and no one was the wiser.  It was so good, y'all. The only thing missing was the king cake.
*ETA March 31, 2011: Archer Farms makes an Andouille Sausage that is MSG and nitrites/nitrates free, which can be found in the meat section at your local SuperTarget or purchased on-line at Target.com.  I used two links in place of the Al Fresco sausage in the recipe below and froze the rest for the next time I'm in a Mardi Gras mood.  The Archer Farms Andouille Sausage offered just the right amount of heat and zest for my N'awlins nosh.*
Run DMT's Delicious Red Beans and Rice Dish
2 cans of dark red kidney beans, unrinsed
1 package Al Fresco Sundried Tomato Chicken Sausage, quartered
1 Tbsp olive oil
2 bay leaves
1 bell pepper, diced
1 sweet onion, diced
2 celery stalks, diced
3 garlic cloves, minced
1/4 tsp red pepper flakes
1 tsp dried thyme
1 tsp dried sage
1 cup water
1 tsp salt
1/2 tsp. ground black pepper
1 cup brown rice
Directions
Heat olive oil in a large sauce pan.  Sauté onions, peppers and celery in olive oil until softened.
While the vegetables (trinity) are sautéing, slice sausage link in half lengthwise.  Then, slice the links again in half.
Once the trinity has softened in the pan, add bay leaves and garlic and let simmer with the vegetables for a minute.  Add sliced sausage and let sauté for about 5 minutes.  Then, add unrinsed canned kidneys beans, thyme, sage and red pepper flakes, salt, pepper and water.  Lower heat and simmer for 30 minutes.
For the rice, bring 1 cup of rice in a knuckle deep of water to a boil in a cover pot.  Once boiling, lower heat to a very low simmer and simmer with lid on for 45 minutes or until rice is fluffy.
Now link up and see what If I Could Escape and Gone Bananas are serving for this week's Friday Food Fight.
*Also submitted at*