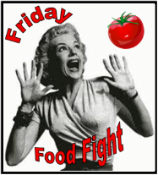 April is here and all the beautiful berries have begun to ripen.  Towards the end of the month, we'll find ourselves at the blueberry farm once again.
As the temperature rises, the price of blueberries will drop in the supermarkets.  When that happens, I buy multiple pints of blueberries to toss in the freezer for smoothies, pancakes and other yummy blueberry treats, like Allan's spectacular scones.
Iron Chef Allan's Rustic Blueberry Scones
Preheat oven to 450 degrees.
Mix well in a large bowl:
2 cups white whole wheat flour
3 tsp baking powder
1 tsp salt
¼ cup sugar
In another bowl, toss 1 cup of frozen blueberries with ¼ cup of dry flour.
Then, mix 1 ½ cups heavy whipping cream with dry ingredients.  When mostly mixed, add blueberries and knead a few times by hand until combined.
Roll into 8 inch round and then slice into 8 equal parts. Place triangular slices on a greased cookie sheet.  Brush with cream and sprinkle with large sugar crystals.
Bake for 20 minutes for fabulous blueberry scones.
The only thing missing is the clotted cream.  Maybe Karen can send some our way.
Now link up and see what If I Could Escape and Gone Bananas are serving for this week's Friday Food Fight.
*Also submitted at*