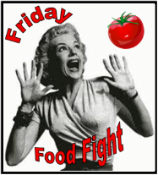 Although Tuesday was Pancake Day (Fat Tuesday), I decided to share my pancake pictures for our Friday Food Fight.
Iron Chef Allan makes perfect golden brown pancakes every time.  They're light and fluffy, not dense and thick like the kind from a pancake mix, which happens to be the fancy concrete pancakes I made for my girls' classes on Tuesday.
But, I smothered those lead weights with enough syrup or powder sugar and lemon juice (a British Pancake Day tradition) so no one was the wiser.  I think.
Over the years, Allan has mastered and fine-tuned his pancake recipe.  His pancakes are so perfect that it has ruined us from enjoying in any restaurant even when they are free.
We flip over Iron Chef Allan's perfect pancakes every time.
Iron Chef Allan's Perfect Pancake Recipe
Ingredients:
1 ½ cups King Arthur White or White Wheat Flour (180 g)
3 Tbsp Sugar
2 tsp Baking powder
¼ tsp Baking soda
1 tsp Salt
2 eggs
½ cup Sour cream (secret ingredient to prevent stiffening)
1 cup Milk (skim or 2%)
3 Tbsp Melted butter or canola oil
1 tsp Vanilla
Directions:
Set griddle to 350 degrees.  In a large bowl, mix dry ingredients.  Then, in a separate bowl, mix wet ingredients.  Combine wet and dry ingredients in the large bowl with as few stirs as possible.  Let batter rest for 5 minutes.  Pour ¼ cup of batter onto a lightly greased griddle.  Flip when batter is bubbly and still wet.  Cook for approximately one minute more.  Serve with maple syrup.
Now link up and see what If I Could Escape and Gone Bananas are serving for this week's Friday Food Fight.
*Also submitted at*