I love when this…
becomes this.
I love leftovers.  When I really enjoy a meal, I'll dream of that delicious dinner and can't wait to dig into it the next day.  I've also been known to eat leftovers for breakfast.
But sometimes after a turkey dinner, there's too much leftover turkey and I'm just too stuffed on turkey and stuffing.  So, when life gives me tons of leftover turkey, I make turkey enchiladas.  And when there's a ton of leftover turkey enchiladas, I freeze the leftovers for lunch or dinner for another day.
Turkey Enchiladas
Ingredients
1 tablespoon olive  oil
3 cloves garlic, minced
1 onion, chopped
1 serrano pepper (or jalapeno for less heat), seeded and minced
2 tsp cumin
1 tsp salt
1/2 tsp ground black pepper
1 Tbsp all-purpose flour
1 cup chicken stock
1 (28 ounce) can diced tomatoes
1 cup reduced fat sour cream
1/2 cup shredded reduced fat cheddar cheese
2 cups chopped cooked turkey
4 (8 inch) flour tortillas, or more if needed
1 Tbsp sliced black olives (optional)
1 Tbsp shredded reduced fat cheddar cheese
Directions
Preheat oven to 350 degrees F.  Prepare a 9×12-inch baking dish with cooking spray.
Heat olive oil in a skillet over medium heat.  Add garlic and onion and cook until the onion is translucent.  Stir in the serrano pepper and flour. Stir a few times to mix in the flour. Stir in the chicken stock, about 1/4 cup at a time.  Cook until thickened, stirring constantly. Mix in the tomatoes, cumin, salt and pepper and bring the mixture to a simmer.
While the sauce is simmering, combine sour cream, 1/2 cup of cheddar cheese and turkey in a bowl. Place a tortilla down onto a work surface and spoon 1/4 of the turkey mixture onto the tortilla in a line down the center. Roll the tortilla around the filling.  Place into the prepared baking dish with seam side down. Repeat with the other tortillas. Pour the tomato sauce over the filled tortillas. Sprinkle the casserole with black olives and 1 tablespoon of Cheddar cheese as garnish.
Bake uncovered until the cheese topping is browned and the casserole is bubbling (about 30 minutes).
Makes approximately 4 servings.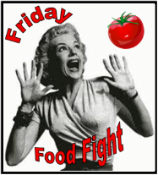 Now link up and see what If I Could Escape and Gone Bananas are serving for this week's Friday Food Fight.


*Also submitted at*