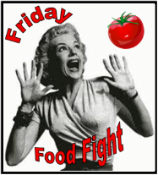 Every Sunday, my family and I time our trips to the supermarket just right.  We always manage to arrive at Publix during the Apron's recipe demonstrations and we snack while we shop.
Although I always dive right in to taste each week's dish, Iron Chef Allan usually turns his nose up at the food.  That was until I raved about Apron's Perfect Panko Chicken with Hummus.  After some gentle prodding to try it, Allan tasted his first Apron's recipe and he was pretty impressed with the perfect panko chicken.
Later that week, I prepared my own version of the Perfect Panko Chicken.  Rather than an egg wash, hummus binded the panko breading to the chicken breast.  However, I used a generous helping of my own homemade hummus instead of the store bought brand suggested in the Apron's recipe.  I then followed the steps accordingly, but omitted the rice because I thought couscous would complement the chicken better.
A lightly breaded panko chicken breast served on generous pile of couscous with a drizzle of cilantro-lime hummus and some Zesty Honey Carrots on the side.
It really was perfection.
Run DMT's  Slightly Modified Version of Apron's Perfect Panko Chicken with Hummus
Ingredients
Juice of 2 limes
3 tablespoons fresh cilantro, coarsely chopped
4 chicken cutlets (about 1 lb)
1/2 teaspoon kosher salt
1/4 teaspoon pepper
1 cup of hummus
3/4 cup panko bread crumbs
3 tablespoons canola oil
1 tablespoon water
Directions
Pound chicken breasts until ¼ thick.  Season chicken with salt and pepper. Generously coat both sides of chicken with hummus (about 1 tablespoon for each cutlet).  Drench the cutlets and do not remove excess hummus.  Dip chicken into panko, coating both sides.
Preheat canola oil in large sauté pan on medium heat.  Then add chicken and cook for 4 minutes each side or until 165°F.
Combine remaining 1/2 cup hummus with cilantro, lime juice, and water.  Drizzle sauce over chicken. Serve on a bed of couscous or rice.
Zesty Honey Carrots
Ingredients
1 (16-oz) bag dip chip cut carrots
2 tablespoons honey
2 teaspoons chili powder
1/4 teaspoon kosher salt
1/4 teaspoon pepper
Directions
Place carrots in microwave-safe dish and cover; microwave on HIGH 4–5 minutes or until tender. Drain any water in dish.
Whisk together in medium bowl, honey, chili powder, salt, and pepper until blended. Stir carrots into sauce. Serve.
Now link up and see what If I Could Escape and Gone Bananas are serving for this week's Friday Food Fight.
*Also submitted at*