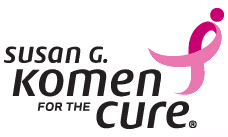 I always enjoy the Race for the Cure 10K.  The course is gorgeous.  The distance is just right.  And for a slow runner like me, there's no pressure.  Just me and tens of thousands people doing good in the 'hood to raise money and awareness for breast cancer.
This year, my friend, Heather joined in the fun for her first 10K race.  I warned Heather that I often walk the water stations and not to feel bad if we separated, especially since I have a tendency to take a lot of photos while I run races.  Imagine how fast I could be if I didn't take so many photos?
But I truly love taking photos while I run, because I capture moments like this.
 And it makes my race recaps just that more entertaining.  Otherwise, I'd have no evidence of this sweet handsome officer who volunteered to be my boyfriend.  I couldn't resist capturing the moment.  I love a man in uniform.  Poor guy doesn't even know what he got himself into.
But I digress…
The weather was perfect for our race.  With no humidity, it felt cooler than the forecasted 71 degrees.
The first part of the course led us along the St. Pete Pier which is always my favorite part.  As we ran towards the sunrise, the sun appeared to smile like a spectator cheering for us as we ran by.
From the Pier, we ran along the waterfront and passed the new location for the Dail museum and airfield.  This part of the course had a strange odor, like hot garbage.  Maybe they were melting more clocks for Dali's exhibits?
Then the course led us through the streets of downtown St. Pete which was the largest portion of the 10K with a subtle incline. Thankfully, there were water stations just after each mile marker to walk it off.
The last mile, led us along the bay again and then finally to the finish line.
Chip Time 1:04:44
Overall 479
Div 34/77
Garmin Time 1:04:49
Ave Pace 10:14
Max Pace 7:26
I was really pleased with my time.  It's my fastest 10K time post-baby.  Heather finished about 1 minute before me and as I expected, she did great (1:03:36).  I don't even think she broke a sweat.
This fast crew (Jackie, Tara and Scott of Suncoast Running) finished about 15 minutes before Heather and me.  Even if I stopped taking photos during races, I could never be as fast as this lot.
But from what I understand, my running friends secretly enjoy their own personal paparazzi at all the races.  And for that, I'll keep on flashing snapping and running.