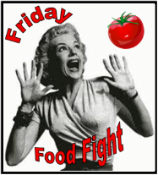 I judge my life by ways of moan and groans from my children.  If I prepare a dinner that produces very little complaining, then it's a winner and one to add to the menu rotation.  When I serve Baked Penne with Chicken Sausage and Broiled Eggplant, there is very little belly aching from my children and that makes for a pleasant dinner in more ways than one.
Since this pasta casserole is large enough to feed an army, it feeds my family for days.  I actually freeze small portions of it to have for lunch or dinner in a pinch.  Frozen leftovers reheat beautifully and taste just as good the second (or third) time around.
I stumbled upon this recipe in a William-Sonoma cookbook, Classic Pasta at Home, however, I've modified and…eh hem…perfected the recipe to our liking.   For example, I added my own tomato sauce recipe, but with dried oregano, doubled the amount and left some sauce to the side because my family likes extra sauce served on top.
I omitted the step to salt the eggplant, because when using a fresh eggplant, there's no need to salt it to pull out the moisture.  (When selecting an eggplant, choose one that is dark purple and heavy.  It should feel slightly firm and with a soft, spongy give and should spring back when pressed. Too spongy means the eggplant is old.)  Plus, I baked the eggplant for 10 minutes on each side and then finished the eggplant off by broiling the slices for about 5 minutes for a beautiful golden brown color.
I also added part-skim ricotta and added part-skim mozzarella to the ingredients.
Like, I said, pasta perfection.

Baked Penne with Chicken Sausage and Broiled Eggplant
Ingredients
1 eggplant, sliced into ½ inch round slices
1 ½ tsp salt
3 Tbsp olive oil
1 chopped yellow onion
8 cloves minced garlic
2 cartons of Pomi chopped tomatoes
4 tsp dried oregano
½ tsp crushed red pepper
½ tsp ground black pepper
1 lb mild Italian chicken sausage, casings removed and broken into crumbles
1 lb. dried penne
8 oz of part-skim ricotta cheese
½ cup shredded mozzarella cheese
¼ cup grated parmesan cheese

Directions
Preheat oven to 400˚.
Arrange eggplant slices on an oiled cookie sheet.  Brush each side with olive oil and sprinkle with salt.  Bake in oven for 10 minutes on each side to soften the eggplant.  Then, broil the eggplant for 5 minutes to produce a golden brown color.  Remove eggplant from cookie sheet and lay each slice on a dish covered with paper towel to cool and drain excess olive oil.
In a large sauté pan on a medium to low setting, heat 1 Tbsp olive oil.   Add onions and sauté' until translucent.  Add garlic and sauté for a few minutes to soften the garlic.  Add tomatoes, oregano, 1 tsp salt, red pepper flakes and black pepper.  Bring to a simmer, about 5 minutes.  Taste and adjust accordingly.  Then, remove half the sauce from the pan and set to the side to be served with casserole.
Add sausage to remaining sauce.  Stir the sausage crumbles into sauce while breaking the crumbles into smaller pieces.  Simmer and occasionally stir for another 10 minutes or until sauce thickens.
Bring a large pot of salted water to a boil on a high heat.  Add penne, stir well and cook for 6 minutes.  Drain and return to pot.  Add sauce with sausage and ricotta and toss.
In a 9×11 oven-safe baking dish, make a layer of pasta using half the pasta.  Top with eggplant.  Add another layer of pasta and another layer of eggplant.  Sprinkle with mozzarella and parmesan.
Bake for 20 minutes or until cheese is slightly golden brown.  Remove from oven and let stand for 5 minutes.
Slice and serve each piece with tomato sauce drizzled over top.
Now link up and see what If I Could Escape and Gone Bananas are serving for this week's Friday Food Fight.
*Also submitted at*